Welcome to the 4th Annual Designer Collaboration Sales Event & Giveaway!
WINNERS ANNOUNCED BELOW!!!
*Scroll Down*
This year's event is brought to you by 20 of your favorite designers!
We've had so much great feedback about our coupon code, ENABLER, that we've decided to keep it for another year!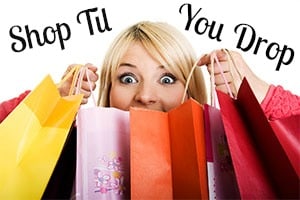 Simply click on all of your favorite designers' photos below (and new-to-you designers) to be taken directly to their Ravelry shops! While there, add their MUST HAVE designs to your shopping cart, and apply Coupon Code: ENABLER to see what great discounts the designers are offering this year! *Coupon Valid from noon est 11/22/17 thru 11/27/17 at midnight est.
Watch Your Savings Grow!
Try adding 1, 3, 5, 8 or more designs from one designer to your cart and watch your savings grow! Each designer has set up different discounts that grow depending on the size of your purchase.
*Keep reading, GIVEAWAY info below...
---
Game #1 Winners!!!
The photo below shows the 3 Winners from our Facebook Page Hop!
If you are one of the following 3 winners, please contact each of the 20 designers. In your message to them, please include your Ravelry username and your pattern of choice from their shop.
Winners will have until midnight EST on November 30, 2017 to claim their prizes.
Make sure you check out our game of Simon Says below and follow along on our Facebook pages! LOTS of great prizes to be given away!!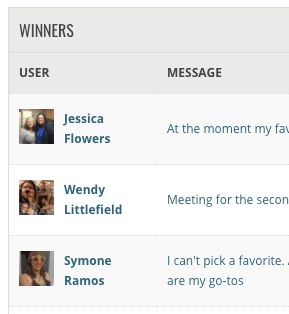 ---
Our BIG GIVEAWAY!!!!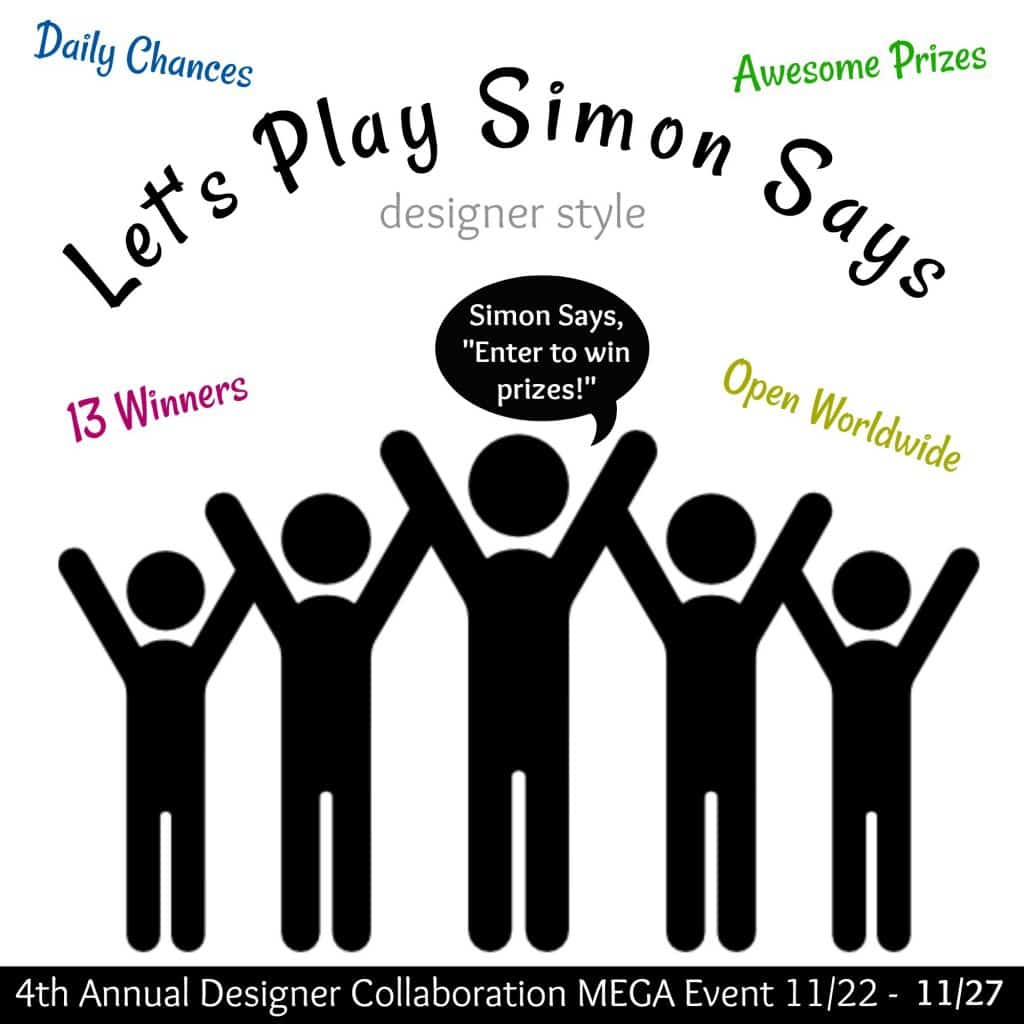 This year we're going to play our designer version of the classic game, Simon Says! If you have never played Simon Says before, don't fret. We're keeping it simple so everyone can join in! 🙂
Throughout the event each designer will be sharing collages on their Facebook pages, from all of the other participating designers. Here is an example of what you will see another designer post on Facebook. Every post will include the easy instructions on how to enter to win on that post!
You can enter to win daily by commenting on every post you see like this! Every designer will be sharing 4 collages a day from Thursday thru Monday... that's 400 chances to win!!!
In the example post shown below, you would Enter to Win simply by commenting with the following: (make sure to comment on the designer's Facebook post)
1st Entry: Comment with the link of an A Crocheted Simplicity pattern you'd love to make.
2nd Entry: Comment with a photo of finished project you've completed from an A Crocheted Simplicity pattern.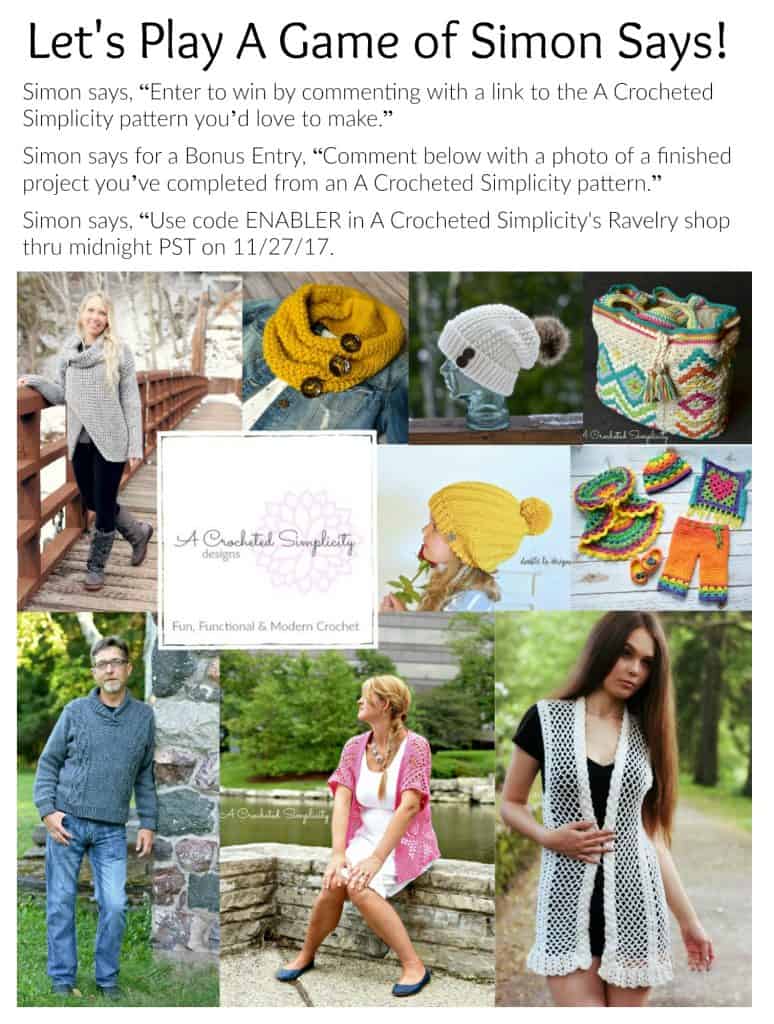 That's it! Easy peasy, right? 😉 Then on Tuesday, November 28, 2017, we'll gather all of the entries, randomize a list of winners, and announce them on this blog post!
Now for the Awesome Prizes!!!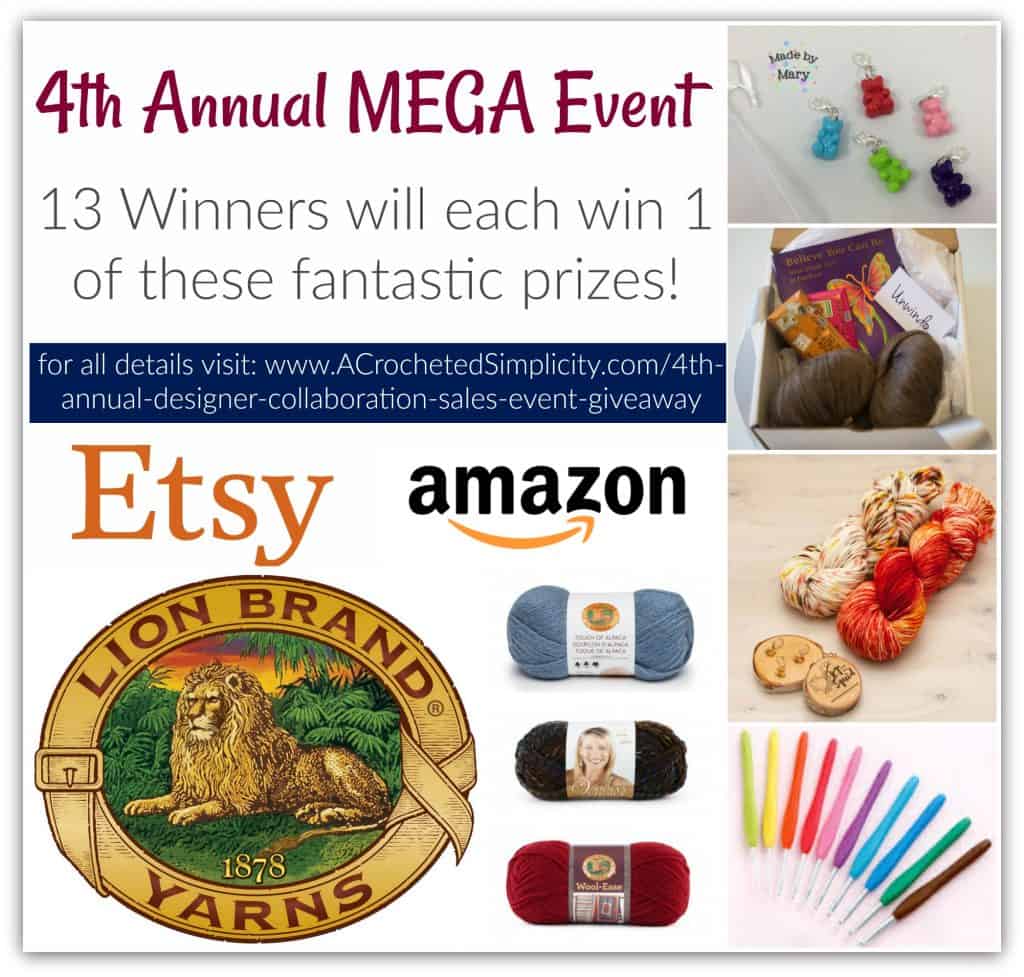 Winners
*Please note that the names listed below are the full Facebook profile names. If you see your name, please follow the instructions listed after it to claim your prize. If you see a friend's name, please send them a message to let them know they won!
Prize List
This year's prizes include the following:
(4) Winners will each receive a $25 Etsy Gift Card - sponsored by all 20 designers
(3) Winners will each receive 8 balls of their choice of the following 3 yarns: Lion Brand Wool Ease, Lion Brand Vanna's Choice, Lion Brand Touch of Alpaca - sponsored by Lion Brand Yarn
(1) Winner will receive a Set of (10) Clover Amour Crochet Hooks - sponsored by A Crocheted Simplicity
(1) Winner will receive a $50 Amazon Gift Card - sponsored by ELK Studio
(1) Winner will receive a set of handmade stitch markers - sponsored by Made by Mary
(1) Winner will receive an Unwind Box - sponsored by Melody's Makings
(1) Winner will receive 2 hanks of hand dyed yarn & handmade stitch markers - sponsored by KT and the Squid
(1) Winner will receive a $50 Amazon Gift Card - sponsored by Pattern Paradise
**Lion Brand Yarns giveaway open to residents of the United States & Canada only.
***All other prizes Open Worldwide!
Winners will be announced on Tuesday, November 28, 2017 by noon EST.
We'd like to send a big shoutout to ALL of our prize sponsors!!! They helped to make this event more fun for ALL of us!
---
Have F-U-N Shopping & Playing!