'Tis the time of year when we stay up way past our bedtime so that we can finish all of the crochet gifts we planned to make for our loved ones, friends, and co-workers. But even with all of our diligent planning over the past several months, it inevitably happens... we get down to the wire and realize we've forgotten someone. Or, maybe that someone you intended to give a sack of coal because they were on the naughty list surprised you with a plate of snickerdoodles this week so you've bumped them back up to the nice list. Either way, you now have one more quick crochet project to make. If you find yourself in a similar situation, you can rest easy because the Winter's Edge Scarf is the perfect project for a last-minute crochet gift! You can find the free crochet scarf pattern in this post below, or an ad-free print friendly version on Love Crafts here, Ravelry here, or on Etsy here.
The Winter's Edge Scarf is a beginner friendly, super quick crochet project that's full of texture and perfect for last-minute gift giving. I designed this scarf with a bulky weight yarn for a bit of added warmth and coziness. Both are much needed where I live as we've already gotten over 90" of snow this year and it's not even Christmas yet!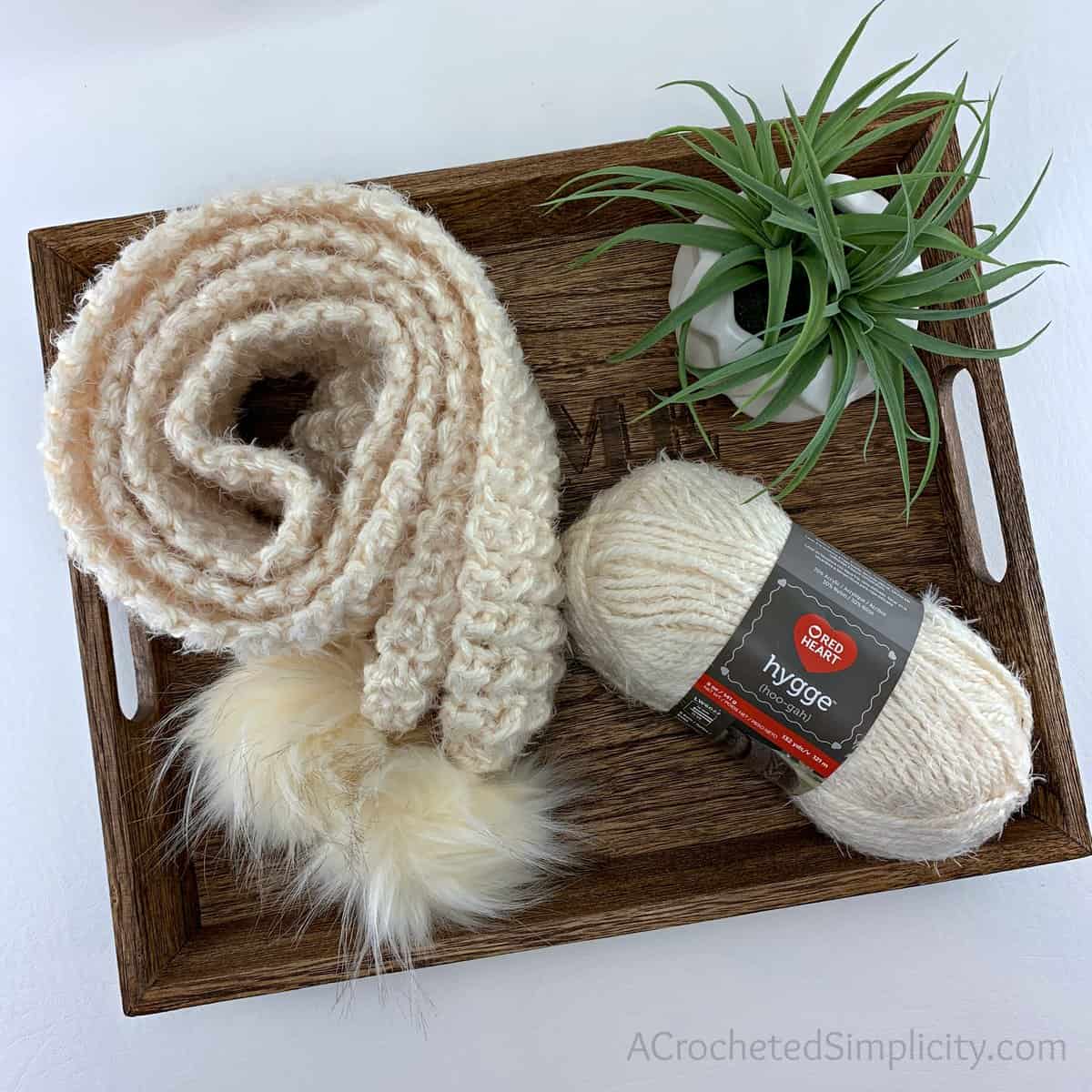 Scarves are great projects to crochet while relaxing and watching your favorite television show, especially an easy crochet scarf like this one that uses a simple crochet stitch pattern repeat. So, grab your hook and some yarn, turn on your favorite Hallmark Christmas movie and settle in for a relaxing evening of crochet. Don't get too relaxed though, or your scarf may end up to be 9' long like the one my mom knit for me when I was in kindergarten! I remember when A Christmas Story came out, I told my mom I felt like that young boy looked. If you don't remember, there's a good photo HERE for your enjoyment. LOL
---
I'm excited to be participating in Marly's 24 Days of Quickies, a knit & crochet event that Marly has organized with the help of her assistant, Katelyn. They've pulled together 24 of Marly's favorite designer friends to bring you a fantastic collection of quick knit & crochet projects that are all perfect for last-minute gift giving! You can find all of the information about this event on Marly's blog HERE.
---
Yarn
I chose Red Heart Yarn's Hygge yarn for this crochet scarf as it checked all of the boxes. It's a bulky weight yarn that works up quickly and the halo it has gives the Winter's Edge Scarf an extra cozy look and feel.
Red Heart Hygge (pronounced hoo-gah) is a 70% acrylic, 30% nylon bulky weight yarn that is available in 21 gorgeous muted colors. The base yarn is twisted with a fur end, which adds a lovely texture and gives the yarn its halo.
You can choose to use a lighter or heavier yarn, but don't forget to adjust for your hook size and foundation chain accordingly. See the notes section below for more information.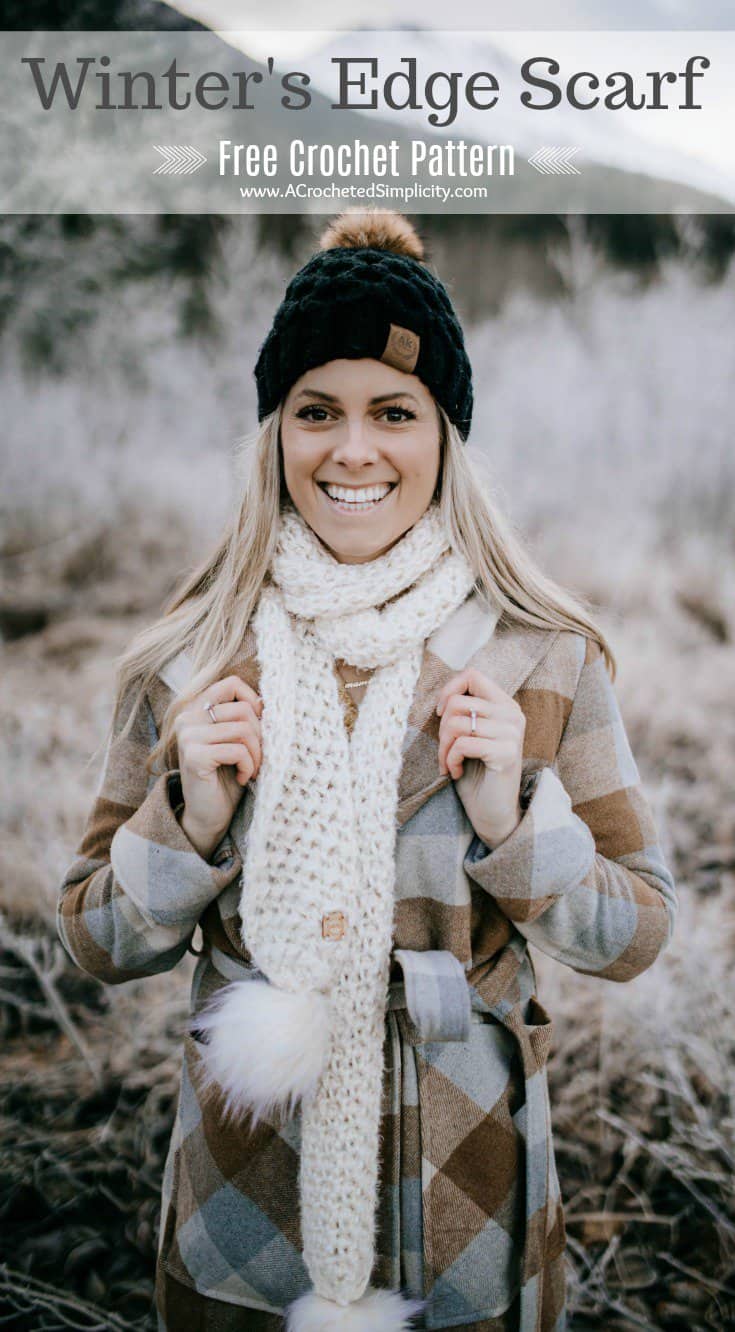 Winter's Edge Scarf – FREE CROCHET SCARF PATTERN
The free pattern is below, but if you love to work offline, I've got a couple other great options for you.
Purchase the ad-free, printable PDF, including all photo tutorials, on Love Crafts here, Ravelry here, or on Etsy here.
Save this pattern to your Ravelry favorites here.
Pin it for later here.
This post contains affiliate links.
Materials
Many of these materials are available for purchase through our affiliates below:
Abbreviations (US Terms)
ch(s): chain(s)
sl st(s): slip stitch(es)
st(s): stitch(es)
sp: space
sc: single crochet
hdc: half double crochet
RS: right side
Rep: repeat
Size
One Size: 5.5" W x 68" L (not including poms)
Easily adjustable. See notes section below.
Gauge
In stitch pattern: 13 sts = 5.5"; 10 rows = 4"
Notes
Turning chains are not included in stitch count.
Yarn Notes: Red Heart Hygge Yarn: 70% Acrylic / 30% Nylon (132 yards / 121 m / 141 g / 5 oz)
Yardage: 240 yards (2 balls of Red Heart Hygge Yarn)
Any Weight Yarn: You can use any weight yarn and hook size. Simply chain any even number until you reach the width you'd prefer your scarf to be. Then follow the written pattern until your scarf is the desired length.
The stitch pattern is a multiple of 2. You can easily increase or decrease the width of your scarf simply by adding or removing stitches from the foundation chain.
Faux Fur Poms are optional as the scarf is a standard rectangular scarf. You can choose to leave the ends as-is, or maybe add a little fringe, if you do not like the poms.
Standard Scarf Lengths: Standard scarf lengths vary from 55" to 82". You'll find small scarves are typically 55" long, medium scarves 70" long, and long scarves 82" long. I've found that 60" tends to be a very common length.
Winter's Edge Scarf Instructions
Row 1: With an 8mm crochet hook, ch 14, working into the back hump of the foundation ch, hdc in the 2nd ch from your hook, (sl st in the next ch, hdc in the next ch) rep from ( to ) across. Turn. (13 sts)
Row 2 (RS): Ch 1, sc in the first st, (ch 1, skip the next st, sc in the next hdc) rep from ( to ) across. Turn.
Row 3: Ch 1, hdc in the first st, (sl st in the next ch-1 sp, hdc in the next sc) rep from ( to ) across. Turn.
Rep Rows 2 - 3 until your scarf measures 68" L (or desired length).
Fasten off. Weave in ends. Continue on to Cinching Ends & Adding Faux Fur Poms.
Cinching Ends & Adding Faux Fur Poms

Step 1: With a yarn needle, weave an 18" piece of yarn in and out of every other stitch along a short edge of the scarf.
Step 2: Pull the yarn to cinch the end of the scarf. Knot the yarn to secure it.
Step 3: Thread one of the strands of yarn through the loop on your pom. Knot the yarn to secure it. Weave in ends.
Repeat for the opposite end of the scarf.

Aren't personalized tags such a great finishing touch to add to our crochet items? I ordered mine from an awesome online maker. You can find links to where I purchased and a tutorial on how to attach all of them HERE.

More Free Crochet Patterns from A Crocheted Simplicity
If you enjoy making this textured crochet scarf crochet, you may enjoy these other projects as well. And if you just want to browse, you can find all of our free crochet patterns HERE.
---
Are you intimidated by knit-look crochet? Would you love to learn my tips & tricks? Take an Annies Video Class with me and let me ease your fears and help you increase your skills! Click on the photo below to watch a free preview. You can also see the other 4 video classes I have available!
---