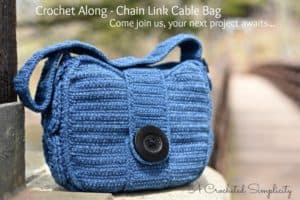 On Sale thru May 22, 2018. No Coupon Code Needed.
SCROLL DOWN to enter the YARN & KIT GIVEAWAY before 11:59PM CST on 05/20/18
Do you love the social aspect of crochet alongs? Do you love to crochet cables or bags? Would you love to crochet cables, but find yourself intimidated by them? If you answered "yes" to any of these, then this crochet along is for you! So what are you waiting for? Read the CAL details below and then join us in the A Crocheted Simplicity Crochet Community group on Facebook for some CAL F-U-N!
Not so sure you'd like to join a CAL? Let me try to twist your arm…

This post contains affiliate links.
First, a little info about the Chain Link Cable Bag!
I began with a vision of chain link cables, a hook, and a ball of Lion Brand Jeans Yarn. Lion Brand Yarn had sent me a couple balls of this yarn a few months ago, but I had yet to try it. Every time I went up into my studio it stared me in the eye…I swear it did! One day it all clicked and I knew it would be the perfect yarn for my newest design…and it is, don't you agree?
I designed this bag around the chain link cable design. As I crocheted the cable section, the rest of the bag design fell into place. I typically add cables to the fronts of bags where they are front and center, but believe that they work perfectly on the sides of this design.
As with most all of my bag designs, I had to come up with a notion or two to add to the design. A quick rummage through my stash of notions and I found the metal buckles that I used on the strap and a large black button. I also had the magnetic snap and a navy blue 9″ zipper…I call that pure luck!
If you've been following my designs for a while, by now you know that with each new design I try to incorporate a new technique, stitch pattern, or design element. Doing so helps to keep me excited about the project and I find I end up with fewer WIPs this way. For the Chain Link Cable Bag, it's the unique cable stitch pattern and bag construction that are new and I think you'll love them!
The pattern is 17 pages long and includes a video tutorial, step-by-step photo tutorial for the chain link cables, and a photo tutorial for assembly. If you end up needing a little more support, the crochet along is a great place to find it!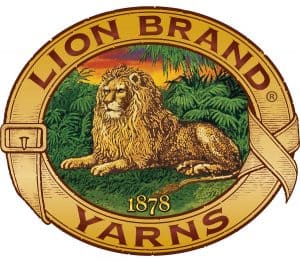 THANK YOU LION BRAND YARNS FOR SPONSORING THIS CROCHET ALONG WITH 2 YARN PRIZES!
Enter to Win Below!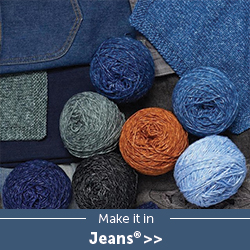 ORDER YOUR MATERIALS FROM OUR AFFILIATES BELOW:
WHY SHOULD I JOIN THE CROCHET ALONG?
Crochet alongs bring a great sense of community to our craft.
A CAL is the perfect opportunity to meet new friends who share your same passions.
They're also great opportunities to share your talents with others by helping those in the group who are eager to learn new skills, but may need a little help along the way.
You'll receive exclusive help from myself as I'll be there daily to answer any of your questions, should you have any.
Live videos will be posted in the group, if the need arises.
If you're intimidated by crochet cables, a crochet along setting is the best place to learn! Come join us and let's put those fears to rest! 😀
And last, but not least…. THE AWESOME PRIZES! 😉
SOUNDS LIKE A BLAST! WHAT DO I HAVE TO DO TO GET STARTED?
Step 1: Click HERE to purchase your own copy of the Chain Link Cable Bag. The pattern is On Sale thru May 20, 2018. No Coupon Code Needed.
Step 2: Click HERE to join the ACS Crochet Community Facebook Group (if you're not already a member).
Step 3: Crochet Along with us by following the schedule below! 😀
CROCHET ALONG SCHEDULE
June 1 – 7: Gather your supplies! Choose yarn from your stash, order the perfect yarn, or visit a local store! Post a photo of your yarn to your Ravelry project & add one to the weekly post in the ACS Facebook community group!
June 8 – 14: Let's make the front and back side of our bag. Crochet both Bag Sides. Post a photo of your completed bag sides to your Ravelry project & add one to the weekly post in the ACS Facebook community group!
June 15 – June 21: Complete the cable section. Post a photo to your Ravelry project & add one to the weekly post in the ACS Facebook community group!
June 22 – 30: Complete the strap, front rectangle, back rectangle, and assemble your bag! Post your final photo to your Ravelry project& add one to the weekly post in the ACS Facebook community group!
ENTER TO WIN WEEKLY PRIZES
There will be weekly drawings and great prizes to be won! To be eligible to win the weekly prizes you must do the following:
Step 1) Create a project on Ravelry linking to the Chain Link Cable Bag listing.
How to create a project on Ravelry: Log into your Ravelry account, then go to the Ravelry listing for the Chain Link Cable Bag, in the upper right corner you'll see where it says "add to favorites, hook it, share this" etc.. Click on the little crochet hook and the words 'hook it!' (see photo below).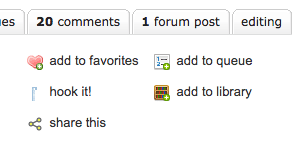 A small box will pop-up (as shown in the photo below). The default name for your project will be Chain Link Cable Bag (you can re-name it if you prefer). Once you're happy with the name, click the 'create this project' button.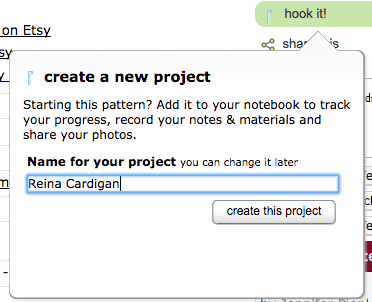 You'll then be brought to your project page where you can add photos, notes etc. To edit your project simply click on 'edit project' near the upper right of the page (see photo below).

Step 2) Update your project each week by Thursday night at midnight pst with at least 1 photo of the current week's part. (Example: Week 1, before midnight on June 7th, have your project page updated with a photo of your completed bag sides.)
Step 3) Add one photo (or a link to your Ravelry project) & your Ravelry username to the weekly CAL post in the ACS Facebook Community Group.
All those who have updated their projects & added the info to the weekly post by the deadline will be put into a random drawing for the current week's prizes. Winners will be announced in the Facebook group on Fridays.

CONGRATULATIONS to our Winners!!!
I will be sending you both an e-mail. Please respond ASAP so we can get your prize mailed to you!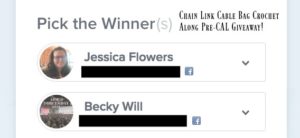 (2) WINNERs WILL RECEIVE THE FOLLOWING:
Lion Brand Yarns is generously giving (4) balls of Lion Brand Yarn Jeans Yarn to (2) winners, (winners' choice of color).
A Crocheted Simplicity is providing the addition notions noted above ( Magnetic snap, 9″ zipper, metal buckles), and pattern pdf.
Additional Contest Details & Rules (because we have to have rules)
Contest is open to anyone living anywhere in the U.S. & Canada.
Disclaimer: If you do live outside the U.S. and are the lucky winner, your prize pack may not arrive before the CAL begins.
(2) Lucky winner will be randomly drawn on Monday, May 21, 2018. Winners will be announced right here on the blog!
---
I HOPE YOU'RE ALL AS EXCITED AS I AM TO GET THIS CROCHET ALONG STARTED! 😀
JOIN US AND LET'S CROCHET AN AWESOME BAG TOGETHER!