I've been wanting to try cross stitching on crocheted fabric for a while now. I also thought that maybe you did too so I designed a small project for us to try it out on, a cross stitch make-up bag. This small zippered pouch is perfect for many different uses, but I plan to use it as a make-up bag. 🙂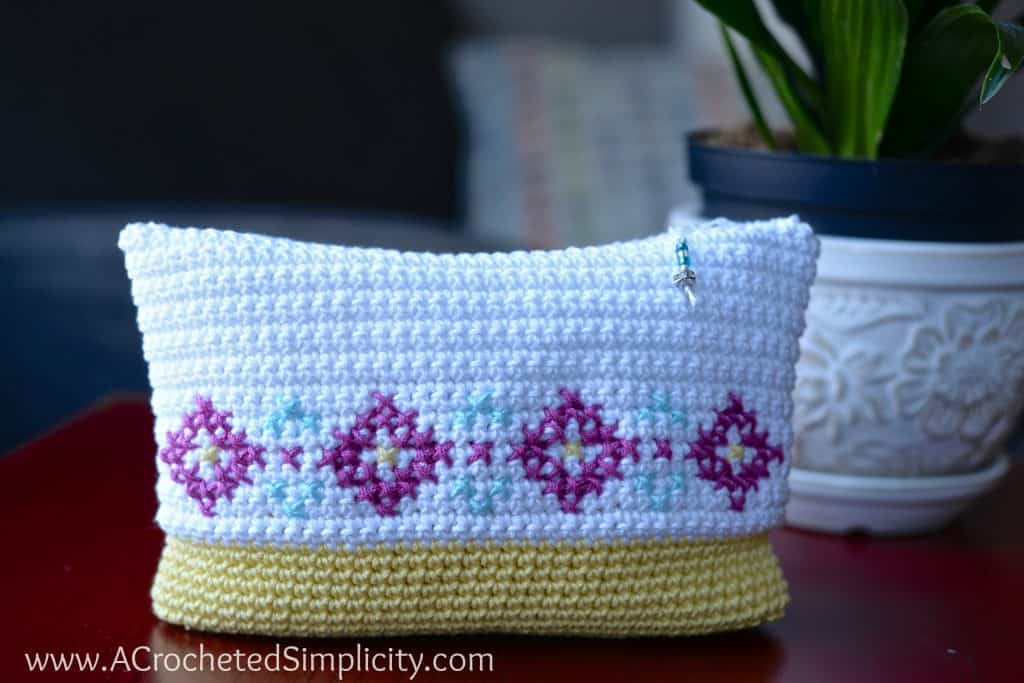 *Purchase an ad-free PDF of this pattern (including all charts and photo tutorials) on Craftsy or Ravelry*
This post contains affiliate links.
Materials
Yarn: Worsted Weight Cotton Yarn / 4 (the yarn pictured in the photos is Lion Brand Yarn's 24/7 Cotton). You'll need 1 ball of the following colors: White (MC /160 yards), Rose (CA / 6 yards), Aqua (CB / 4 yards) & Lemon (CC / 120 yards)
Crochet Hook: F3.75mm (My favorite crochet hooks are the Clover Amour Hooks, I've never had an ache in my hand since switching)
Zipper (7")
Sewing Needle & Coordinating Thread
Many of these materials are available for purchase through our affiliates below:

Stitch Abbreviations
ch: chain
sl st: slip stitch
sc: single crochet
st(s): stitch(es)
yo: yarn over
MC: White
CA: Rose
CB: Aqua
CC: Lemon
RS: right side
Rnd: round
Rep: repeat
SM: stitch marker
BLO: back loop only
Gauge
In single crochet: 9 sts + 10 rows = 2″
Finished Size
Notes
I tend to crochet on the tighter side, if you crochet more loosely, you may need to go down a hook size or two to meet gauge.
The ch-1 at the beginning of the rounds does not count as a stitch, unless noted otherwise.
Yarn Notes: Lion Brand Yarn 24/7 Cotton was used for the sample on page 1. (3.5oz / 186 yards / 170 meters / 100% mercerized cotton). Another comparable worsted weight cotton yarn may be substituted.
If you're looking for a great new crochet hook case, click here to check out this one from our affiliates!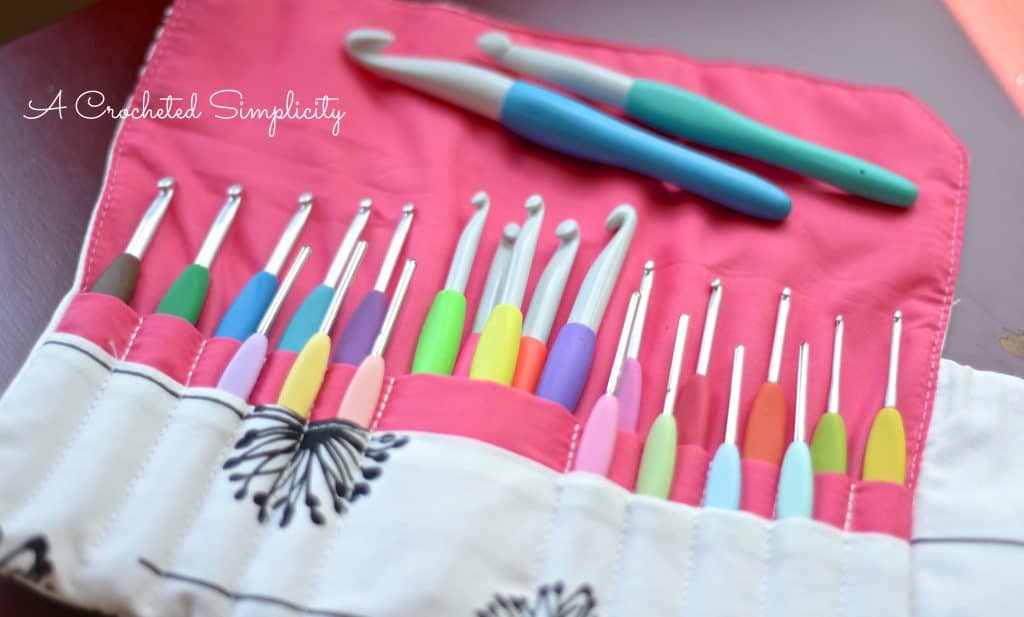 Cross Stitch Make-Up Bag Instructions
Rnd 1 (RS): With MC and a 3.75mm crochet hook, ch 81, sc in the 2nd ch from your hook and in each ch across. Join w/ a sl st to the 1st st of the rnd. Turn. (80 sts)
Note: You'll be working in joined rows. You'll join at the end of a round, turn, but do not ch 1 when beginning the next round. Make sure to work the first sc of the round into the next sc and NOT into the sl st join. It's very easy to confuse the 2. And your last sc of the round will be worked into the last sc of the previous round, but it may look like you're working into the join when you aren't.
Rnds 2 - 22: Sc in each st around. Join. Turn. (80 sts)
Fasten off. Weave in ends. Use the tail of yarn from your foundation chain and sew closed the gap between the first and last stitches of Rnd 1. Continue on to Cross Stitching.
Cross Stitching
Step 1: Lay your bag flat with the seam along the backside (facing down). Count out and mark the centermost 37 sts (this is the width of the cross stitch motif in the chart below).
Step 2: Begin working the bottom of the motif over the sts from Rnd 3. I like to begin with the main color in the motif (which in this design is CA) and complete all of it (See photo D below), then work on the other coordinating colors, CB & CC. See tutorial pics for cross stitching on crocheted fabric. Weave in all ends.
Note: The bottom row in the chart is worked over the stitches from Round 3 of the bag.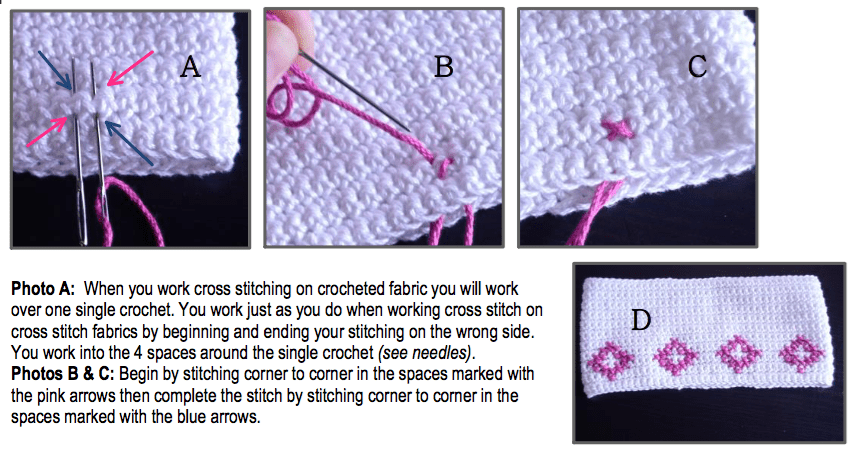 Bottom of the Bag
Rnd 1 (RS): With CC and a 3.75mm crochet hook, join yarn w/ a sc along the back side of your bag, sc in each st around. Join w/ a sl st to the 1st st. (80 sts)
Rnds 2 - 11: Ch 1, sc in each st around. Join. (80 sts)
Fasten off. Continue on to Seaming the Bottom.
Seaming the Bottom
Step 1: Lay your bag flat, centering the cross stitch motif across the front. Place stitch markers, in the last round of the bottom of the bag, marking 2 stitches at each side where the fold is.
Step 2: Turn your bag inside out. Using CC, seam the bottom of the bag by sl st across round 11 working through both layers. See photo below.
Fasten off. Weave in ends. Turn your bag right side out. Add a Zipper to your bag! (Click here for a SUPER EASY tutorial.)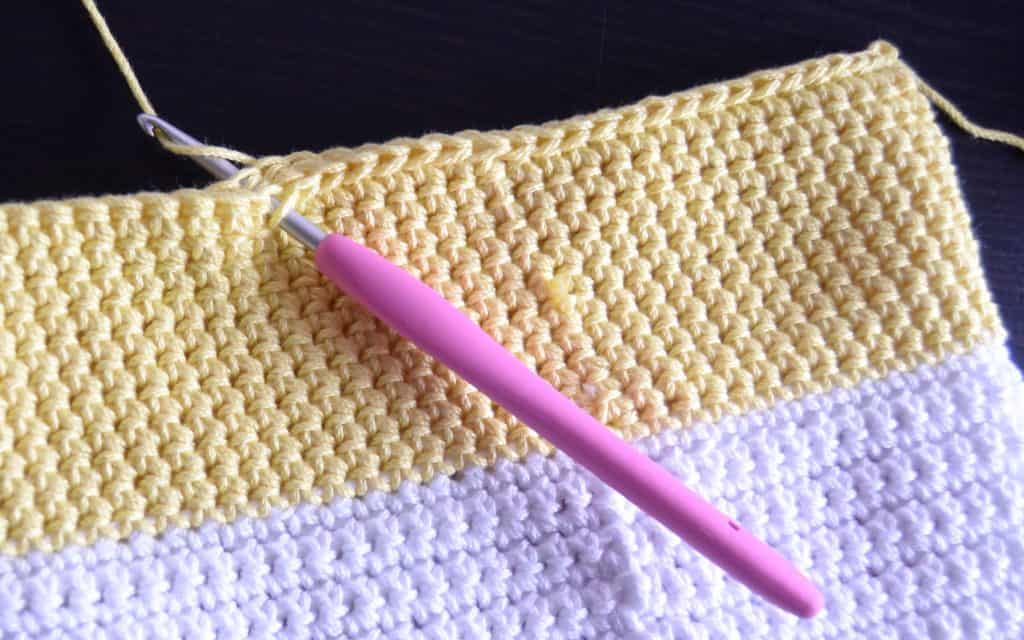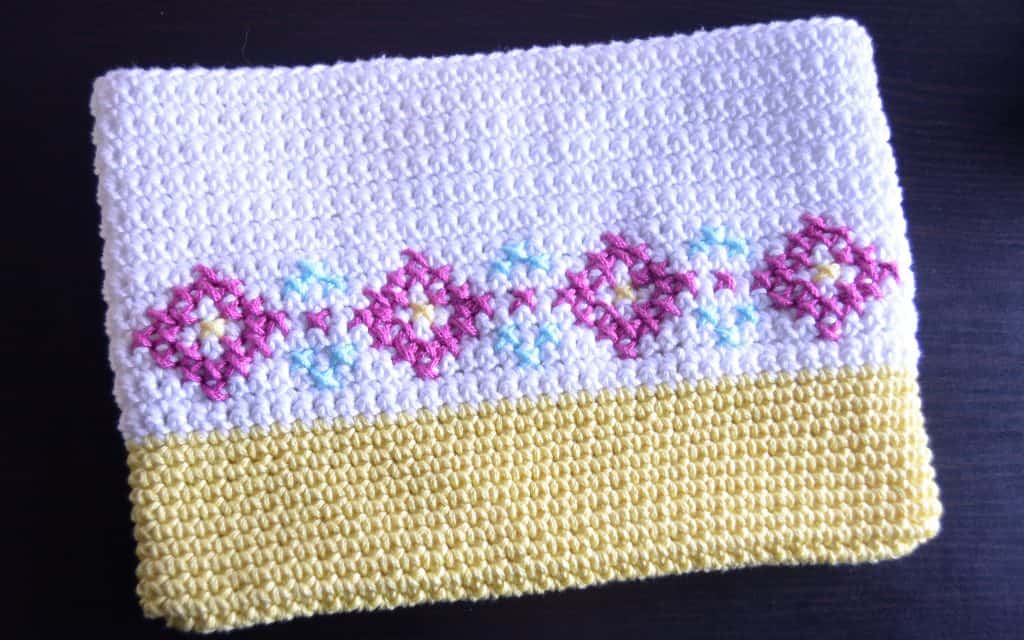 Finishing
Turn your bag inside out. Using a yarn needle and 8" piece of yarn, whipstitch the stitches together at each end of the zipper to close any gaps. Weave in ends. Turn right side out.

---
Are you intimidated by crocheted cables? Would you love to learn? Take an Annies Video Class with me and let me ease your fears of crocheted cables! Click on the photo below to watch a free preview. You can also see the other 2 classes I have available! (affiliate link)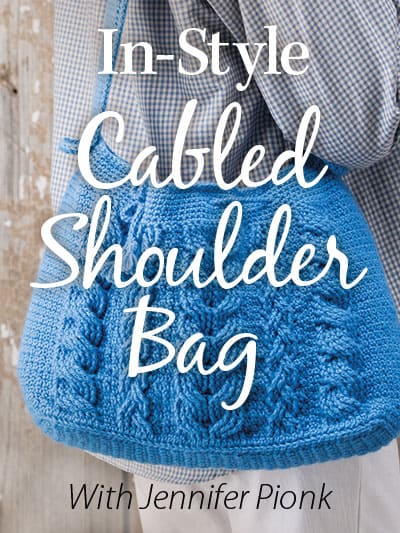 ---
I hope you've enjoyed this free crochet pattern! Check out my Ravelry shop to see all of my designs!
I LOVE seeing your finished projects! Please feel free to share them in the A Crocheted Simplicity Crochet Community group on Facebook!
Happy Crocheting!