Since designing my very first character keyhole Christmas towel in 2019, (the Gingerbread Man Kitchen Towel), designing an Elf Kitchen Towel has been on my short list. The wait is finally over! The Elf Kitchen Towel now joins the other Christmas character towels, Santa, Snowman, Reindeer and Gingerbread Man.
You can find the free crochet towel pattern for the Elf Kitchen Towel in this post below, or an ad-free print friendly version on Love Crafts here, Ravelry here, or on Etsy here.
Since designing my first character towel, I've received requests for all sorts of characters for the different holidays. The following are the character towels I've designed to date. They can all be found on my blog by clicking the links below:
Mrs. Claus Kitchen Towel – COMING SOON!
Elf Kitchen Towel – in this blog post below!
Non-Character Stay Put / Keyhole Kitchen Towels
I've also designed several other crochet kitchen towels that are not characters, you can find them all here: Free Crochet Kitchen Towel Patterns
YARN
Cotton is the go-to fiber for crochet dish cloths, dish towels, and hand towels as it's the most absorbent. There are several cotton yarns out there that would be perfect for this project, but I chose to use Lily Sugar n' Cream 100% worsted weight cotton yarn. Lily Sugar n' Cream is available in 39 colors so I was able to find all of the colors I needed for this project within the same yarn line.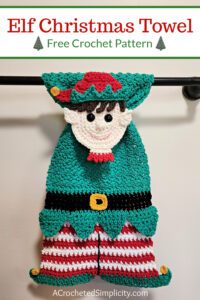 ELF KITCHEN TOWEL – FREE CROCHET TOWEL PATTERN
The free pattern is below, but if you love to work offline, or need to order your yarn, I've got a couple other great options for you.
Purchase the ad-free, printable PDF that includes all photo tutorials, on Love Crafts here, Ravelry here, or Etsy here.
Save this pattern to your Ravelry favorites here.
Pin it for later here.
This post contains affiliate links.
Materials
Many of the materials are available for purchase through our affiliates:
Abbreviations (US Terms)
ch(s): chain
st(s): stitch(es)
sl st(s): slip stitch(es)
sc: single crochet
hdc: half double crochet
dc: double crochet
dc-cl: double crochet cluster (click here for tutorial)
sc2tog: single crochet decrease
invsc2tog: invisible single crochet decrease
BLO / FLO: back loop only / front loop only
RS: right side / WS: wrong side
Rep: repeat
Rnd: round
SM: stitch marker
yo: yarn over
Join with a standing sc: (click here for tutorial)
Join with a standing dc: (click here for tutorial)
Gauge
In sc with a 5.00 mm hook: 8 sts = 2″; 8 rows = 2″
In pattern stitch (sc in next, dc in next): 9 sts = 3″; 8. is 5 rows = 3″
Size
One Size: 8-3/4″ W x 18-1/2″ L  (not including the head)
Notes
Beginning chains are not counted as a stitch or included in stitch count.
The first stitch of each row is worked into the same stitch as the turning chain, unless stated otherwise.
Yarn Notes: Lily Sugar n' Cream worsted weight cotton yarn was used for the sample, 100% Cotton (120 yards / 109 m / 71 g / 2.5 oz).
Yardage:

Mod Green: 140 yards
Red: 60 yards
Dark Brown: 3 yards
Ecru: 50 yards
White: 20 yards
Gold: 3 yards
Light Pink: 18″

This dish towel is constructed by first making 2 ovals for the head and joining them together. You'll then create a keyhole opening attached to the head and work the body of the towel from top down. Next, you'll crochet the different features of the elf. Lastly, you'll attach the elf's features.
Special Stitches
Joining the Heads
Body of Towel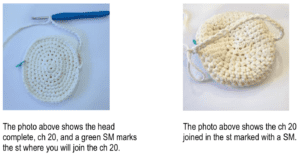 Belt
Bottom of Jacket
Striped Leggings
Elf's Shoes
Belt Buckle
Ear's (Make 2)
Hair
Elf Hat
Hat Trim
Neck
Optional Yarn Eyes (Make 2)
Adding Facial Features
Attach Nose
Split in Pants