My oldest daughter has been asking me to make her a simple crochet poncho for a while now. And recently, while crocheting a couple of my newest patterns, the Centaur Mandala Afghan and Chimera Scarf, I realized that a combination of the simple crochet stitches I was using would be perfect for a poncho. This is how the Wasilla Poncho came to be!
The free crochet pattern for the Wasilla Poncho can be found below, or you can find an ad-free print friendly version on Love Crafts here, Ravelry here, or on Etsy here.
Ponchos are great to wear for seasonal transition pieces. They're also great for late night bonfires when the air gets chilly. Dress them up, dress them down. You really can't go wrong with a poncho!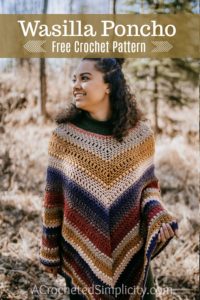 The Yarn
For this crochet poncho, I chose Lion Brand Yarns Mandala, which is a DK weight, self-striping yarn. All of the colorwork was done for me which made this a perfect crochet project for binge watching my favorite TV shows. And I don't know about you, but my favorite part about this yarn is that I wasn't left with a bunch of ends to weave in!
If you've been following my most recent new releases, you'll already know that I previously purchased several cakes of Lion Brand Yarns, Mandala, and I've been trying to use them for various projects. I'm normally a solid color girl when it comes to most everything in life, especially yarn. But there's just something about these gorgeous cakes of yarn… I hear them calling my name every time I walk down the yarn aisle! While I love them all, I am ashamed to admit that I've been hoarding more cakes than I've been using.
THE COLORWAYS I'VE USED SO FAR ARE:
The Wasilla Poncho is my free crochet poncho pattern contribution to the 2019 Celebrate Mom Blog Hop, hosted by Maria from Pattern Paradise.  For this event I designed both a women's and a girls' version of the Wasilla Poncho. You can find the Wasilla Poncho for Girls, here.
Fond (and funny) Childhood Memory
I have many fond memories of myself as a young girl watching my mom use her hands to create something beautiful. She mostly loved to bake and sew, but occasionally I would watch her hand embroider.
I would watch in awe as she would transform simple round, square and rectangular cakes into breathtaking works of art for someone's special day. One day there was an odd shaped cake hiding in the microwave. It was a rectangular cake with two bumps she had built up with cupcakes and cake scraps. It just had its crumb coating on so there were no obvious signs to let me know what it was going to be. When I asked my mom, her response was, "It's a frog for a little boy's birthday." I thought that was neat and couldn't wait to see the finished cake. Well, I never did get to see the cake as she told me they had to pick it up while I was at school. Several years later I was thumbing through photographs of all of the cakes she had made over the years and I came across a cake that I had never seen before. I quickly realized that the cake she had told me was a frog when I was a young girl, was in fact NOT a frog... it was for a bachelor party... I don't think I need to tell you what those big bumps were. 😉
When she wasn't making cakes to help support our family, she would spend days making our clothing. I used to spend hours sitting next to her as she sewed new dresses for us both for church and special occasions. I didn't have a baby sister until I was almost 10 years old so she used to make the matching dresses for herself and I. This is what lead me to design a crochet poncho for both women and girls for the blog hop. Although you may not realize it when you're a young girl, it is lots of fun to match your mom. 🙂

2019 Celebrate Mom Blog Hop
I'm excited to be participating in the 2019 Celebrate Mom Blog Hop hosted by Pattern Paradise! Each day in May, a different crochet designer will be featured and share a new free pattern with you! There are lots of fun prizes too, so come join the fun! For the list of designers and all the details, go to this post => 2019 Celebrate Mom Blog Hop & Giveaway.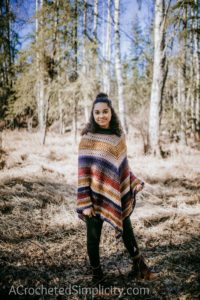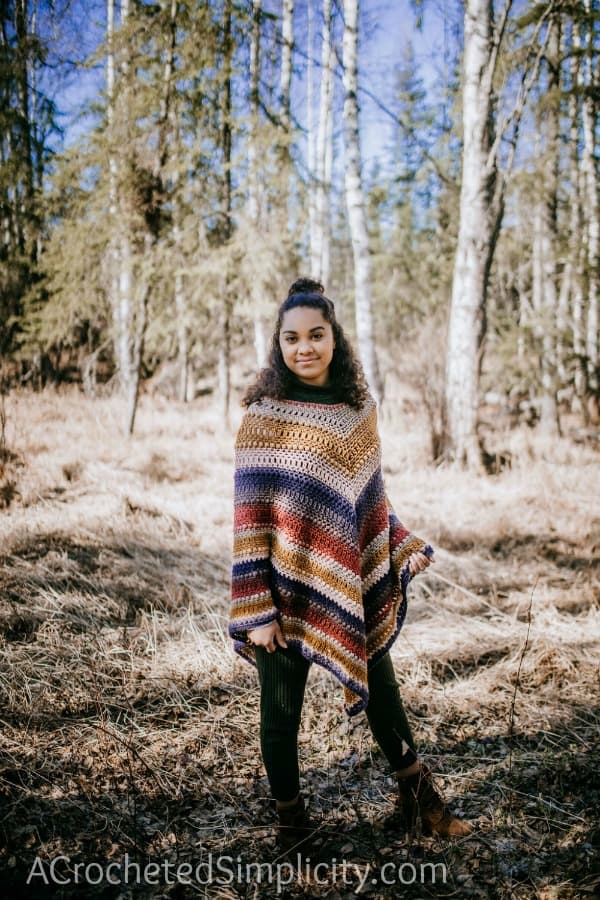 WASILLA PONCHO – FREE CROCHET PONCHO PATTERN
The free pattern is below, but if you love to work offline, I've got a great option for you.
Purchase the ad-free, printable PDF, including all photo tutorials, on Love Crafts here, Ravelry here, or on Etsy here.
This ad-free, printable PDF includes BOTH the women's and girls poncho patterns.
Purchase the kit here! Lion Brand also has a full kit of the Wasilla Poncho for adults, available on their website. The kit includes your choice of 5 colorways and a printed copy of the pattern below.
Pin it for later here.
This post contains affiliate links.
Materials
Many of these materials are available for purchase through our affiliates below:
Gauge
In sc: 11 sts = 3" + 5 rows = 1.25"
Finished Size
Abbreviations (US Terms)
ch(s): chain(s)
sl st: slip stitch
st(s): stitch(es)
sc: single crochet
dc: double crochet
puff st: see special stitches below
RS: right side
yo: yarn over
rep: repeat
sp: space
2dc-cl: 2 double crochet cluster  (click HERE for tutorial)
Alt-dc-cl: alternate double crochet cluster  (click HERE for tutorial)
MORE FREE CROCHET PATTERNS FROM A CROCHETED SIMPLICITY
If you enjoy crocheting ponchos, scarves, and shawls to keep your shoulders warm, you may enjoy these other projects as well. And if you just want to browse, you can find all of our free crochet patterns HERE.
---