Has anyone ever said to you, "You can't block acrylic yarn!" ? Well, if they have, ignore what they said because acrylic yarn CAN BE BLOCKED! Yes, it can be blocked... and it should be blocked! Do seamstresses wash and iron their fabric before sewing? Yes. So crocheters (and knitters) should block their panels before assembly. Trust me. It will make your life a whole lot less frustrating if you invest just a little bit of your time into properly blocking your pieces. 🙂
Now that I've convinced you that acrylic yarn can be blocked, are you ready to admit that you've steered clear of projects that call for you to block them because you have a fear of blocking? It's okay, I was just like you before I talked myself into blocking my first garment. And I'm here to tell you that after I blocked my very first garment, I sat back and looked at it all nicely laid out on the blocking boards and I felt my chest swell just a tad as I thought to myself, "That was actually fun!" 😀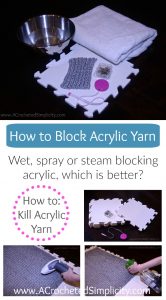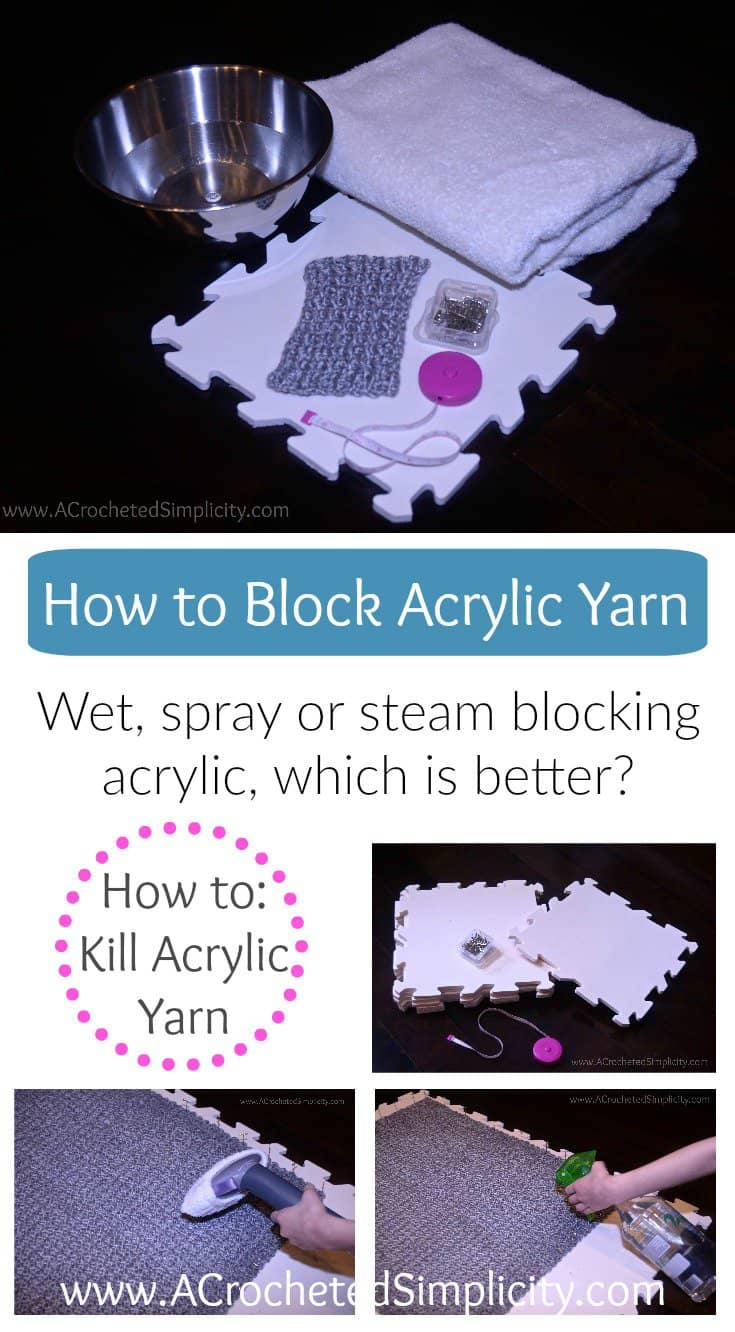 Blocking is easy, it can be fun, and it can be done by using 3 different methods. In this blog post, I'm going to share with you all that I know about wet, spray, and steam blocking acrylic yarn in hopes of making your life a little easier and your projects a whole lot neater!
*This post contains affiliate links.
First, let's talk about the tools you'll need!
In the photo below, you'll see a pile of foam puzzle piece blocks, a plastic container of t-pins (make sure they're rust-proof) and a flexible tape measure. These are the 3 tools that are essential for blocking no matter which method of blocking you choose. The white foam puzzle blocks are actually just a kids floor puzzle (there are princesses on the opposite side, but hey...I found them on the clearance rack). You can find them on Amazon. This set HERE comes with a box of 150 t-pins and it has a 1 inch grid printed on them. If you already have t-pins, this set HERE is a little cheaper. Another option is to use a pattern cutting board, BUT it's cardboard so you'll need to first cover it with plastic wrap before pinning your pieces out on it. Depending on the size of your project, you can also pin it out on your ironing board, if you prefer. If you have none of the options available, you can also lay out a few towels and pin your pieces to those.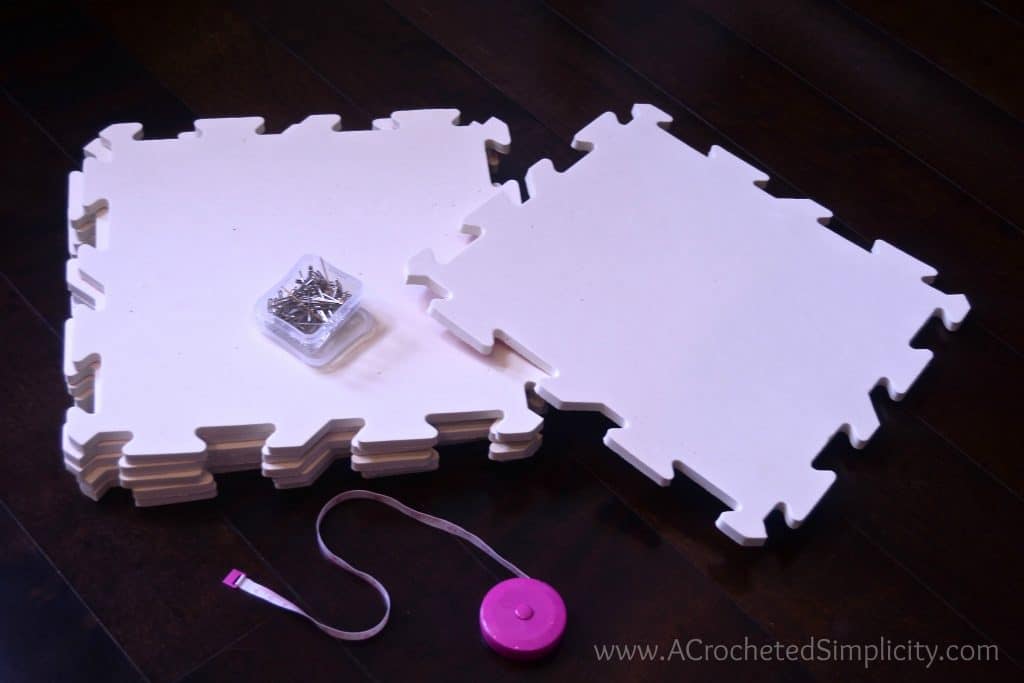 Let's start with Spray & Steam Blocking since they both begin the same way.
First, you'll set up your foam blocking boards (or whatever you're pinning to). Make sure that the surface is slightly larger than the measurements your piece needs to be blocked to are. Grab your tape measure and t-pins.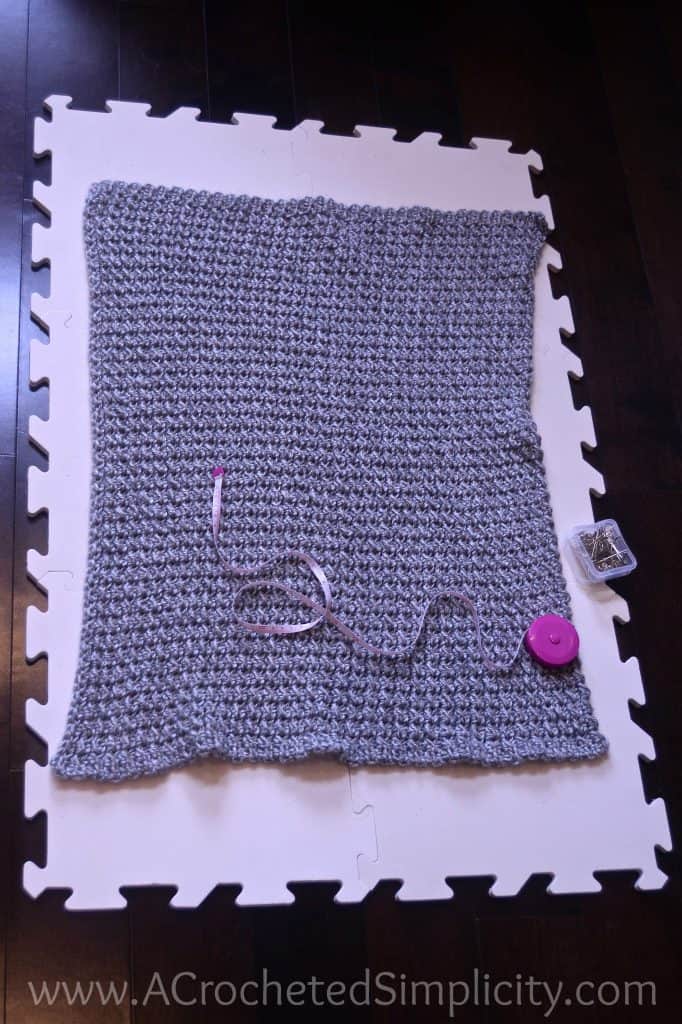 Lay out your piece on your blocking boards and begin pinning it to the measurements the pattern specifies. If you're working with a piece that has a lot of texture or cables, you'll want to pin it right side up. If your piece isn't very textured, wrong side up works just fine.
If you're working with a square or rectangular piece, you can double check yourself by measuring from corner-to-corner. As long as both measurements are the same, then you can rest assured that your piece is square! (see one of the wet blocking photos near the bottom of the post for a visual of measuring corner to corner)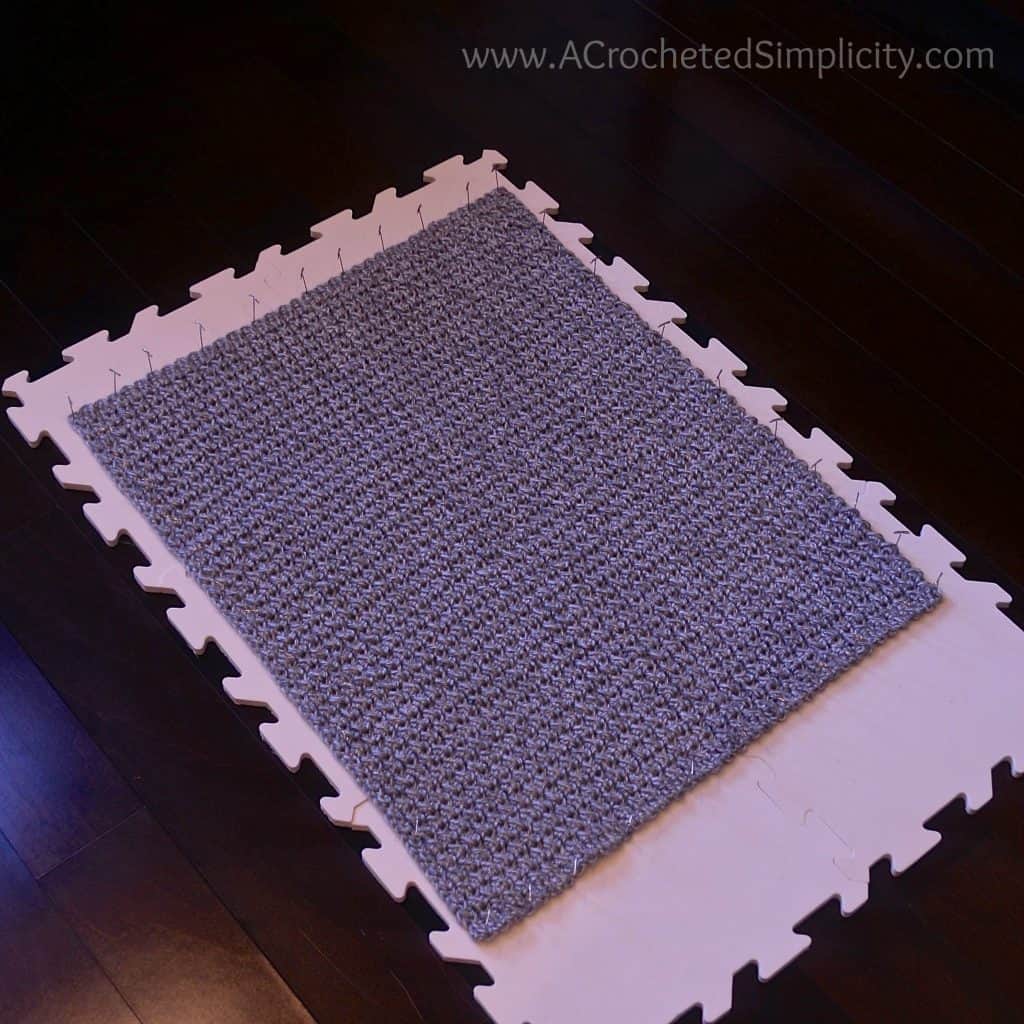 Use as many pins as you need around the perimeter. In some instances, less is more, but in some cases more is necessary. This is something you'll get a better feel for once you've done it a few times. (did you see what I did there? I planted a seed...you're going to do it more than once. 😉 )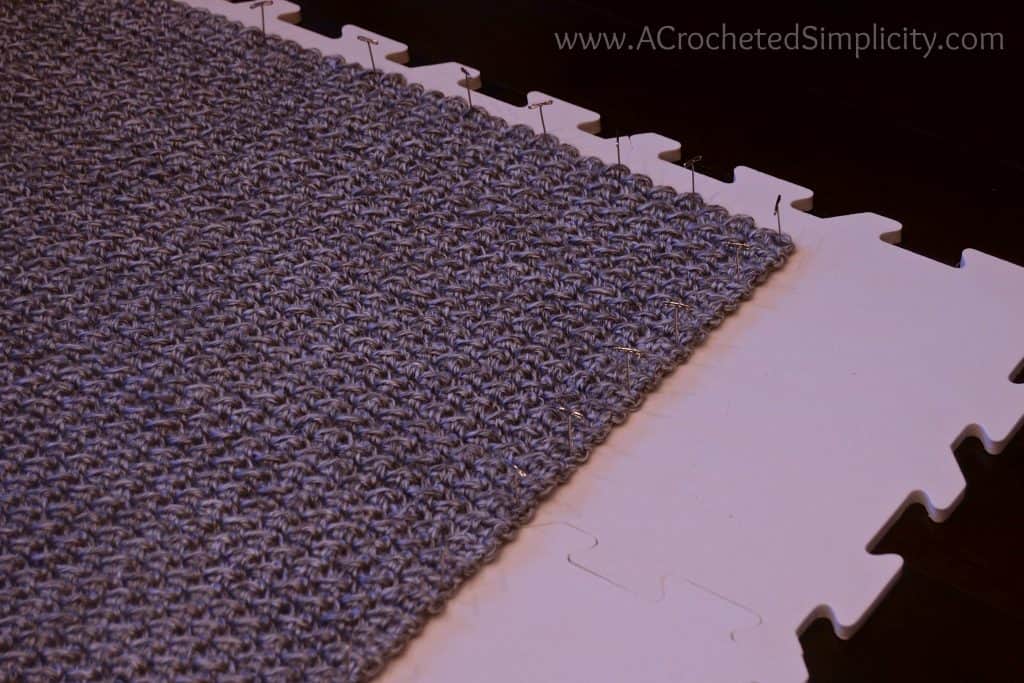 Now that your piece is pinned to the proper measurements, you can move on to either spray or steam blocking.
Let's Talk Spray Blocking!
Spray blocking is pretty simple. All you need is a spray bottle filled with water (cold tap water works just fine). Begin spraying your piece and continue spraying until the entire piece is saturated. Once it is saturated, you're done! Now you just need to wait for it to dry completely...which can take a while.
Pros of Spray Blocking: Can be done any where in the home because it doesn't require the use of anything that needs to be plugged into an outlet.
Cons of Spray Blocking: Takes the longest to dry because the piece is saturated with water and not squeezed out before pinning (like it is with wet blocking as you'll learn below).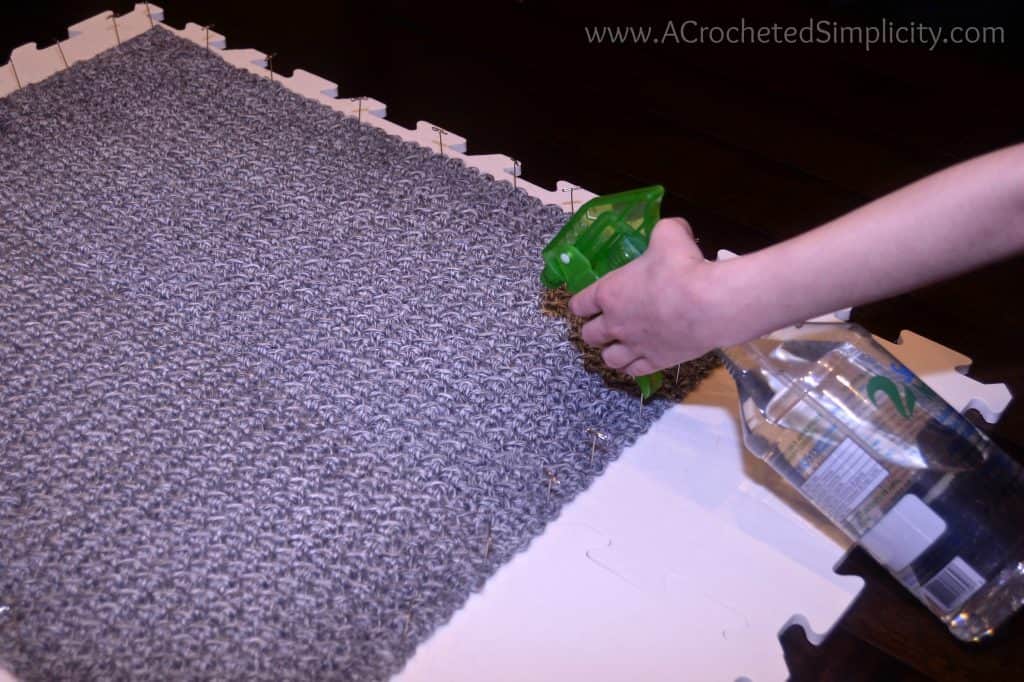 Let's Talk Steam Blocking!
Steam blocking can be done with a garment steamer or an iron on the steam setting. I have the Shark Portable Garment Steamer (shown in the photo below) and LOVE it for steam blocking! You can certainly use your iron on a steam setting, but be very careful not to touch the fabric with your iron or it will melt...and then you'll cry...and we don't want that. 😉
To steam block your fabric simply hover over it with the steam (approximately ½" above it). I continuously move back and forth so that I do not over-steam my fabric. (If you over-steam & overheat acrylic, you can "kill it". We'll talk about that in a bit.) As you're steaming, you'll notice that the fabric will become damp and begin to soften up a bit.
While steaming, you can gently manipulate the fabric if you have any bumps that need to be smoothed out, but do not rub or push on the fabric as you can stretch out your stitches where you don't want them stretched out. Once your project seems to be damp all over, allow it to cool and dry completely to complete the blocking process.
Pros of Steam Blocking: It will soften up scratchy yarn. You can "kill acrylic" by over-steaming and overheating it and add a wonderful drape to your project.
Cons of Steam Blocking: You may need to invest in an iron with a steam setting or a garment steamer. You can over-steam and kill the acrylic and cause your fabric to have too much drape for the project. You can also melt your yarn if you accidentally touch it with the iron.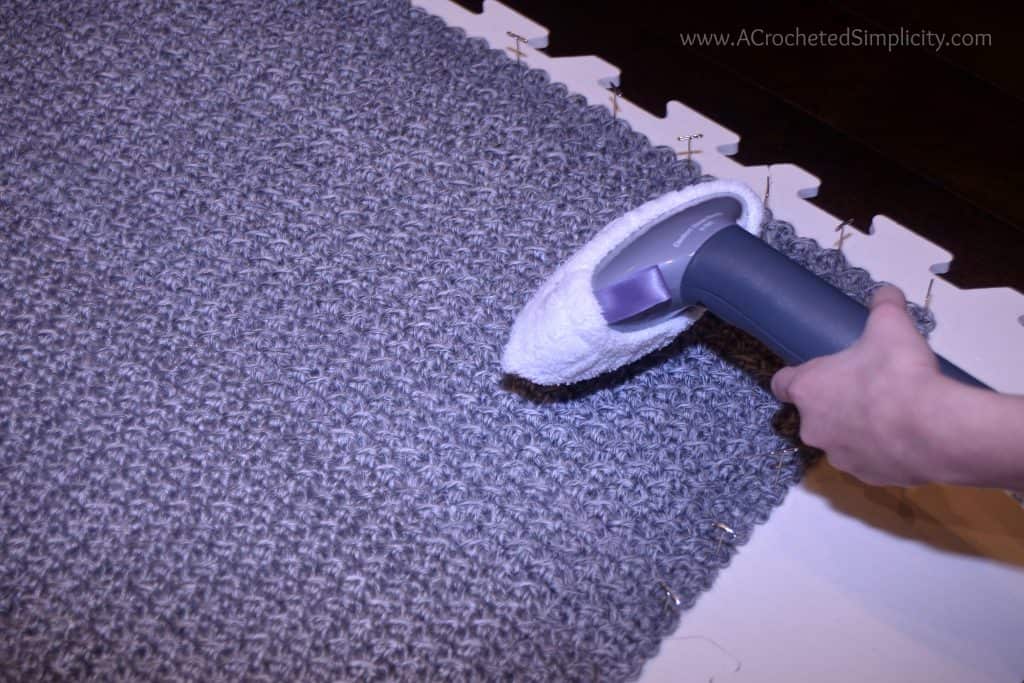 Last, but not least, Wet Blocking!
For wet blocking you'll need a bowl or sink full of water and a towel or two to remove excess water from your piece.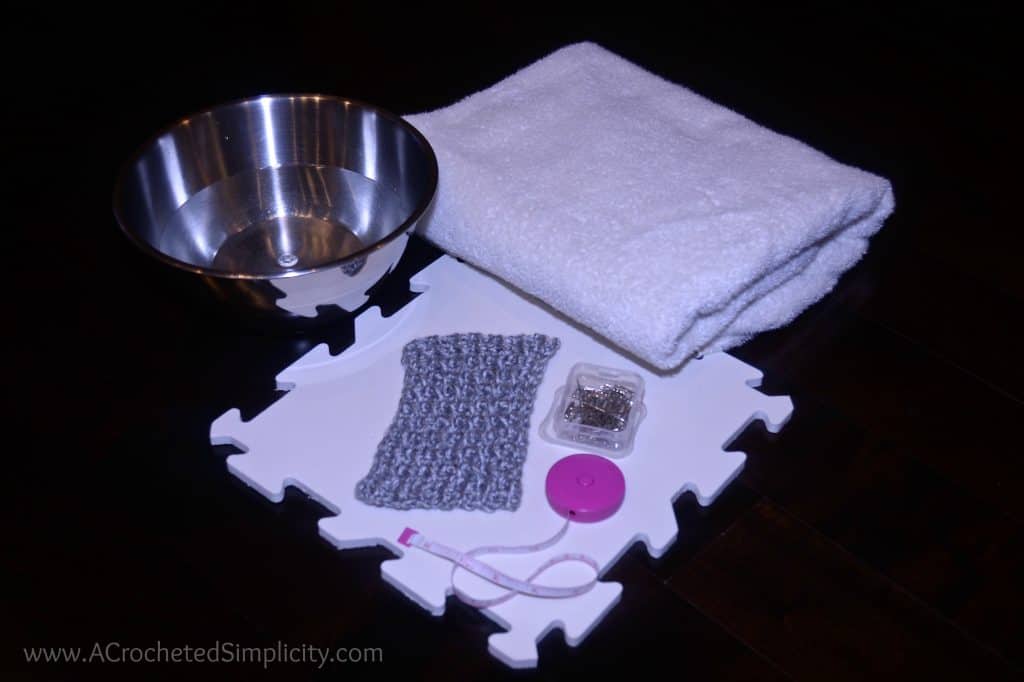 Begin by placing your fabric in the bowl of water. Don't just dunk it in the water and call it good. You need to let it sit in the water for approximately 10 minutes so that it can really soak up the water and the yarn can relax.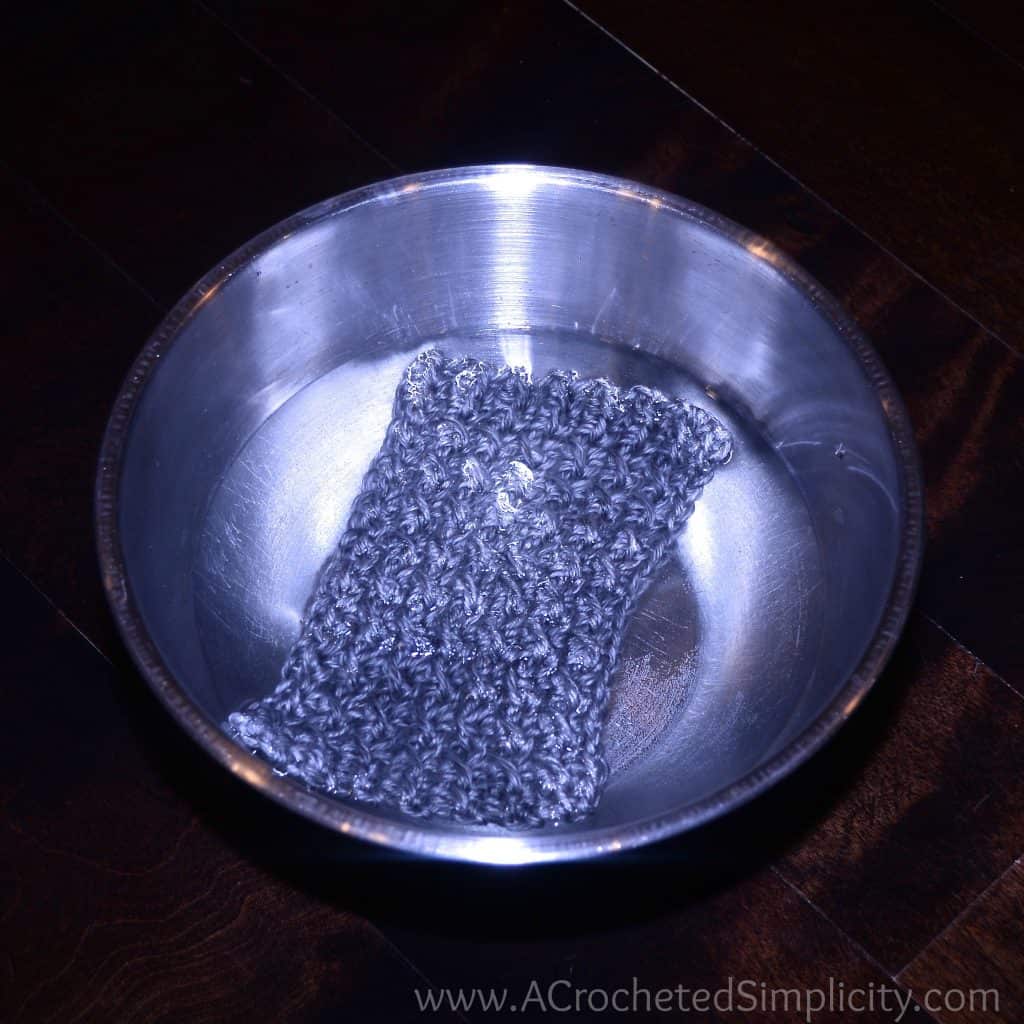 After your fabric is done soaking, gently squeeze out the excess water (do not wring or twist the fabric). Lay it between two layers of a towel and gently press to remove more of the water.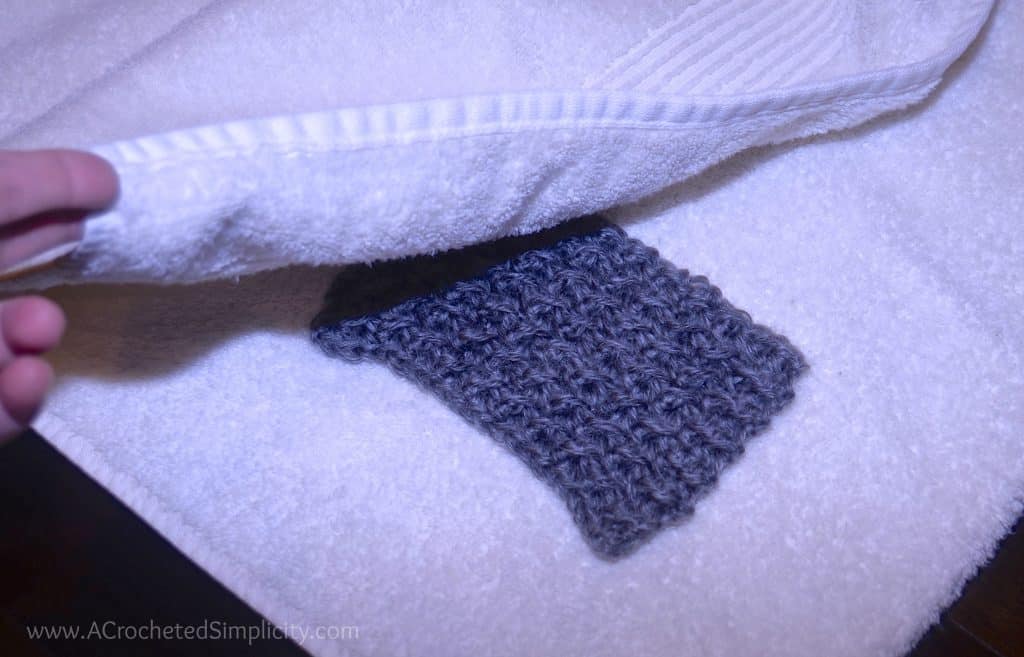 After you've removed a lot of the excess water, it's time to pin it to your boards to the measurements specified in the pattern.
Measure corner to corner to make sure your piece is square (if working with a square or rectangle piece). Continue to add more pins around the perimeter of your fabric. Once it is completely dry the blocking process is complete.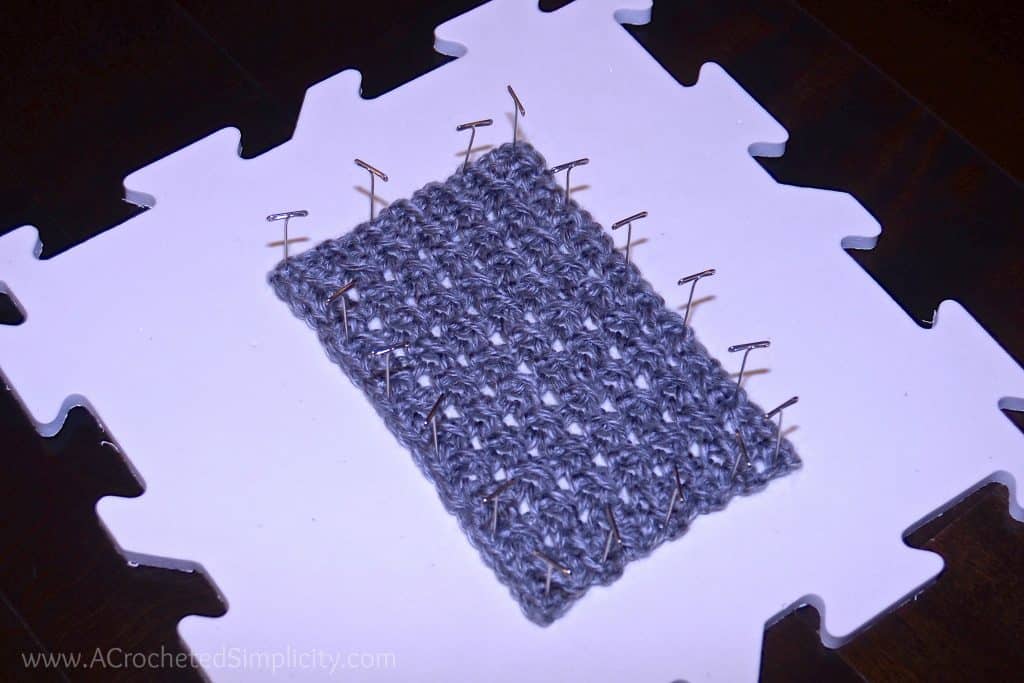 Pros of Wet Blocking: Dries more quickly than spray blocking because you remove excess water before pinning.
Cons of Wet Blocking: If you're working with a larger project, you may not have a sink large enough to sufficiently soak it and it can become cumbersome trying to remove excess water.
---
Most Commonly Asked Question: Is blocking acrylic yarn permanent?
This is a tricky question, but I'll try my best to explain.
Typically, you block acrylic pieces because you need to shape them before seaming them together. Blocking really helps to speed up the seaming process and it gives your finished project a more professional look. Wet, spray & basic steam blocking acrylic IS NOT permanent.
However, if you "kill acrylic" when steam blocking, this IS permanent because killing acrylic begins to melt the yarn just to the point that it loses some of it's elasticity, and this is permanent. Once you kill acrylic, you can't undo it. Your killed acrylic piece will become really soft and have an incredible drape (perfect for shawls).
---
In closing...
Wet & spray blocking acrylic yarn are great for blocking a project to a specified shape or measurement. Steam blocking is great for permanently softening up a project and adding drape when needed.
Now that I've gone over all 3 methods, which of the 3 will you try first? 😀 I can't wait to hear all about it!
If you have any blocking tips you'd love to share with us, please leave us a comment below. I'd love to hear from you!
---
Are you intimidated by crocheted cables? Would you love to learn? Take an Annies Video Class with me and let me ease your fears of crocheted cables! Click on the photo below to watch a free preview. You can also see the other 2 classes I have available! (affiliate link)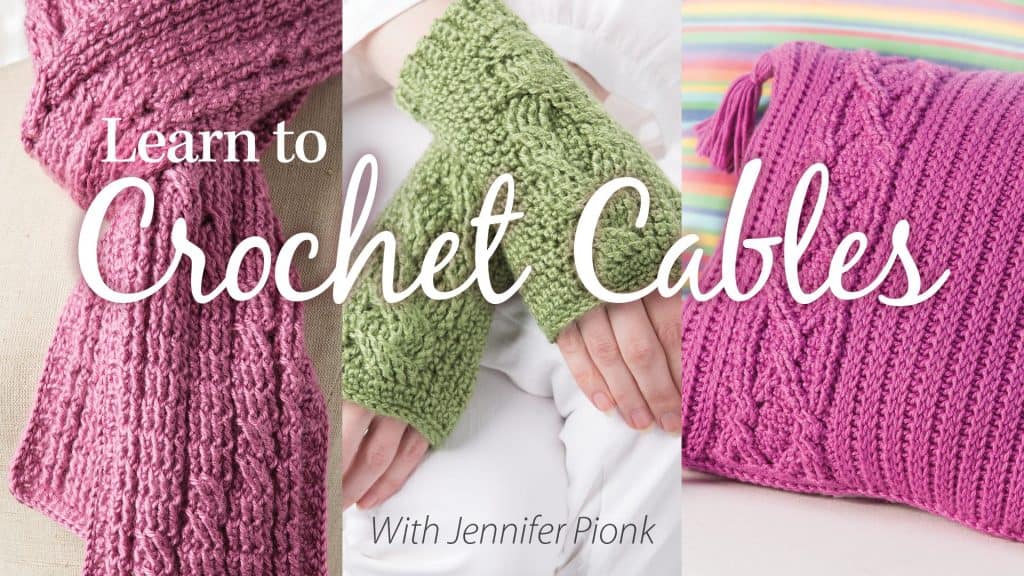 ---
I hope you've enjoyed this tutorial. If you have any questions regarding blocking, please don't hesitate to ask!
I LOVE seeing your finished projects! Please feel free to share them in the A Crocheted Simplicity Crochet Community group on Facebook! Use hashtag #ACrochetedSimplicity when sharing on social media so I can find your posts!