Have you ever wanted to add yarn tassels to a project, but didn't know how to make them? If so, this do-it-yourself tutorial is just for you!
The yarn I used for this tutorial is a worsted weight yarn, but you can use whatever weight yarn you'd like. Simply follow the notes below for tips on yarn weights.
Step 1 (photo above): Find a household object that is close to the length of the tassels you'd like to make. A few items that work well are: small books, smartphones, or even a small piece of cardboard (you can cut this to whatever length you desire). The small book shown in the photo above measures approximately 6″.
Step 2 (photo above): Wrap the yarn vertically around the item you've chosen to use as a template. Continue to wrap the yarn around the template until your tassel is as full as you'd like. Cut your yarn. *For the tassel shown above, I wrapped the yarn 20 times. For a super bulky yarn, 10 times is plenty. For a lighter weight yarn you may want to wrap it more than 20 times. The key thing to remember here is that the more you wrap, the thicker your tassel will be, and if you overwrap, your tassel may become a bell shape.
Step 3 (photo above): Cut an 8″ piece of yarn. At one end of the template, thread the yarn thru the center of the yarn and tie it in a tight knot. *See Pink Arrow in the photo above.
Step 4 (photo above): Cut the yarn on the end opposite the knot you just made. Remove the tassel from the cardboard.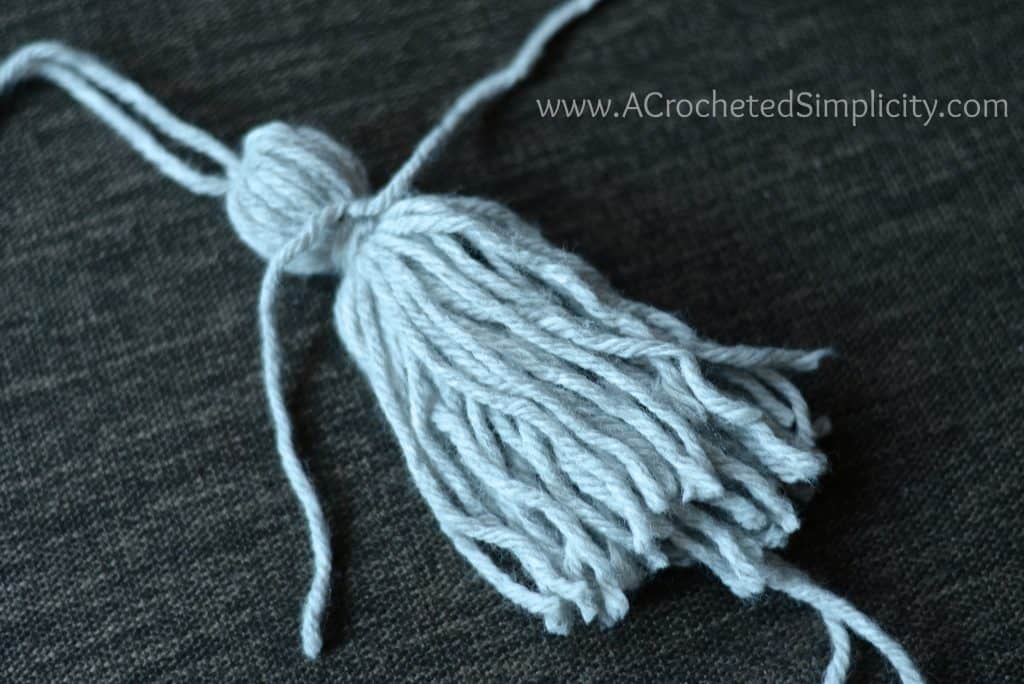 Step 5 (photo above): Cut an 8″ piece of yarn. Wrap this piece of yarn around the tassel approximately 1-1/4″ from the knot at the top. Tie a tight knot then wrap the yarn around the same spot 3-4 times. Knot again and tuck the ends inside the tassel. *See Photos above and below. I like to use a crochet hook to help pull the ends to the center of the tassel.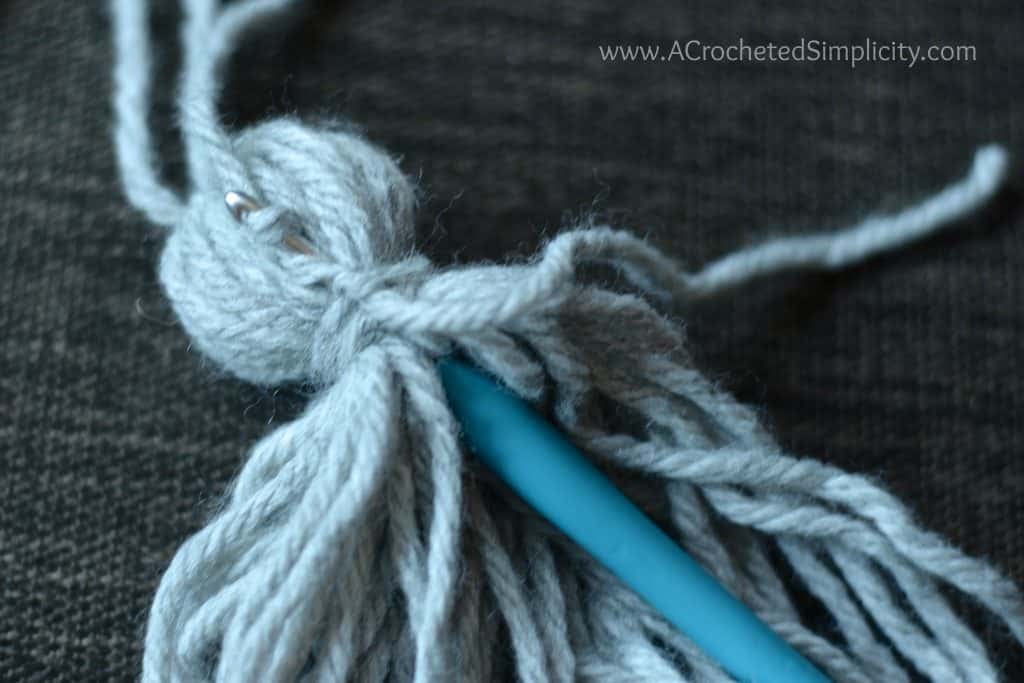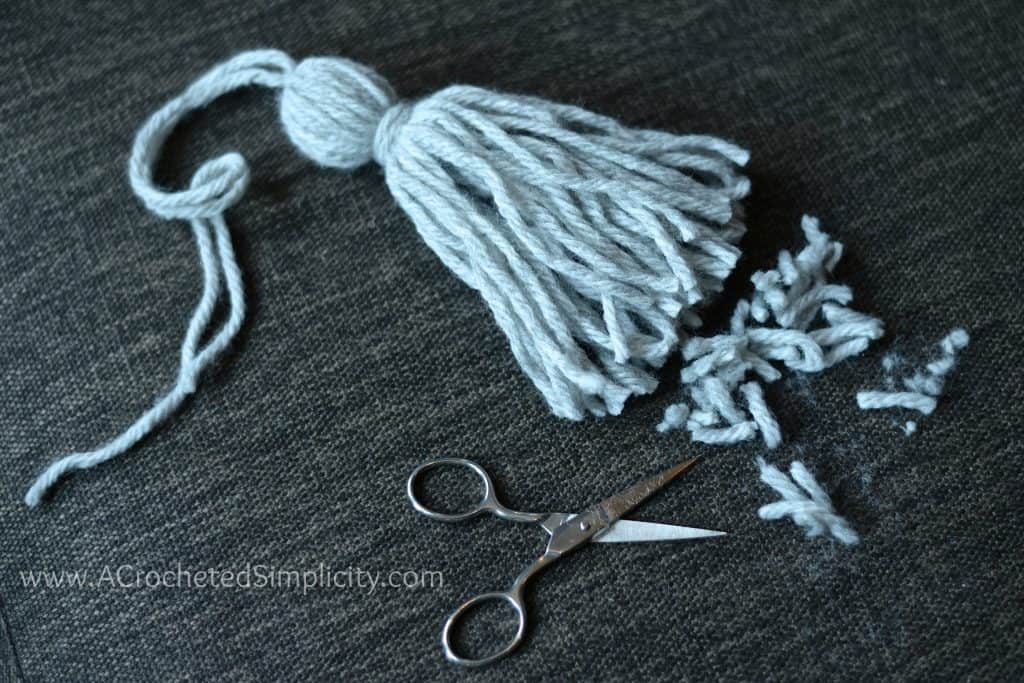 Step 6 (photo above): Trim the free ends of the tassel to even them out.
Step 7: Attach a tassel to your project using the loose ends at the top of the tassel. Tie tight to secure. Lastly, weave in all ends.
---
Are you intimidated by crocheted cables? Would you love to learn? Take an Annies Video Class with me and let me ease your fears of crocheted cables! Click on the photo below to watch a free preview. You can also see the other 2 classes I have available! (affiliate link)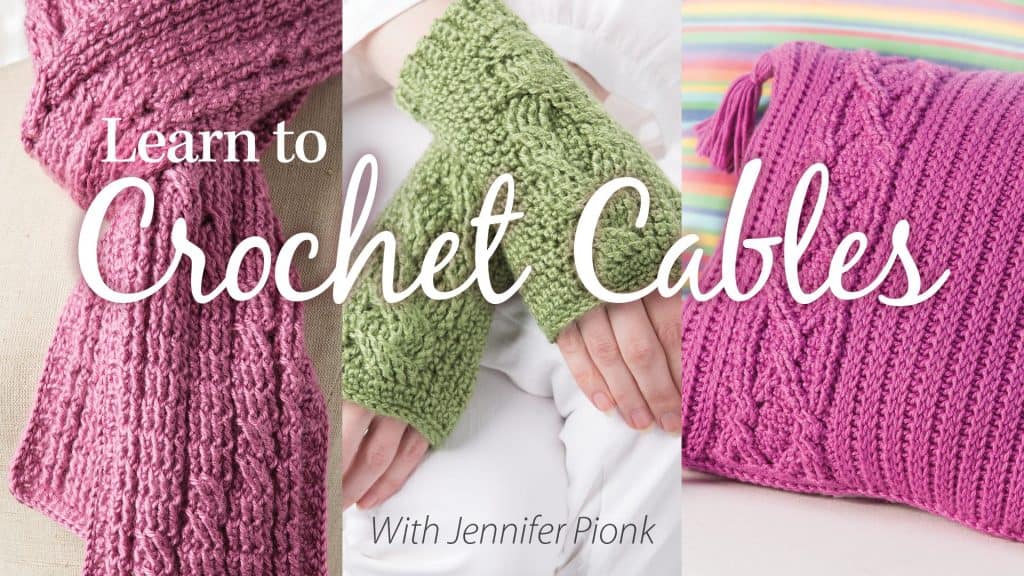 ---
I hope you've enjoyed this free tutorial! Check out my Ravelry shop to see all of my designs!
I LOVE seeing your finished projects! Please feel free to share them in the A Crocheted Simplicity Crochet Community group on Facebook!
Happy Crocheting!