I know what you're thinking.... "Crocheting, a seemingly harmless hobby, can cause permanent damage? You must be referring to the damage it does to my pocket book." Oh how I wish I were, but I'm not. I am referring to your health, or rather my health and personal experience.
I'm sure most of us have experienced the occasional hand and neck cramps that come from having poor posture while crocheting (especially before the holidays when we crochet until we fall off the couch at night). But this.... this is much more than a hand or neck cramp. The effects of this are lifelong and I felt the need to share my story with all of you and spread awareness. There are many places you can have pain from crocheting.
If you're like me and are a wife/mom/grandma, you probably have a tendency to ignore the little aches and pains you feel throughout the day because you have others who you need to focus your attention on. You may also try to tell yourself, "They're just the aches and pains of getting older", "I must've slept funny last night", or "I really should try and use better posture while crocheting."....and you go about your day. I have done this time and time again and usually, within a week, that ache subsides.
The past 6 weeks have been a roller coaster of emotions and medical mysteries for me. I will spare you from most of the events that led up to my visit with the chiropractor and just start there.
It was the beginning of October and I had been having 'normal' aches and pains from late nights of working on projects that had deadlines quickly approaching. I chalked them up to restless sleep, too little sleep, poor posture and stress. Little did I know what I thought were normal aches and pains were actually signs of something much worse going on, but it would be 3 weeks before I finally caved and made an appointment to see a chiropractor. (I had gone several times while pregnant with my 3 youngest, but have never taken the time for myself since then) I figured if nothing else, I would get adjusted, maybe get a nice massage and be on my merry way, right? Boy was I wrong!!!
Since I hadn't been to a chiropractor except for pregnancy, they needed to take films. No problem. I arrived at the office in the early morning, went over my history and they took films and asked me to come back in the afternoon for my first adjustment.
That afternoon I was led to a room with a large television to view my films on. The chiropractor was going over every 'problem' spot he had found and may have even commented that I was going to be his "problem child" for a while....we laughed! But that laughter would quickly turn to concern when he stopped mid-sentence while reviewing a film that included a portion of my right arm. His voice changed as he asked, "Have you recently broken your arm?" I responded, "No." He paused and I knew something was causing him great concern. He asked me to follow him back to x-ray and to humor him as he took more x-rays of both arms.
I stood in front of the x-ray machine growing more and more concerned as he stood silent behind the plexiglass staring at my films. He finally called me over to show me what he was looking at, but didn't offer much for information. It was then that my heart sank and my thoughts began to race. I was looking at a very large lump on my right humerus. He didn't say it, but all I could think was, "I have bone cancer"...... We went back to the room where the tv was, he told me that he was going to send my films off to a specialist, then I gathered my jacket and off to another room I went to get adjusted.
The entire time he was adjusting my back, his demeanor was different. I could sense that he was thinking just what I was. He kept asking me questions about my arm... "Does your arm ache?", "Does it feel like a muscle ache or more like a toothache?", "Does the pain wake you up at night?", "Does it hurt when you wake in the morning?", "How long has it been hurting?", "Does it hurt deep in the bone?" ....yeah, I won't lie...that last one freaked me out because it was then that I knew for sure that he was thinking the same thing I was....bone cancer!
After the adjustment, I made an appointment for Thursday morning and he told me that he'd speak with the specialist before then. I headed out the door to go home, but honestly do not remember the drive home....my mind was racing.
The next 36 hours were the longest in my entire life. I googled.... (yeah, I know you're not supposed to do that, but I had to do something to occupy my time and I just wasn't in the mood to crochet). I was trying to find a film that resembled mine, but in all honesty, they all seemed to resemble mine.
Thursday morning finally arrived and I walked into the office with sweaty palms and a stomach that was turning inside out. I was called to the back and we headed to the room with the large tv and up on the screen I read the words 'Pseudotumor Deltoideus'... I froze... I am SO grateful that the very first words out of the chiropractor's mouth were, "You do NOT have bone cancer." I breathed a huge sigh of relief and he went on to explain what was wrong with my arm.
I have a 'Pseudotumor Deltoideus' on my right humerus. The easiest way to explain it is, let's say you have a top sheet on your bed, you pinch it and lift up....it pulls it away from your bed and forms a small tent. Well, this is what has happened to my humerus bone...the bone has been lifted up (deformed if you will)!
What causes this?
In your upper arm, you have a deltoid muscle that looks like 3 separate muscles that come together with tendons at an insertion point on your humerus called the deltoid tuberosity. If these muscles are constantly tight and never allowed to relax like they should, they begin to pull on the insertion point. Day after day of the constant tight muscles and pulling on the bone, it begins to cause a deformity of the humerus bone...one that will always be there....one called a Pseudotumor Deltoideus!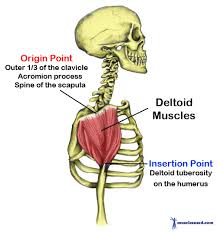 As soon as the chiropractor explained that it was from the muscles never relaxing, I knew exactly what caused it.... it was caused from hours and hours of crocheting without allowing my muscles to properly relax. Crocheting has caused permanent damage to my humerus bone...
I begin laser therapy Monday morning to get my muscles and tendons to relax again, but I will always have a big lump on my humerus and will likely have several more aches and pains in my upper arm because of it.
How can you keep this from happening to you?
The chiropractor highly suggested that I use a pillow to prop my arm up while crocheting (or sit in a chair with an armrest) so that my deltoid muscle doesn't have to do all of the work. He also suggested letting the hot water run on it for a few minutes while showering and frequently massaging the muscle....and of course... taking breaks!  
Learn the 3 quick & simple stretches that my physical therapist taught me. These stretches have made a world of difference for me.
While this is something that will always be there, I am very grateful that it is not bone cancer and there are simple things I can do to keep it from flaring up and getting worse.
Thank you for taking the time to read my story. I hope that it sheds some light on some of the aches and pains that can occur while crocheting and that the chiropractor's tips will help to keep it from happening to you.
Join us in the A Crocheted Simplicity Crochet Community Group on Facebook for crochet community fun! Use hashtag #ACrochetedSimplicity when sharing on social media so I can find your posts!