Just over 2 years ago I started having more frequent migraines. I also began having pain and numbness in my face, neck, and arms. After seeing several medical doctors, a chiropractor, and several tests later, we discovered the root cause: Poor Posture Due to Crocheting. Crocheting without taking the breaks that I KNEW I should take. 😉
If you'd like to read more about that, I wrote a blog post back then, hoping it would help others going through similar things. Click HERE to read that blog post. I also wrote a post with the main stretches that my physical therapist recommended for me, stretches that have made a big difference in my mobility. Click HERE to try out these stretches for yourself.
Aside from the stretches, a big part of the reason why I'm able to crochet daily again are because of a couple "tools" I ordered for myself. These tools were recommended by my chiropractor. You may be wondering why she recommended a massager, well, she recommended daily massages, but let's be honest, who has the time, and the money, for that? So I opted for the next best thing…
Congratulations to our Winner:

The 2 tools that have changed my life as a designer and daily crocheter are the massager pictured above (click here or picture above/below), and this handheld arm roller massager (click here or picture below). Both of these tools are tools you can use by yourself and are great for more areas of the body than just your arms, shoulders, and neck.
The shiatsu massager has been key in helping me to prevent migraines. When I feel one coming on, I use the massager and massage my shoulders, neck and even near the top of my head. Most times it will relieve enough tension to keep a migraine at bay. It is also great at keeping my neck and shoulder muscles relaxed enough so that they don't restrict the nerves and cause pain and numbness in my face, neck, and arm.
The handheld roller massager has been a lifesaver in keeping my upper arm pain to a bare minimum. When I have a lot of crocheting to do in a day, I will use it 2-3 times. Most days I only need to use it once for 1-2 minutes to get the relief I need.
Lastly, please know that I do not recommend products I do not love myself. Just ask my friend Kathy from ELK Studio. Not too long ago she was telling me about her pain so I recommended the shiatsu massager. As soon as the box arrived on her doorstep, she opened it up and tried it out, then immediately messaged me to thank me and tell me that it was just as awesome as I said it was!
Order your own from our affiliates:
So now that I've written a short novel, it's time to get down to the reason you're stopping by, the GIVEAWAY!!!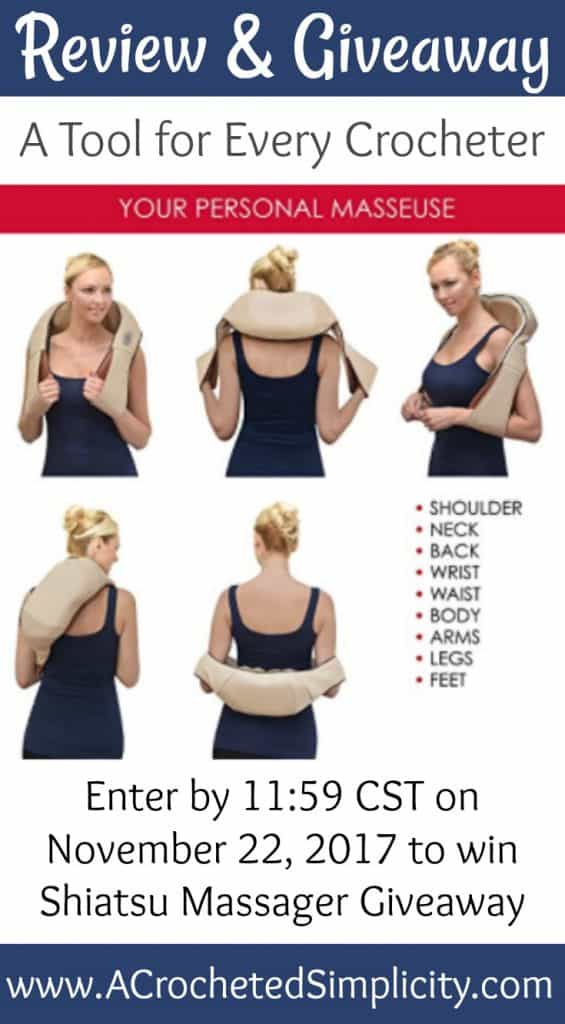 This Shiatsu Massager Giveaway is open to readers in the U.S. and Canada only, except void where prohibited by law. To win, enter by 11:59pm CST on November 22, 2017, using the Rafflecopter widget above. One lucky winner will be randomly drawn from the entries received. The winner will receive (1) Shaitsu Massager (as pictured and linked above), prize courtesy of Jennifer Pionk aka A Crocheted Simplicity.
---
Stop on over and join us in the ACS Crochet Community Group on Facebook for crochet alongs, giveaways, and more!
Happy Crocheting!