The crochet spike stitch is an easy crochet stitch that is used to add visual interest to projects. You may have also seen it referred to as a long single crochet or elongated single crochet. It is worked like a regular single crochet with the exception of where you place your hook to begin the stitch.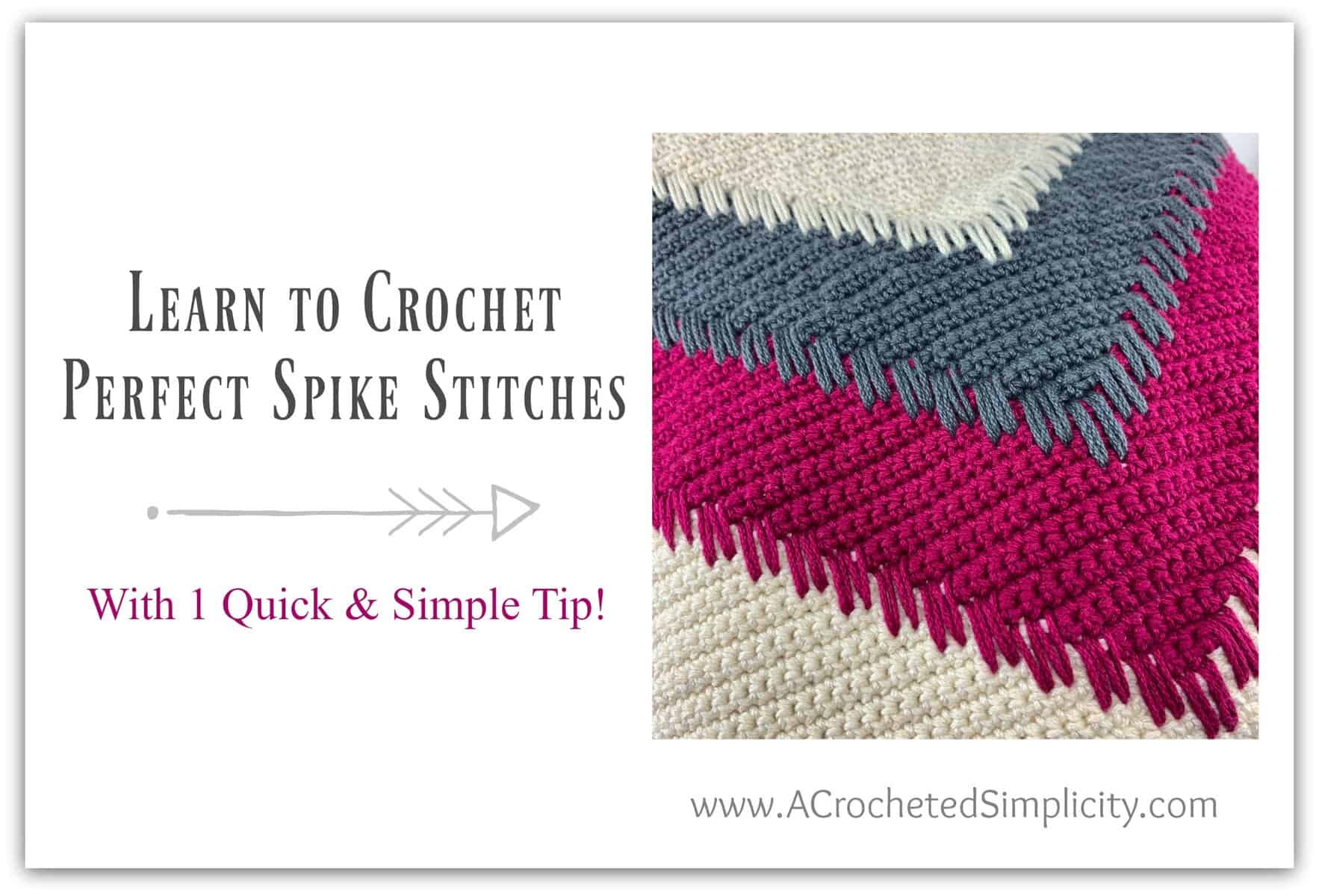 If you've never worked a crochet spike stitch before, I suggest working through my step-by-step spike stitch tutorial HERE. In the crochet spike stitch tutorial, I teach you all the basics of working crochet spike stitches.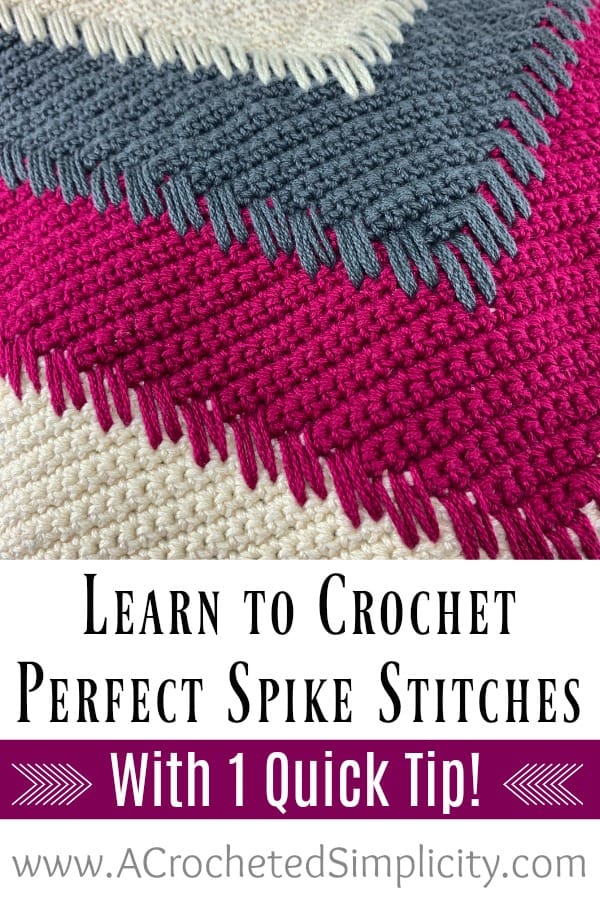 Earlier this fall, I released my Wanderlust Chevron Backpack as part of a crochet blog hop collaboration. While designing this backpack, I wasn't happy with how uneven my longer spike stitches were looking. To me, they looked sloppy and many were even twisted. I began to realize that the longer I made my spike stitches, the worse they looked. So, before I proceeded with my backpack design, the first thing I knew I had to do was to come up with a quick fix that would allow me to work perfect, uniform, crochet spike stitches. Once I figured out this 1 simple trick, my crochet backpack worked up like a charm!
My Wanderlust Chevron Backpack is pictured below. You can find the free crochet pattern HERE.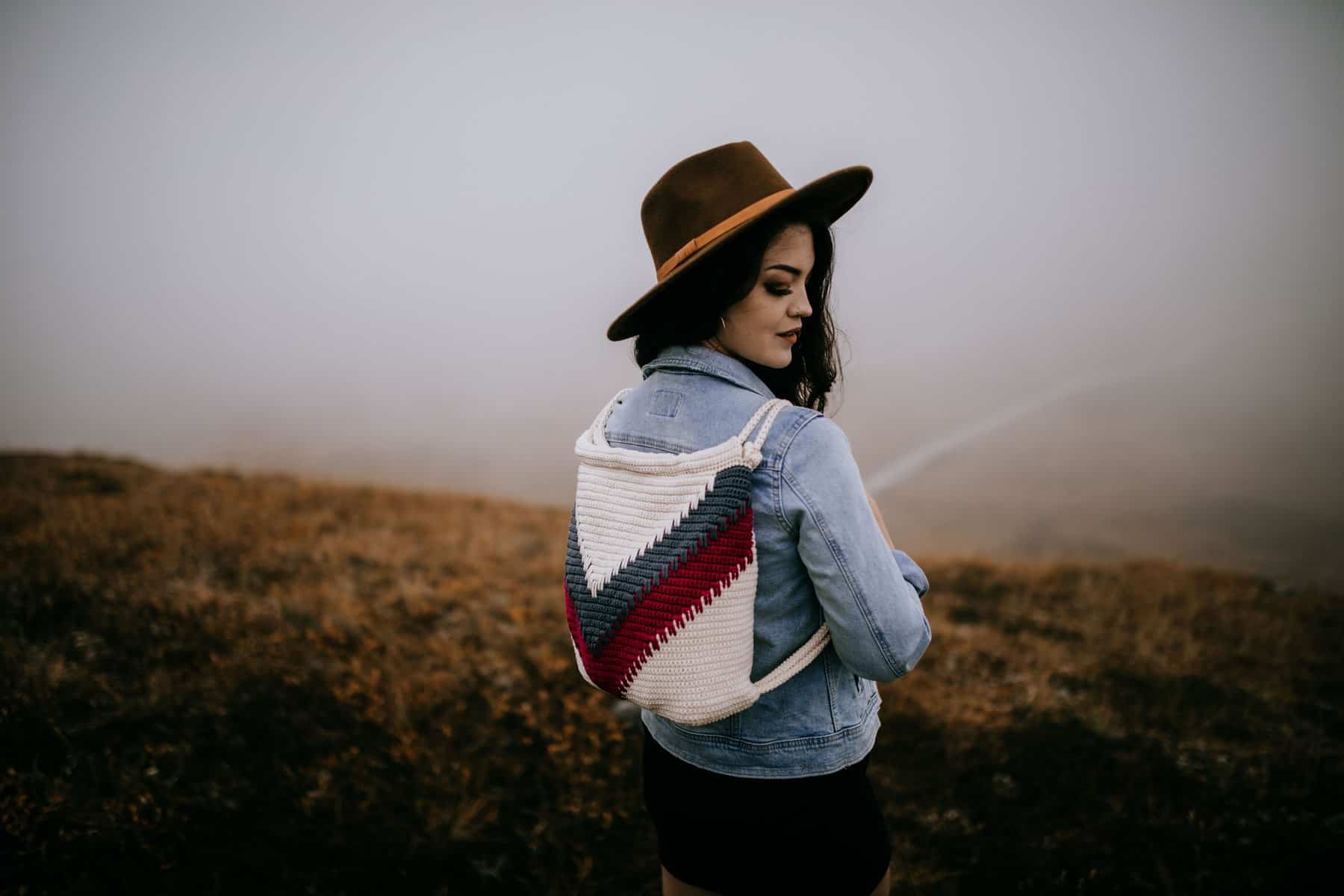 After completing my Wanderlust Chevron Backpack, I knew I couldn't keep this super simple crochet tip to myself so I've created a short video tutorial (less than 3 minutes long) for all of you to watch.
Make a Swatch
If you'd like to crochet along with me, I suggest making a small swatch to work with.
You can follow the swatch directions written below, or work any multiple of chains for the foundation chain.

Row 1: Using a 5mm crochet hook and MC, ch 26, working into the back hump of the chain, sc in the 2nd ch from your hook, sc in each ch across. Turn. (25 sts)
Rows 2 - 14: Ch 1, sc in each st across. Turn. (25 sts)
Tip! To make it easier to see your spike stitches, I suggest fastening off your main color and using a contrasting color to work your spike stitches.
Click play to watch, learn and practice my 1 Quick Tip to working Perfect Spike Stitches!
Remember, if you'd like a step-by-step tutorial to learn how to crochet the spike stitch, click HERE, then watch my video tutorial.
If you've enjoyed this 1 Quick Tip for Spike Stitches, you'll also enjoy my 2 Quick Tips for working frustration free Herringbone Stitches! Click HERE for that tutorial.
MORE FREE CROCHET PATTERNS FROM A CROCHETED SIMPLICITY
If you're eager to try this new trick on a crochet project, you may enjoy one of these. And if you just want to browse, you can find all of our free crochet patterns HERE.
---
Are you intimidated by knit-look crochet? Would you love to learn my tips & tricks? Take an Annies Video Class with me and let me ease your fears and help you increase your skills! Click on the photo below to watch a free preview. You can also see the other 4 video classes I have available!
---
Please share your finished ACS projects with us in the A Crocheted Simplicity Crochet Community Group on Facebook! Use hashtag #ACrochetedSimplicity when sharing on social media so I can find your posts!