Hello & Welcome to the Christmas Kitchen Crochet Along! A Crocheted Simplicity, Blackstone Designs, Crystalized Designs, and Sincerely Pam are working together again to bring you another fun, quarterly crochet along. The theme of this crochet along (as you may have already guessed), is Christmas Kitchen. Each participating designer has come up with a fun, new design that will add a little spice to your kitchen this holiday season. Each of these designs is also perfect for gift giving!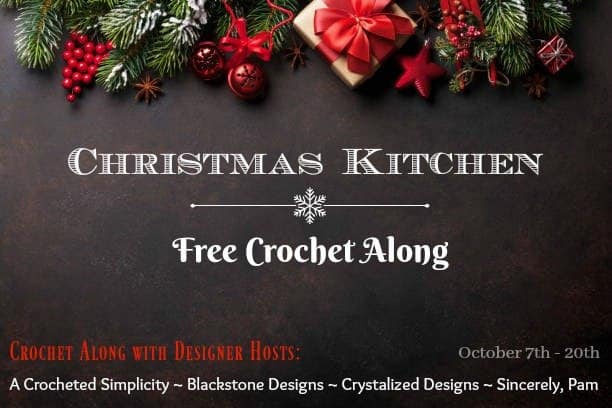 WINNERS!!!
Thank you ALL for joining us for another fun quarterly crochet along! We really hope you enjoyed crocheting the projects as we enjoyed designing them for you!
I have some exciting news to share!!! We decided to add another $25 Knit Picks Gift Card! We will now have 2 prize winners!
We had a total of 45 completed entries. Each entry was assigned a number and those numbers were put into a number randomizer.
The following are our $25 gift card winners!
Denise S. & Aida M.
Denise & Aida, We will be in touch with you via Facebook to get your information & get your gift card on the way to you!
(1) Pattern of Choice for each of the 45 Entries
EVERYONE who completed a project will receive 1 pattern of choice from the designer who's project they completed!
If you completed a project from all 4 designers, you will receive a pattern of choice from all 4 designers.
To claim your pattern of choice, please comment on the Christmas Kitchen Crochet Along post in the designer's group (where you posted your finished project). Please leave us your Ravelry username or email address and the name of your pattern of choice.
Thank you ALL for the fun! We hope to see you back for our next quarterly crochet along in January 2020!
How do I join in the fun?
Join all 4 designer's community groups on Facebook so you can crochet along with us! It's also a great place to ask questions, look for inspiration, and help others with their projects. To join, click the names of the groups below:
Crochet Along

Crochet 1 or all 4 of the new Christmas Kitchen designs we release. You can make as many as you'd like and each will gain you another entry.
Each pattern will be available free on the respective designer's blogs.

Enter to Win Prizes

After you've finish a project, post a photo of your finished item in that designer's Facebook group to claim your free pattern of choice from the designer and be entered to Win a $25 Gift Card to Knit Picks!
The more projects you complete, the greater your chances are of winning!

Earn Bonus Entries

Show off your WIPS & finished projects on social media using the hashtag: #ChristmasKitchenCAL
Create a project page on Ravelry (for a tutorial, click HERE).
Materials we'll be using!
Many of the supplies are available from our affiliates below.
Let the Crochet Along Fun Begin!!!
All 4 Christmas Kitchen Free Crochet Patterns are now live!
Simple click on the thumbnails below to be taken to the free crochet pattern & sink your hook in!
A Special Promotion
While we're waiting for the Christmas Kitchen Crochet Along to kick-off, we've set-up a special promotion for all of you in both our Etsy & Ravelry shops!
SAVE 50% with Coupon Code: kitchen (code valid through 10/7/19)
Shop Now
Waiting for the fun to start?
While you're waiting for the crochet along to begin, hop around and check out our previous crochet alongs: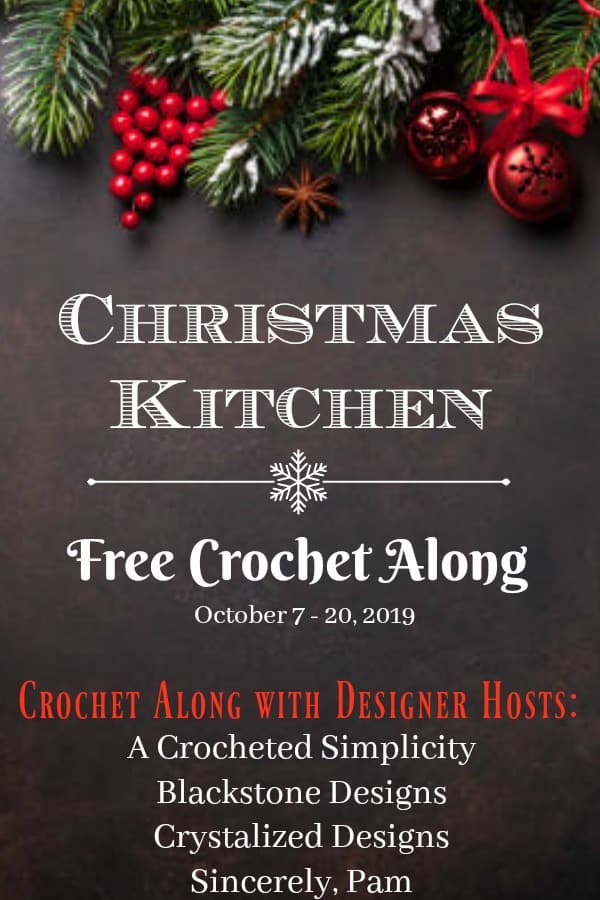 Let's Keep in Touch!
We are excited to bring you this fun community event every quarter and would love to have you follow us on social media so we can keep in touch after the crochet along is over!
A Crocheted Simplicity - Instagram | Pinterest | Newsletter | Facebook
Blackstone Designs - Instagram | Pinterest | Facebook
Crystalized Designs - Instagram | Pinterest | Facebook
Sincerely, Pam - Instagram | Pinterest | Facebook