When you join us for a crochet along you will often be required to create a project page on Ravelry to be entered to win CAL prizes. Creating a project page on Ravelry may seem overwhelming at first, but I promise it's really easy to do and quite painless.
If you're not quite sure what a Ravelry project page is, think of it as your own personal journal. Once you create a page you can add your own notes, photos and more about the project you're working on. This is extremely helpful if you changed an element of a pattern to customize it for yourself as you can type in your notes so they'll be there next time you want to crochet the same pattern again!

How to Create a Project Page on Ravelry
Step 1: Go to the Ravelry listing of the project you're making. Once there, on the upper right side of the page you'll see the options shown in the photo below. Right below the pink heart that you click to add a design to your favorites, you'll find a button that says "Hook It! Project". To begin creating your project page, simply click on "Hook it!"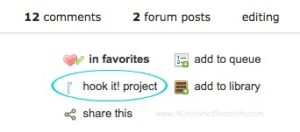 Step 2: After you create a Ravelry project a new window will pop up that looks like the photo below. At this point the only thing you need to fill in is a name for your project, or you can choose to keep it as the pattern name or give it a new name that is easier for you to remember. After you've decided on a name, simply click on the button "Create this Project".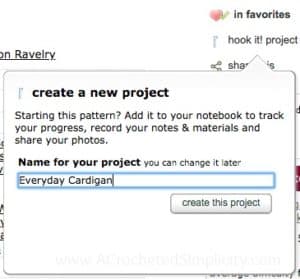 Step 3: After completing steps 1 & 2, you'll be brought to your new project page where you can add photos and any notes you may have relating to the pattern.
Step 4: Do not forget to hit save after all of your hard work!
Visiting your project page later: If you need to refer back to your project page at a later time, you can do so by clicking on the "My Notebook" tab in the upper right corner. When a drop down menu appears, click on "projects", the next page that opens up will be a page with thumbnails of all of your projects on it. Simply click on the thumbnail of the project you'd like to re-visit.
If you have any questions, please reach out to me and I'll answer them to the best of my ability.
---
Are you intimidated by knit-look crochet? Would you love to learn my tips & tricks? Take an Annies Video Class with me and let me ease your fears and help you increase your skills! Click on the photo below to watch a free preview. You can also see the other 4 video classes I have available! (affiliate link)
---
Please share your finished ACS projects with me in the A Crocheted Simplicity Crochet Community Group on Facebook!
HAPPY CROCHETING!