The last yarn wreath I made for Christmas was the Snowman Pom Wreath. I still think it's a fun wreath, but when I saw Lion Brand Yarn's Go For Faux Thick & Quick fur yarn I immediately thought "This will make a perfect winter themed yarn wreath!"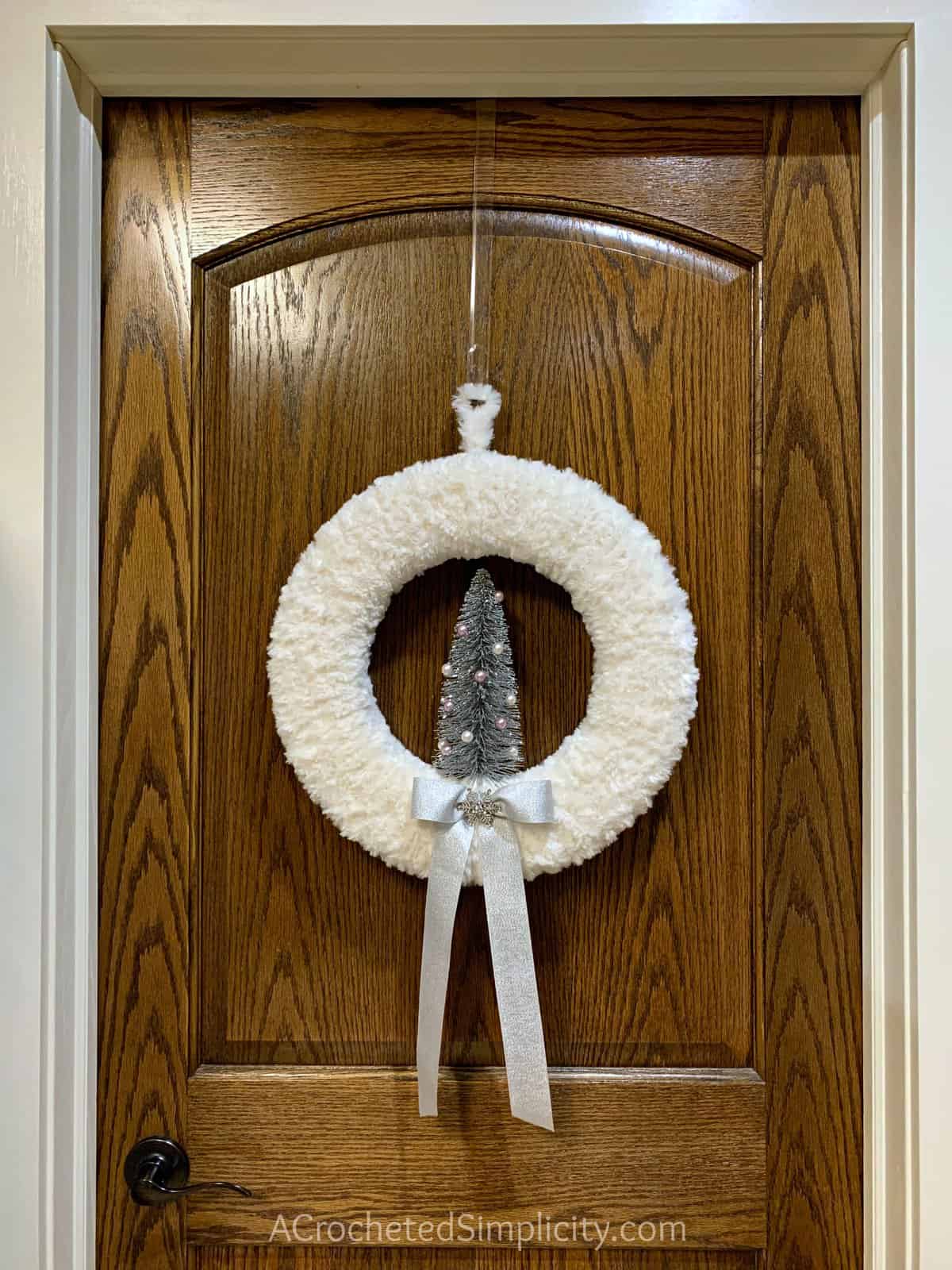 Yarn
Faux fur yarn is extremely popular this year so I knew I had to incorporate it in at least one of this year's Christmas designs. I loved using it for the main portion of this wreath, and it was also the PERFECT addition to several of my new Christmas stocking patterns as well.
I chose Lion Brand Yarns Go For Faux Thick & Quick in the color Baked Alaska for this winter themed yarn wreath. Go For Faux Thick & Quick yarn is a JUMBO/7 yarn that is available in 5 fun colors. I think Chinchilla would make a gorgeous snowflake themed wreath.
Lion Brand Yarns also has a Go For Faux super bulky/6 yarn. When yarn shopping, make sure to grab the thick & quick version for your wreath. You can use the super bulky version instead, but just make sure to grab more yarn as it's not nearly as thick.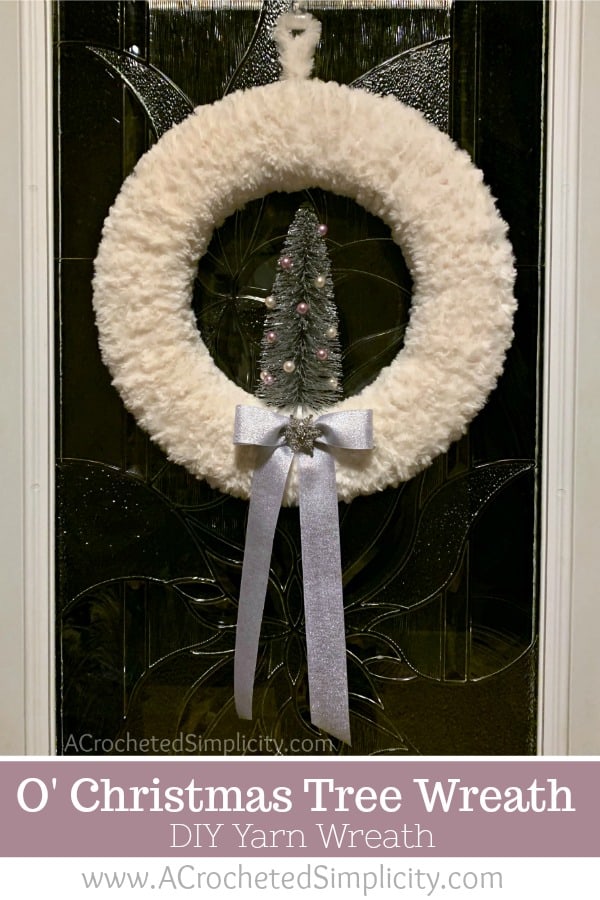 O' Christmas Tree Wreath – FREE Yarn Tutorial
The free pattern is below, but if you love to work offline, or need to order your yarn, I've got a couple other great options for you.
Pin it for later here.
This post contains affiliate links.
Materials
Yarn: Jumbo Weight / 7 yarn / I used Lion Brand Yarns Go For Faux Thick & Quick in Baked Alaska for my wreath. This yarn is available from Lion Brand Yarns directly here or you can also find it on Amazon here.
16" Foam Wreath (I found mine at Wal-mart)
1.5" wide Silver Ribbon (or ribbon of choice)
8" Silver Christmas Tree (I found various sizes & colors at Wal-mart in the Christmas decor section)
1.5" Snowflake Button (LeButton, found at Wal-mart)
⅜" Pearl Beads - approximately 2 dozen (found at Wal-mart)
Size
Notes
I purchased 1 Lion Brand Go For Faux Thick & Quick Bonus Bundle from Wal-Mart. The bonus bundles have 59 yards of faux fur yarn in it. You can purchase 2 of the regular sized balls instead (each has 24 yards).
You can substitute the super bulky / 6 faux fur yarn instead, but you may need to increase the yardage so that it covers well.
I found all of my supplies at Wal-mart in the Christmas & craft sections.
Cover the Wreath in Faux Fur Yarn

Step 1: Create a hanging loop by taking a 32" piece of yarn, folding it in half and creating a knot. Leave a loop that's approximately 2.5".
Step 2: Position the knot you just created, on the back of the wreath and wrap the loose ends around the wreath.
Step 3: Glue in place.

Step 4: Lay the loose ends from the hanging loop along the back side of the wreath.
Step 5: Using faux fur yarn from the ball of yarn, begin wrapping it around the wreath. Begin nearest the hanging loop. Make sure to wrap it over the loose end from the hanging loop yarn.
Step 6: Continue wrapping the wreath with faux fur yarn. Make sure to wrap tightly enough that you can't see the wreath form, but also loosely enough so that your faux fur isn't flattened.

Step 7: Continue wrapping and wrapping and wrapping...
Step 8: Once you've completely wrapped your wreath form with yarn, cut your yarn and secure the end with hot glue.
Decorating & Attaching the Tree

Step 1: I used a needle to hold the pearl beads while trying to glue them onto the tree. It took a bit of patience to get placement to look even.
Step 2: Hot glue the pearl beads on the tree branches.
Step 3: Prop your wreath up with an object so that it is nearly upright. My glass mannequin head came in quite handy for this.
Step 4: Adding an excessive amount of hot glue to the bottom of my tree was enough to secure it. Depending on the weight of yours, you may also want to tie it on with extra faux fur yarn by wrapping it around the base of the tree and then around the wreath.
Ribbon & Snowflake Button

Step 1: Weave the ribbon through a couple strands of faux fur yarn on the front of the wreath. Tie it in a bow.
Step 2: Use a needle and thread and sew the snowflake button on the center of the bow.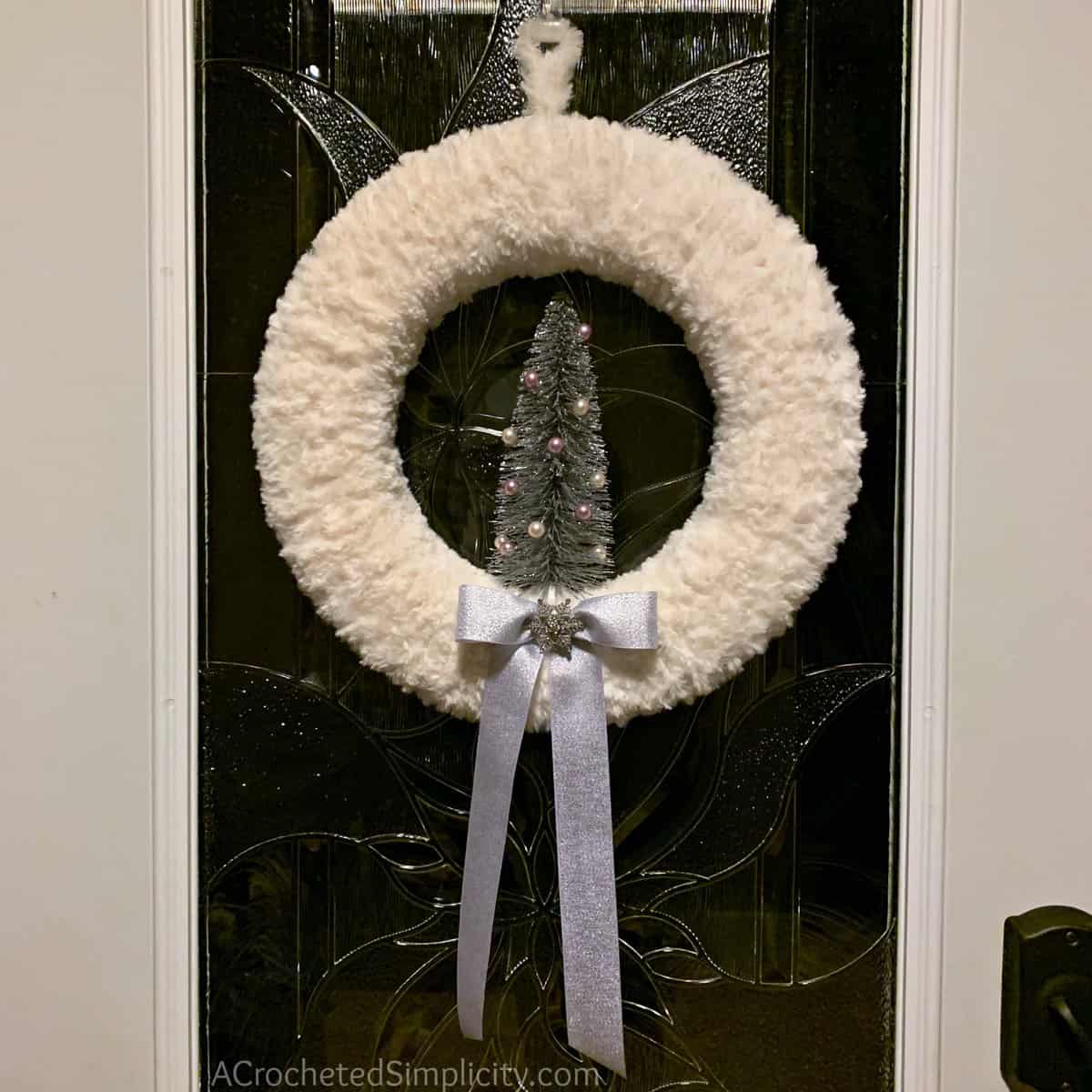 MORE FREE CROCHET PATTERNS FROM A CROCHETED SIMPLICITY
If you enjoy this winter wreath tutorial, you may enjoy these other projects as well. And if you just want to browse, you can find all of our free crochet patterns HERE.
---
Are you intimidated by knit-look crochet? Would you love to learn my tips & tricks? Take an Annies Video Class with me and let me ease your fears and help you increase your skills! Click on the photo below to watch a free preview. You can also see the other 4 video classes I have available!
---
Please share your finished ACS projects with us in the A Crocheted Simplicity Crochet Community Group on Facebook! Use hashtag #ACrochetedSimplicity when sharing on social media so I can find your posts!