If you follow me on social media, you've surely seen the "SUPER" fun #YARNHEROES campaign that was put together by Lion Brand Yarn and 15 of your favorite designers and bloggers. The campaign's main purpose is to create a more giving world by crafting for charity! If you haven't yet heard about this great charity campaign, simply click the Yarn Hero banner below to find out more!

"Crocheting for charity will undoubtedly warm the heads, hands, and feet of others, but it also has the potential of warming much more than that. It has the potential to warm a stranger's heart and help them feel kindness and love during a time when they may feel nothing but despair." ~ Jennifer Pionk
The above is a quote from my initial Yarn Heroes post. It states that crafting for charity has the ability to impact another person's life, but what it doesn't state is that crafting for charity can also have a huge impact on the crafter's life as well.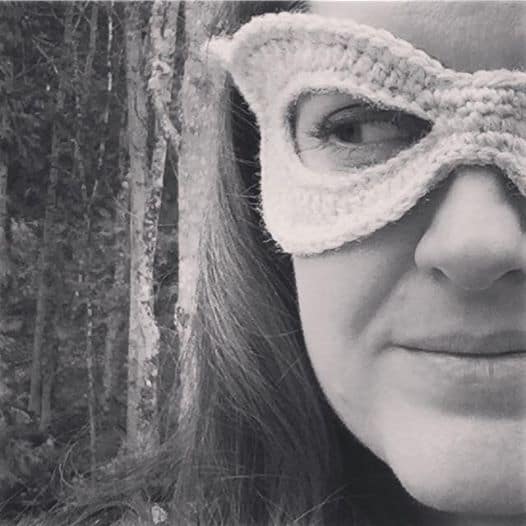 You can read about my inner yarn hero here—> Meet the Cabled Crusader
Did you know it has been proven that there are several positive health benefits of yarncrafting? Read more about the 10 Most Important Health Benefits of Yarncrafting here.
Today I'd like to share a quick story about how crocheting has greatly impacted my own life, especially my mental well being. Just 5 short years ago my family re-located to Michigan's Upper Peninsula. We moved for my husband's job and while we were excited about this new chapter in our lives, excited about raising our children in a small town similar to the ones we grew up in, and excited about living in this beautiful area, it meant that we were moving 10+ hours away from family. The reality of this didn't truly sink in until we were settled in and had gotten into what had become our "new normal routine".
Just a few short months after our move I found myself growing increasingly anxious. A short while after that the depression and panic attacks set in. This was all something new to me… something that never in my wildest dreams could I truly understand until I began to experience it for myself.
With no local friends and no family close, I turned to what has always allowed the creative juices to fill my mind (in hopes of drowning out the depression and anxiety that had settled in). I turned to crafting, but this time I decided to teach myself a new craft… This was when I taught myself to crochet. Soon after that, I began making hats, slippers, and blankets for family. The feeling that it gave me to make gifts for others was indescribable. The peace that this new craft created in my mind was exactly what I needed to help me transition through our move.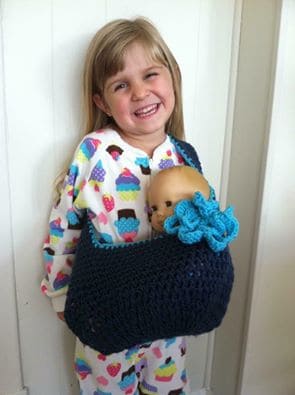 Now to lighten the mood a bit, I'm sharing with you a photo my youngest daughter, Claire. She is wearing my very first "hat" turned doll carrier. More on the story behind it next week. 😉
How has yarncrafting positively impacted your own life? I'd love to hear from you. Feel free to comment on this post, send me a private message on Facebook, or send me an e-mail: [email protected]
Over the next few weeks we will all be sharing our stories of crafting for charity, sharing free patterns we've designed for our cause (you can find mine here) and also hosting great giveaways where you can enter to win the Lion Brand Yarn needed to craft our designs for charity along with a pack of Bon Bons! (stay tuned for giveaway opportunities) Lion Brand Yarn is also generously offering $5 off of every purchase of $20 or more on lionbrand.com using the code YARNHEROES2016 throughout the course of the campaign, November 15 – December 15, to help with the purchase of the yarn to make all of the wonderful items designed by the Yarn Heroes.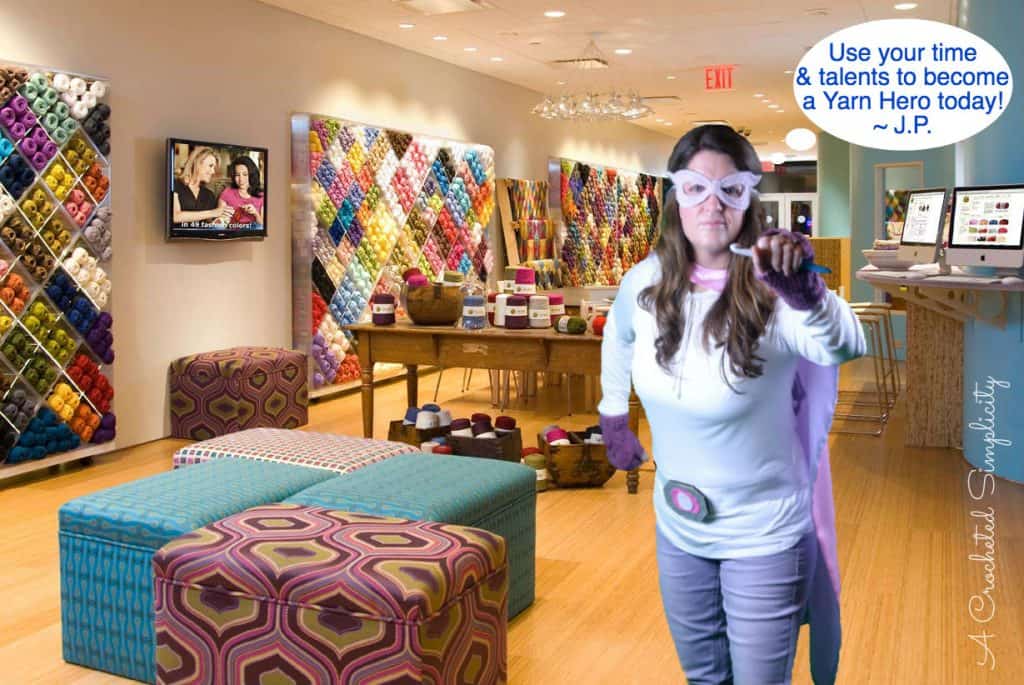 Please share your charity projects on social media and add #YarnHeroes to all of your posts so that we can find them all! 😀
To Our Readers: Submit YOUR stories of charity crafting to [email protected] for a chance to win $250 in yarn support for your charity crafting cause!
We'll be picking winners every week, and it never hurts to let us know what you are doing for the world!
[Moogly] [Mama In A Stitch] [All About Ami] [One Dog Woof] [Sewrella] [Delia Creates]
[Underground Crafter] [Sh*t That I Knit] [Kristy Glass] [Two of Wands] [Twinky Chan]
[Make & Do Crew] [A Crocheted Simplicity] [Little Red Window] [B-Hooked Crochet]
Sincerely Yours,
The Cabled Crusader, aka.