Hello & Welcome to our Mini-Mystery Crochet Alongs! If you haven't already done so, please make sure to sign-up for our newsletter so that you don't miss out on future mini-mystery crochet alongs! You will receive an e-mail to announce the material list and start date of each MMCAL event.
Use the subscription form in the sidebar, or on the Subscribe page.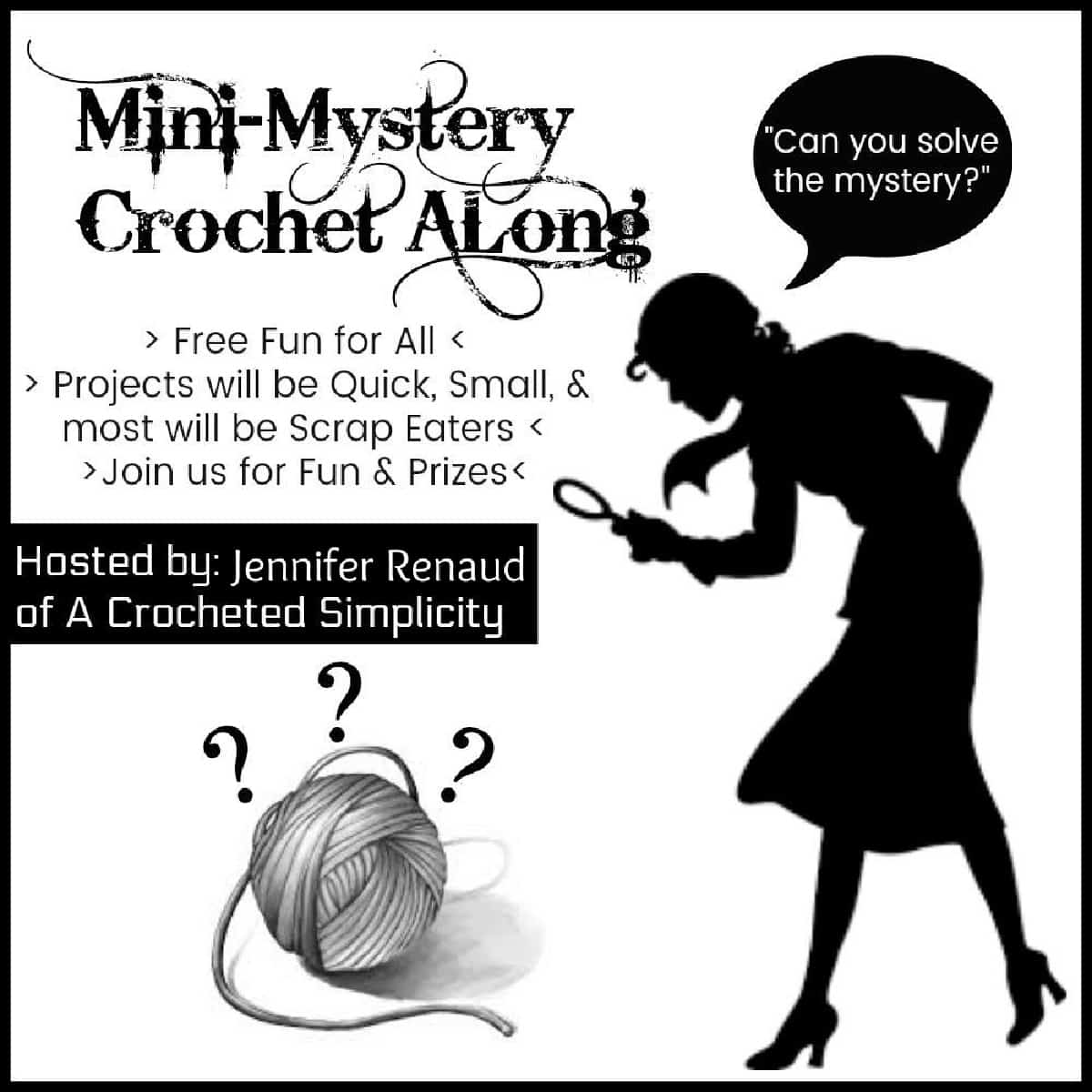 Disclaimer: This post may contain affiliate links.
What is a Mini-Mystery Crochet Along?
Mini = Small Project, Small Amount of Yarn, & Short Timeframe
Mystery = The project will remain a mystery until it's complete (unless you're a super sleuth and can figure it out before you finish).
Cost: Zero. These CALs are FREE for all!
Timeframe: These CALs will run from 2 to 3 days so that our friends who live on the other side of the world can participate too. The timeframe of each CAL will be posted with the material list.
Prizes: We will have a variety of prizes including, but not limited to: yarn, notions, and crochet patterns.  *Open to crocheters worldwide.
Timezone Information: I live in the Central Time Zone in North America. This is the same timezone as Chicago, IL. If you need to find out how that compares to the timezone you live in, this is a great website to use: The World Clock (click here)
How does a Mini-Mystery Crochet Along work?
I will send out a newsletter 2 days before the next CAL begins (make sure you've signed up to receive them). This newsletter will contain a link to the blog post announcing the new CAL. The blog post will include information such as a material list and schedule.
Simply pop on over to the blog post, via the link in the newsletter, check out the material list and schedule and decide if you'd love to join us for some fun!
The mystery design will be broken up into 2 - 3 segments depending on the design. The first segment will be posted when the CAL begins. 24 hours, the same blog post will be updated with segment 2. Then 24 hours later, the same blog post will be updated with segment 3. Note: not all crochet alongs will have 3 segments. Some will only have 2.
How do I participate in a Mini-Mystery Crochet Along?
To join us for the most current Mini-Mystery Crochet Along, make sure you're a member of either the A Crocheted Simplicity Crochet Community on Facebook, OR the A Crocheted Simplicity group on Ravelry. All Mini-Mystery Crochet Alongs will be hosted in these 2 groups.
When a new MMCAL is announced I will post the graphic above in each group and the post will be titled with the new MMCAL. Comment, ask questions, and post your progress photos on this specific MMCAL post in either group. This is where we will randomly be choosing winners of prizes so please make sure you participate to take full advantage of the fun!
Once you complete each segment, add a photo of your work to the post in the group you've joined. You will need to add at least 1 photo for each segment in order to be entered to win all of the prizes. Each photo you post will be assigned a number. Keep track of your numbers as we use these to draw winners!
Make sure you have added your final photo to the post in the group before the crochet along ends.
Hope to see you soon!
I hope you'll consider joining us for our Mini-Mystery Crochet Alongs. If you've stumbled upon this post in between crochet alongs, make sure to visit our Free Crochet Pattern Section or Ravelry Shop, while you wait for our next Mini-Mystery Crochet Along to begin!
HAPPY CROCHETING!