Have you been wanting to make a garment, but find yourself intimidated by them? If so, come join us for the Urban Crossover Pullover Crochet-A-Long! This sweater is the newest design available in my shops: Ravelry, Etsy & Craftsy and I'm hosting a CAL that runs thru mid-April (2017). Hop on over, join the A Crocheted Simplicity Crochet Community group on Facebook and join in the F-U-N! (Keep reading for all crochet-a-long details.)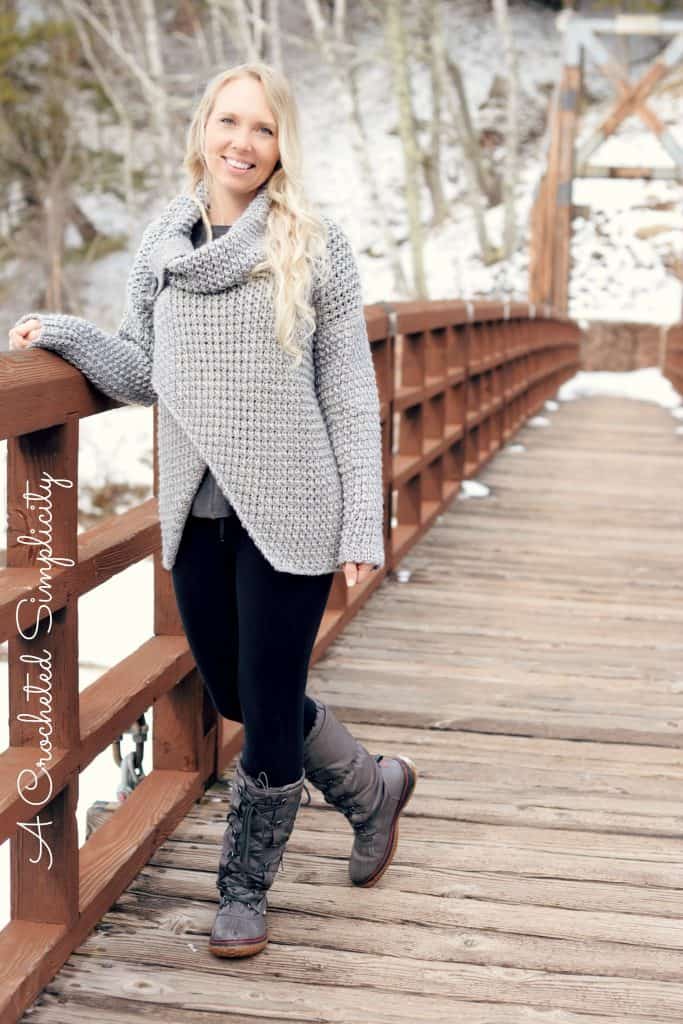 Now let's talk a little about the pattern itself.
Sizes: This pullover is sized from Women's XS – 3XL and includes instructions to customize the overall length of the pullover and the sleeves.
Yarn: I used Lion Brand Heartland, in the color Mount Rainier, for the pullover in the photos. Lion Brand Heartland is a 100% acrylic, light worsted weight yarn (4). This yarn lends the perfect amount of drape to the design.
Yardage: The yardage for this pullover varies from 1,250 yards (XS) up to 2,000 yards (3X).
Hook: I used a 6.5mm crochet hook for this garment design (Clover Amour are my favorites). The 4mm hook that is listed is only for the small belt that wraps around the cowl neck. Make sure to make the small gauge swatch on page 2 and adjust your hook to meet gauge. Since this is a garment, gauge is very important. 😉
Pattern: The pattern itself is very clearly written and has been tested by several crocheters at all different skill levels to assure it's easy enough to read for even a confident beginner. The pattern is 20 pages long and includes photos for any and all spots that may need clarification.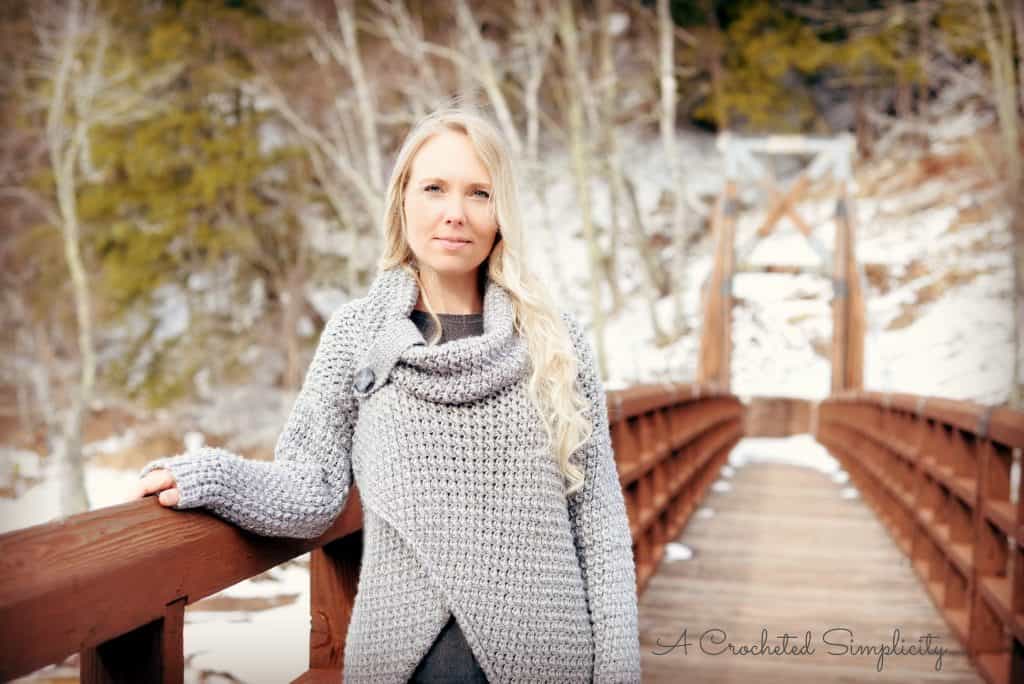 Now for the Crochet-A-Long Info
Step 1: Purchase your own copy of the Urban Crossover Pullover.
Step 2: Join the ACS Crochet Community Facebook Group (if you're not already a member)
Step 3: Crochet-A-Long with us! 😀
Crochet-A-Long Schedule
March 1 – 9: Choose your yarn & Make a gauge swatch
March 10 – 16: Back Panel
March 17 – 23: Front Right Panel
March 24 – 30: Front Left Panel
March 31 – April 6: Sleeves
April 7 – 16: Cowl & Finishing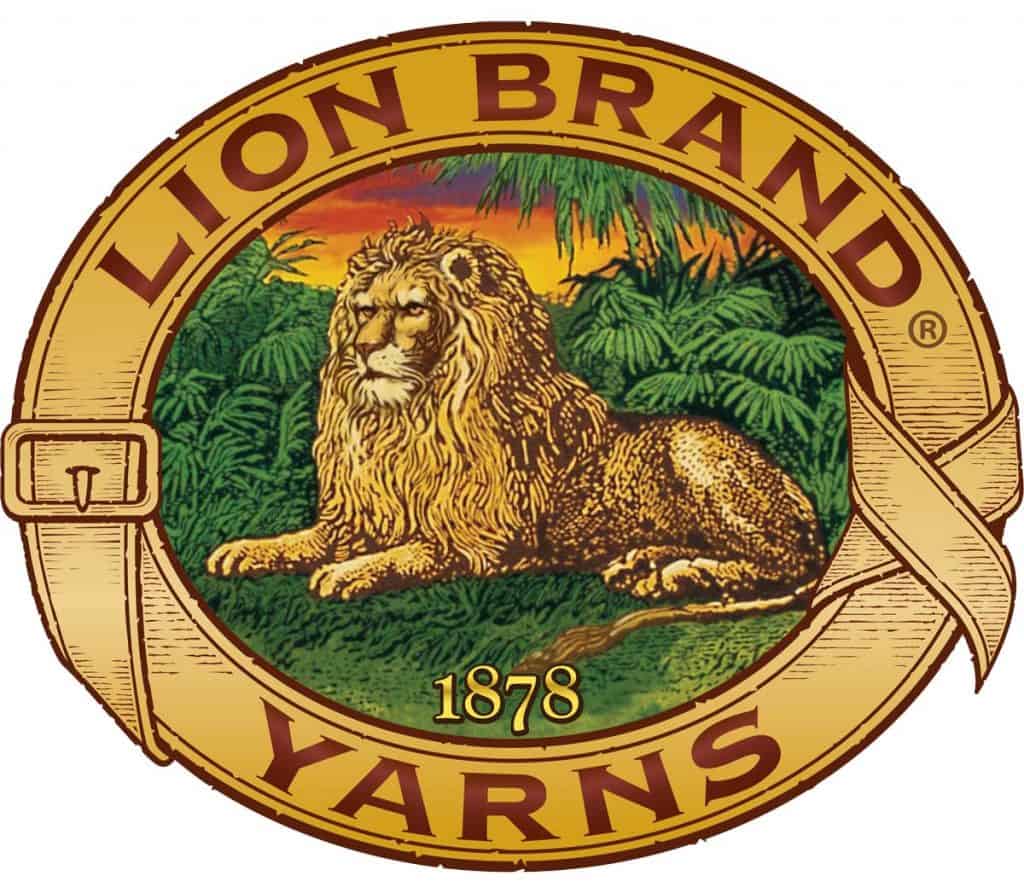 Thank you Lion Brand Yarns for sponsoring the Urban Crossover Pullover Crochet-A-Long!
Weekly Prizes
There will be weekly drawings and great prizes to be won! To be eligible to win the weekly prizes you must do the following:
1) Create a project on Ravelry linking to this listing. To create a project on Ravelry, simply click on the photo below to be taken to the Ravelry listing. Locate the pink heart on the righthand side of the page, under the pink heart is a crochet hook and text that says 'hook it', click here, then follow the prompts.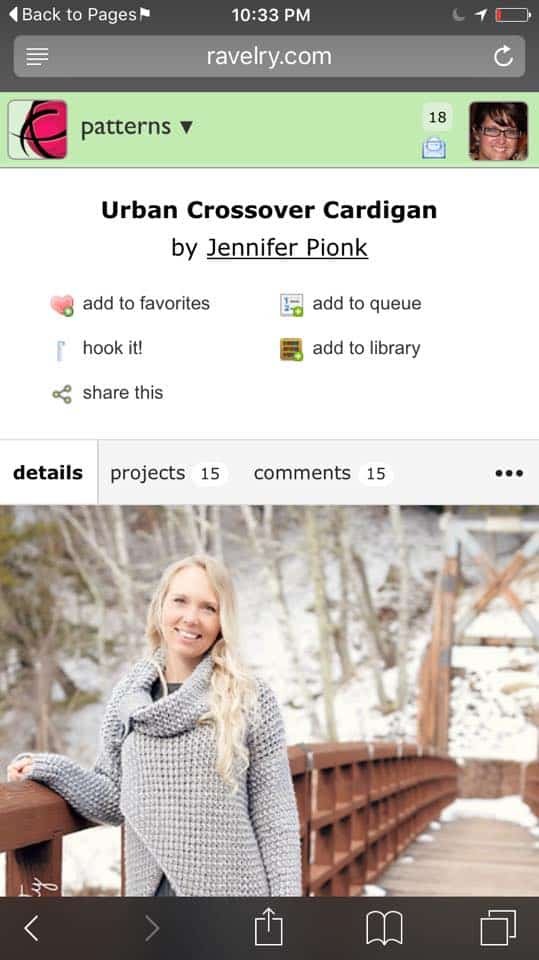 2) Update your project each week by Thursday night at midnight pst with at least 1 photo of the week's part. (Example: Week 1, by midnight on March 9th, update your project with a photo of the yarn you'll be using and your gauge swatch.)
All those who have updated their projects by the deadline will be put into a random drawing for the week's prizes. Winners will be announced in the Facebook group.
Why should I join the Crochet-A-Long?
I love the sense of community that a CAL brings! It's a great opportunity to meet new friends who share your same passions. It's also an opportunity to share your talents with others by helping those who are eager to learn new skills. On top of that, you will receive exclusive help from myself as I'll be there daily to answer any questions that may come up. I'll also post live videos for things if additional clarification is needed.
If you're intimidated by crocheting garments, a crochet-a-long setting is the best place to learn! Come join us and let's put those fears to rest! 😀
---
Are you intimidated by crocheted cables? Would you love to learn? Take an Annies Video Class with me and let me ease your fears of crocheted cables! Click on the photo below to watch a free preview. You can also see the other 2 classes I have available! (affiliate link)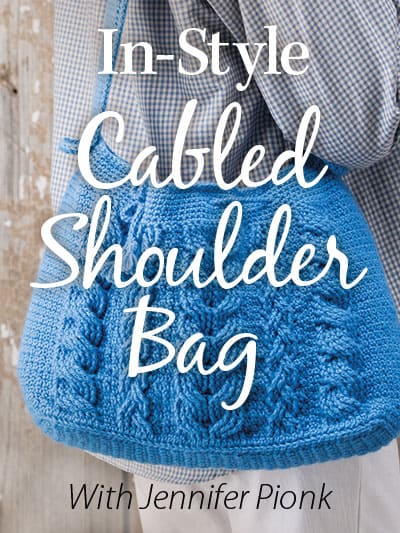 ---
Please share your finished ACS projects with me in the A Crocheted Simplicity Crochet Community Group on Facebook!
Happy Crocheting!