Another round of Design Wars is here and for this round Abigail and I have chosen the theme of the challenge to be "Summer Tops". Ironically, we also both choose to work with the same yarn so you could technically call it a "Luster Sheen" challenge as well. 😉
In the past, I've typically hung close to my comfort zone….worsted weight / 4 yarns. This time I wanted to step out and explore the land of lighter weight yarns… yarns that are more ideal for garment making. I have to admit that I was very leery of working with a lighter weight yarn…a few thoughts racing through my head were: "Do I have hooks to work with something so light?" (lol), "Will my hands be able to grip the yarn to control tension?", "This will take me forever! Will I ever be able to finish making a top with this yarn on time?", and then simply "WHAT am I thinking?!?!" But as you will soon see, I did have the required hooks, I was able to control my tension and I was able to finish….and… I LOVE it! I am now completely HOOKED on lighter weight yarns! 😀
So let's chat a little about the yarn, shall we?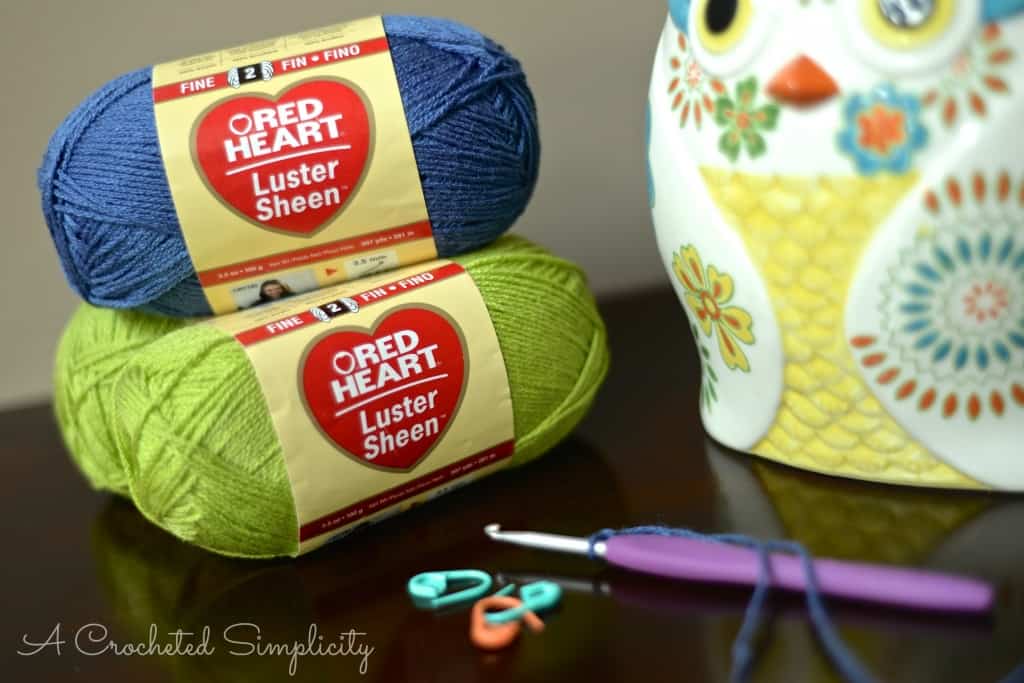 Red Heart's Luster Sheen is a 100% acrylic yarn that has the feel of a soft cotton yarn, it is a true to weight, Fine / 2 weight yarn and is available in 8 solid colors and 1 multi. True to its' name, it has plenty of sheen to go around and when paired with the right hook size and stitch, the drape it provides is fantastic!!! The only downside of this line is that it doesn't come in every shade of every color!
 Now on to my design for this challenge!
My "Northern Shores" Women's Top was inspired by the northern shores of Lake Superior (not far from our home). I chose the Mid Blue color to reflect the color of the lake, and the top of the garment was designed to mimic the waves that crash upon the shoreline. I chose the main stitch of the garment for it's "knit-look" quality and I designed the openwork stitch pattern for the top front and back panels to mimic a lace knit pattern.
This top was designed to be flattering on all body types so it requires minimal shaping to define a loosely fit waist. For a more casual look, tie the belt in a square knot. Or to dress it up a bit, use a decorative slide. Whatever the event or occasion, you'll be sure to turn heads in your "Northern Shores" Top!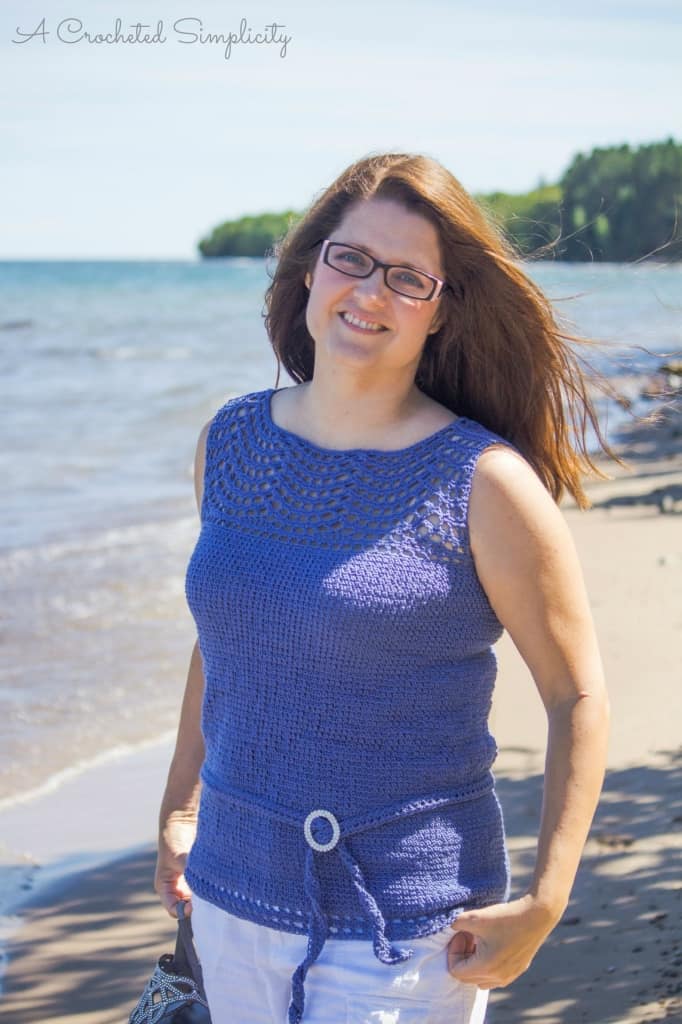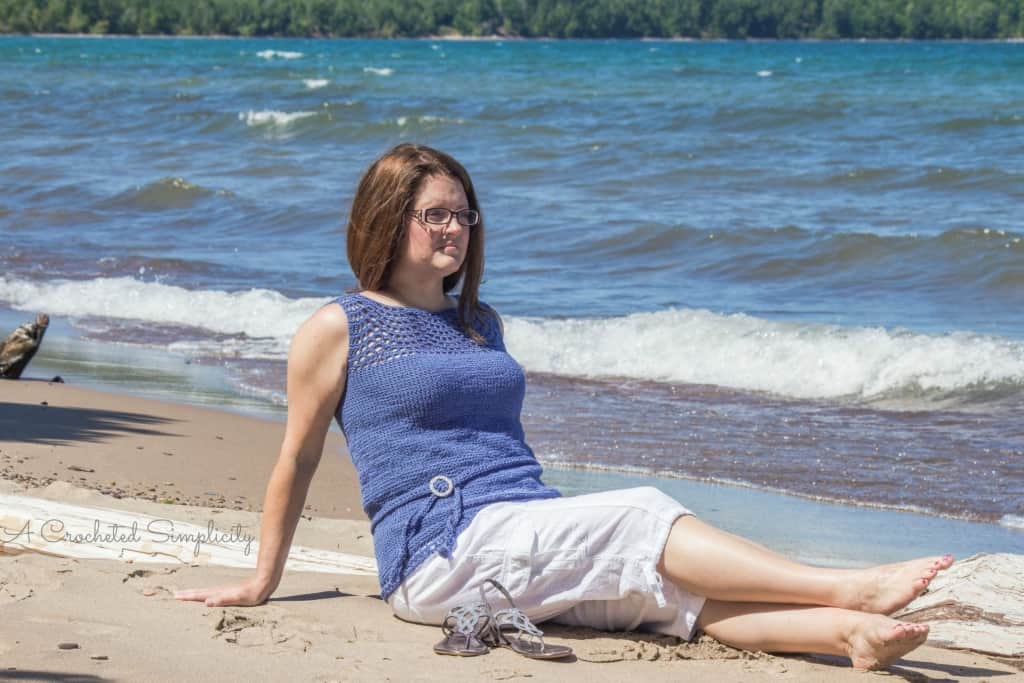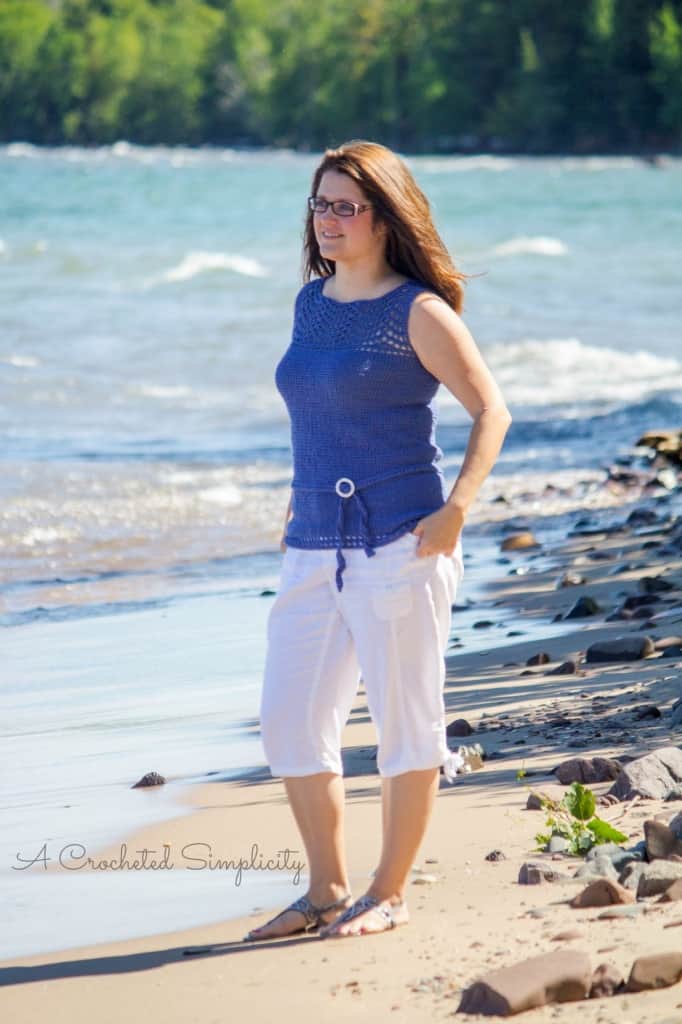 Another favorite summer top of mine is my The "Lakeshore" Women's Tank Top ! Get it for 50% off, today only, No Coupon Code Needed.