In July of 2015, I attended the Crochet Guild of America (CGOA) conference in San Diego, CA. The conference was lots of fun and I was able to meet several designers in person who I had only previously met online. This year's conference is being held in Charleston, SC. If you're able to make the trip, I'd love to meet you! 😀
If you've never been to a CGOA conference before, on the last day of the conference they host an Editor Meet & Greet. This is where I first met Ellen Gormley, editor of Crochet! Magazine. During our brief meeting she had asked me if I had any unpublished designs, and ironically, as I had been sitting anxiously waiting, I had received photos from BrianaK, who had graciously offered to photograph my newest top (photo from BrianaK shown in blue below).
Ellen told me that she'd love to purchase the design for my Northern Harbor Tank and how could I say no? 😀 What an awesome ending to an already wonderfully fun trip!
If you're not familiar, many times when you submit a design to a magazine, the editor will choose a different yarn for you to crochet the garment in and in this case, Ellen chose Universal Yarn's Bamboo Pop in Strawberry. I had never worked with this yarn before, but let me assure you that it is heavenly….the sheen, the drape, the touch and best of all, it feels great on. I absolutely LOVE it!
So after waiting what seemed like an eternity, publication time came and I was over the moon to see it all in print! My copy arrived Easter weekend when I had lots of family visiting and it meant a lot to be able to share that moment with them.
Here is a photo from the magazine (Northern Harbor Tank pictured right) and you can see a few more inside. Crochet! Magazine is available in both print and digital format and you can order your copy here–> Crochet! Magazine Summer 2016 Issue
When designing the Northern Harbor Tank I wanted to design a top that all women would feel comfortable wearing…nothing form fitting, but at the same time had a sleek silhouette and positive ease. The combination of the cowl neck and racerback was one I had envisioned from the beginning, but it wasn't until the very end when the openwork lace design came to me. Although racerbacks can be a bit revealing, I've designed this one to be more flattering on fuller figured women by increasing the width from what is shown below. After all was said and done, I added the last design element with a simple gathering at each side.
As promised, here is a photo taken by BrianaK showing the back of the design.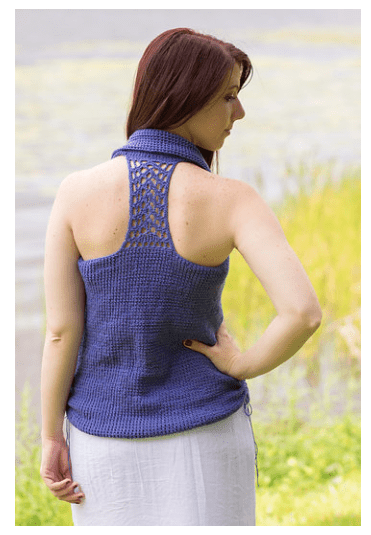 *Learn how to combine your love of crochet with your love of bling by taking this class from our affiliates:
Congratulations to: Nancy Siebrecht! Nancy has won a digital copy of the Summer 2016 Issue of Crochet! AND enough Bamboo Pop yarn to crochet her own Norther Harbor Tank! 😀
*This giveaway is sponsored by Jennifer Pionk aka A Crocheted Simplicity and ends on Monday, May 9, 2016 at noon CST. Winner will be chosen and posted within a few hours of the giveaway ending. I will announce the winner here in this post and on my Facebook page: A Crocheted Simplicity. I will also announce the winner in my Facebook Community group that can be found here: A Crocheted Simplicity Crochet Community.
Happy Crocheting,