Winners have been announced! Please check towards the bottom of this post! 😀
This is my first rodeo with Crochetville's National Blog Tour so I thought I'd get my feet wet with a short introduction and then share with you a little about where my latest design trends are heading and a few of my favorites from this past year! (and a couple of giveaways, of course!)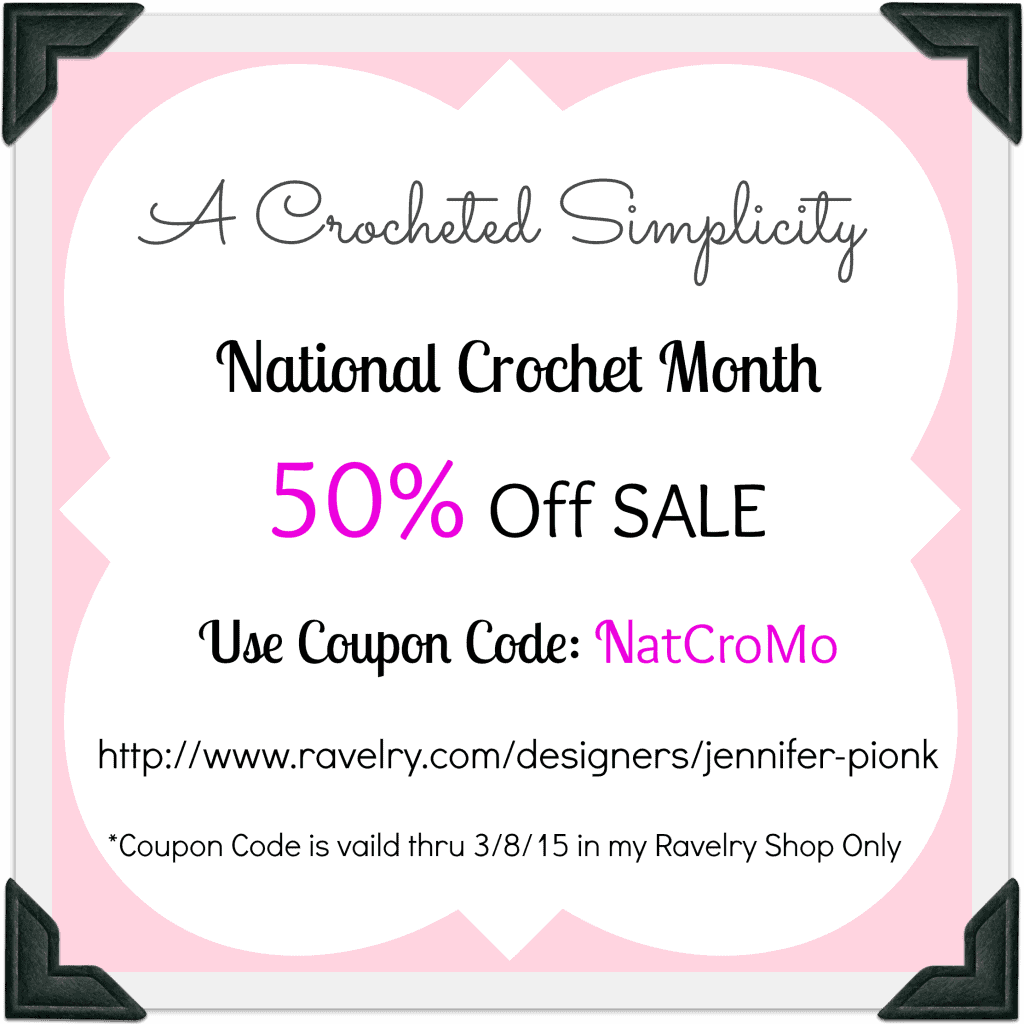 ---
 When, how, why did I learn to crochet?
Although I'd love to share with you a nice, warm and fuzzy story about how my grandma taught me to crochet as a young girl, that's just not how it happened. Yes, my grandma crocheted and I still cherish the items that she made me, but whenever we'd visit as young kids she would teach us other important life skills, such as how to bait a hook for fishing (my grandparents owned a bait shop)… I never did master that and to this day don't bait my own hook…unless it's a crochet hook! 😉
So just when, how and why did I learn to crochet? Just over 3.5 years ago, my family relocated to Michigan's Upper Peninsula. It was shortly after relocating that I found myself feeling the urge to teach myself a new hobby. Missing my family and friends, I needed something to keep my hands and mind busy during that first very long winter. One day in the fall of 2011, while I was out shopping I saw a set of crochet hooks and a Teach Yourself to Crochet Book and knew right then that this was the new skill I just had to learn; I haven't looked back since!
What began as a hobby making slippers and warm winter hats for my young kids and gifts for family and friends, quickly turned into a passion of mine. After learning the basics of garment construction and shaping, I began coming up with my own designs. With the encouragement of my friends and family, I listed my first crochet pattern in September 2012 and things started snowballing from there. The creative mind is a very active mind (I'm sure most of you can relate) and in just over 2 short years I've gone from 1 design to over 100 designs and boy how they've evolved since I first began.
When you can't find me in my at home studio, you can find me in what I call my "mobile office". *See the photo below* I love having the flexibility of being able to pack up my project bag, hike out to one of several of my favorite spots and sit down for an afternoon of "work".  Designing is by far the most rewarding job I've ever had and I'm excited to see what the future has in store for me! Stop on by my Ravelry shop to take a peek at all of my current designs: Ravelry.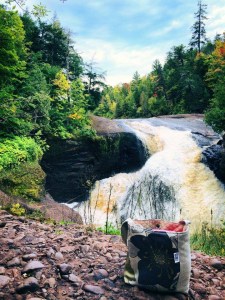 ---
Where are my design trends headed?
While browsing through my designs, you'll notice that I do not like to stick with one particular garment or item. I have a slight touch of "Crochet ADD" and love nothing more than to push myself outside of my own comfort zone. I truly believe that designing such a variety of pieces keeps me from losing my "crojo". While I don't design all hats, bags, slippers etc., I do, however, LOVE to come out with lines for my designs. "Chasing Chevrons" was my first ever line and it is still one of my favorites! A few of my others are: "Perfectly Plaid", Houndstooth, "Sweet & Sassy" and the latest, "Knit-Look". Here are a few of my favorites:
My latest design trends...
I crochet. I cannot knit. I tried. I failed. My hats go off to those of you who have mastered both! So because I can't knit, I've become intrigued by knit-look crochet and lately I've had great fun coming up with several knit-look designs. I've had a few ask, "Why not just knit?". The short answer, as you may have already guessed is, "I can't knit." My alternative answer is, "Because I love a good challenge and love to think outside of the proverbial box." The following are a couple of my favorites I've designed thus far: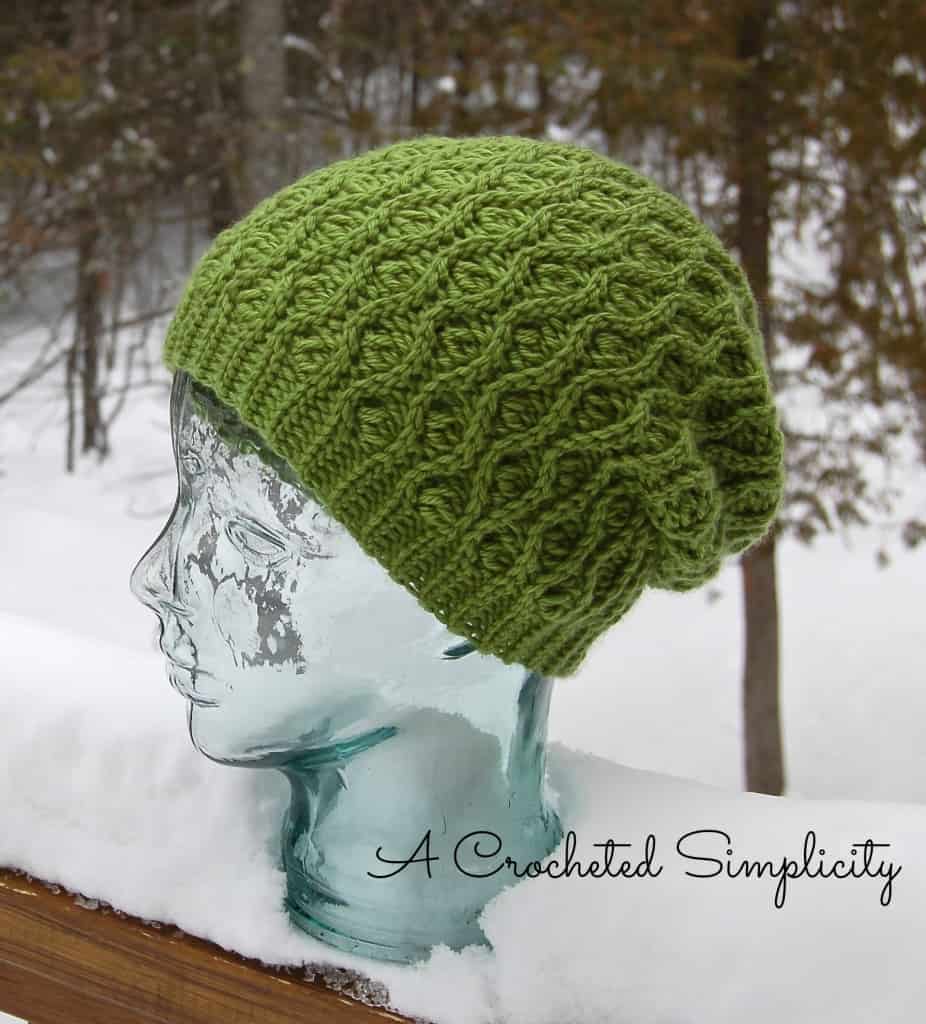 "Winter Waves" Reversible Beanie & Slouch

Men's Reversible Knit-Look Beanie
---
Today's Promotions & Giveaways!
When trying to come up with a plan for today's blog tour, I knew I wanted to give away a couple of my favorites: a Knit-Look Design and a set of Clover Amour Crochet Hooks.
I've designed a new "Knit-Look" pattern, that releases today, for the blog tour. My "Knit-Look" Bow Tie Cowl/Scarf is 40% off thru Sunday, March 8, 2015. No Coupon Code Needed. Price is already marked down.
As part of my giveaway, (50) Winners will each Win a Copy of my "Knit-Look" Bow Tie Cowl/Scarf (winners will receive the pattern via Ravelry). *Continue below to the Rafflecopter form to enter for a chance to win!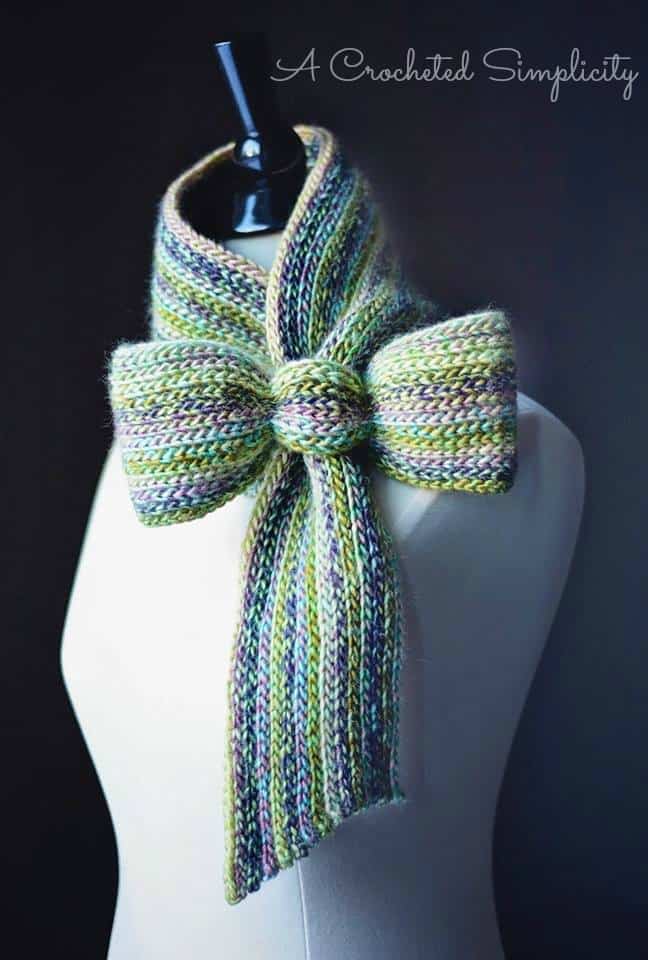 New Pattern Release Sale: "Knit-Look" Bow Tie Cowl/Scarf is 40% off thru Sunday, March 8, 2015. No Coupon Code Needed. Price is already marked 40% off.
 Click on the graphic above(or click here--> ENTER) to Enter to Win the giveaway! Winners will be drawn at 9:00am on Saturday, March 7, 2015 and posted on the blog by noon CST. Please check back here to see if you've won. *You will have 72 hours to claim your prize or a new winner will be drawn!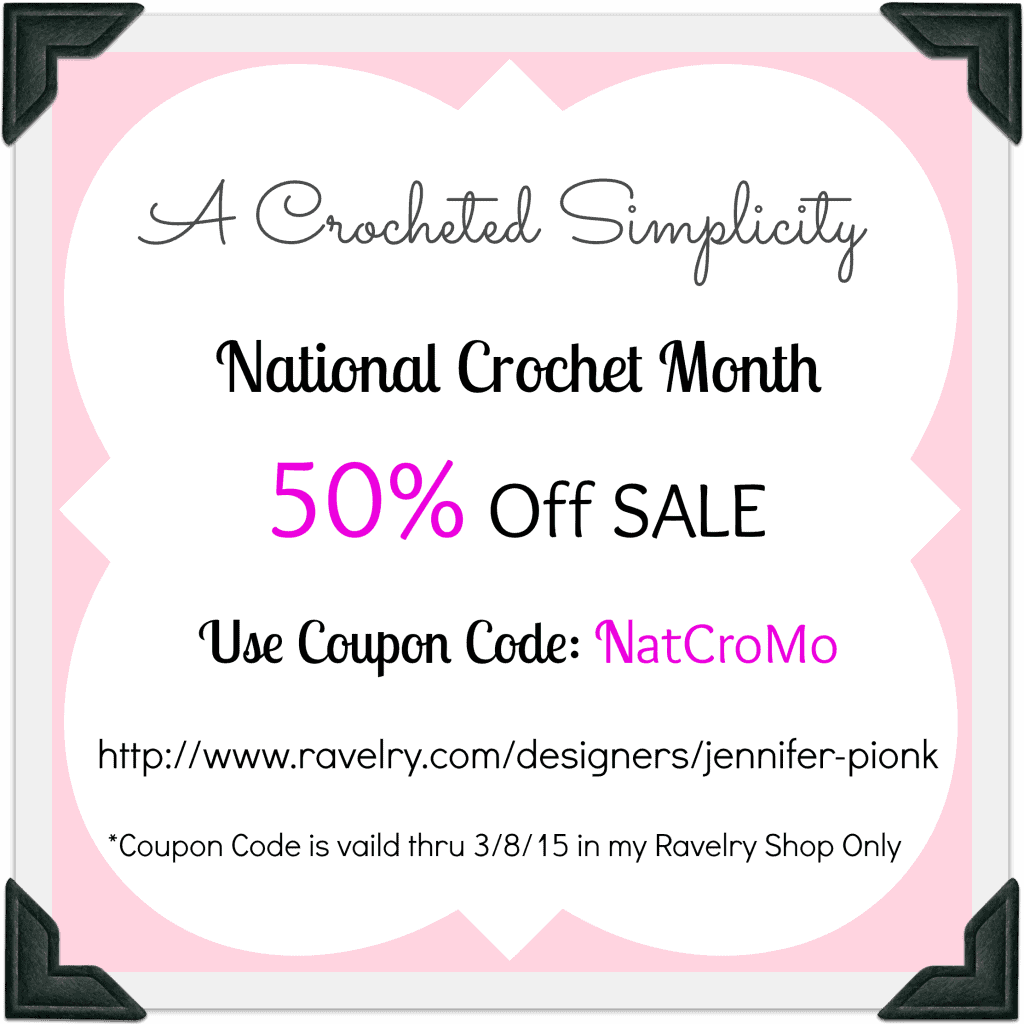 And last, but not least, don't miss out on the 50% off sale going on in my Ravelry Shop thru Sunday, March 8, 2015! Click on the graphic above to be taken to my Ravelry Shop. Don't forget to Use Coupon Code:
NatCroMo

at checkout!

Congratulations to the winners of the "Knit Look" Bowtie Scarf/Cowl pattern!!! 🙂

Flash Ragler

Tricia Hauser

Melissa Johns

Anne Westbrook Mursin

Becky Reynolds

Jen Connors

Rachel Dunlap

Christine Boe

Christy Vaught

Tricia Vermilyea

Teresa Stroebel

Emma Louise Duffy

Seth Monica Ballinger

Barb Desaulnier

Amanda Musgrave Jowers

Crystal Wall

Ann Le Roy

Glenda Darr

Rita Morrison

Candice Capps Wharton

Kary Klein

Sarah Lawson

Jess Ica D

Krystal Soria

Leslie Bath

Jacques St. Clair

Esther Leek

Deborah Bryant

Shannon Gillespie McKenney

Lindsey Lively

Courtney Saiya

Shonie Ann Cade

Catharine Fritz Caskey

Jamie Jager Allen

Emily Truman

Dawn Kelly

Tina Fluman McLerran

Pamela Emerson

Justis Zietlow

Melissa Morrison

Sara Elizabeth Silva Puentes

Debora Trewhella

Martha Marti Sobolow Friedman

Jane Bratton

Renee Ewalt

Dulcy Wentling Harris

Steff Walker

Joyce L Vassar

Felicia Myers

Francesca Fv Bowman

And the winner of the set of Clover Amour hooks is...

Keri Wooderson!!! Congrats!!! 🙂

Please message my Facebook page with your Ravelry username (for pattern winners) to claim your prize! 😀
---
I'd like to say "Thank You" to Crochetville for all of their time and effort in putting together an awesome month of designers, giveaways and crochet fun and "Thank You" for stopping by my little corner of the world wide web! I hope you've enjoyed your visit enough to come back and see me again or follow me: Facebook, Pinterest, Instagram, Ravelry.
P.S. While you're here, don't forget to sign-up for my newsletter to receive exclusive discounts and be the first to know about giveaways! *The Sign-Up form is in the sidebar to your right.