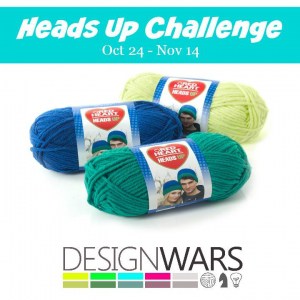 If you've been following A Crocheted Simplicity  on Facebook, you've surely seen my posts about Design Wars and all of the wonderful yarnie goodness they have to offer. If you haven't been formally introduced to them, please take a moment or two or three….or 30, to visit their BLOG. While there you can read all about how Design Wars began, where it's headed, read about all of the challengers (maybe find a new favorite designer to follow), sign-up to receive the newsletter and don't miss out on the section of FREE patterns!!! I promise it'll be worth your time.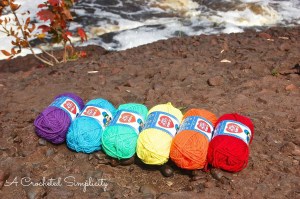 Now on to the YARN! Red Heart Yarns has been a huge sponsor of Design Wars and I've loved the opportunity to work with their latest and greatest yarns before they've hit the shelves. This challenge is no different. The yarn that was chosen for this challenge is Red Heart's Latest: Heads Up! If you haven't had the chance to get your mitts on some for yourself, you should! Heads Up is a Bulky weight, 80% Acrylic, 20% Wool blend. It is a very soft and squishy yarn; it reminds me of my favorite teddy bear I had as a child. Not only is it soft and squishy, it is also available in 20 fabulous colors! The majority of the colors are bright and vibrant, but there are also a few autumn colors as well. Heads Up is perfect for a variety of items such as hats, scarves, mittens, but I have several other garment designs in mind that it would pair perfectly with as well.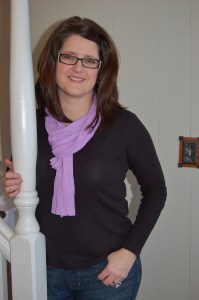 If we haven't had the chance to meet yet, "Hello!" This is me, the face behind the name. My name is Jennifer (yes, I was born in the 70's and grew up with 5 or 6 other Jennifers in the same grade). I was born and raised in a small town in Michigan's Lower Peninsula. A couple of years ago, my family relocated to Michigan's Upper Peninsula and I learned that those from the U.P. refer to those, who live below the Mighty Mackinaw Bridge, as "Trolls". Interesting… I'm considered a troll. Whenever I hear the word "troll", my mind immediately flashes to these little guys from the 90's: Trolls. I suppose if I showed you some of my photos from high school, you may see a resemblance to that troll…referring to the "Big Hair" days of my youth. lol
What else would you like to know about me? Hmmm…what can I talk about??? I'm never at a loss for words (just ask my family or friends); for me it's usually just choosing 'what' to talk about next….kind of like choosing the next item to crochet versus what color yarn to use. It's always been easy to figure out my next design, but choosing colors can take me hours! Can you relate to that?…. Oh! When, how, why did I learn to crochet? Although I'd love to share a nice warm and fuzzy story with you about how my grandma taught me to crochet as a young girl, that's not how it happened. Yes, my grandma crocheted and I still cherish the items that she made me, but whenever we'd visit as young kids she would teach us other life skills, such as how to bait a hook for fishing…I never did master that and to this day don't bait my own hook…unless it's a crochet hook! So just when, how and why did I learn to crochet? It was shortly after relocating to the U.P. that I found myself feeling the need to learn a new skill. I needed something to keep my hands and mind busy during the very long winter. One day in the fall of 2011, while I was out shopping I saw a set of crochet hooks and a Teach Yourself to Crochet Book and decided that this was the new skill I just had to learn and I haven't looked back since. What began as a hobby where I made gifts for family and friends, quickly turned into a passion of mine. With the encouragement of my friends and family, I listed my first crochet pattern in September 2012 and things started snowballing from there. The creative mind is a very active mind (I'm sure most of you can relate) and in under 2 short years I've gone from 1 design to over 100 designs. When you can't find me in my at home studio, you can find me in what I call my "mobile office". *See the photo below* Designing is by far the most rewarding job I've ever had and I'm excited to see what the future has in store for me!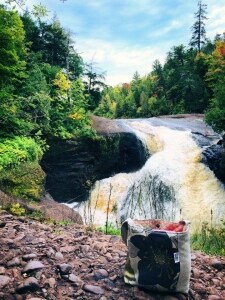 How did I become part of the Design Wars family? On Christmas ay 2013, I received an invitation to become a challenger in DW 6; I was overly excited and eagerly accepted! For Design Wars 6, I designed my Girls Vintage Houndstooth Jacket and it Won Most Overall Votes for DW 6! I then participated in a DW mini-challenge using Red Heart's Swanky yarn. For the Swanky Challenge, I designed my Butterfly Dreams Pendant Lamp. Being a part of the DW family has been a incredible experience. These friendships will last a lifetime!
How can you become part of Design Wars?!?! You can become an important part of Design Wars by following along with the challenges and giveaways on Facebook and the Blog. During each challenge you can enter to win yarn, patterns and more so don't miss out on any of the great opportunities!!! Make sure you're signed up to receive the DW Newsletter so that you don't miss out on the upcoming reveals! Look for "Sneak Peeks" of all of the designs on October 31, 2014!!!