Let's kick off the Mariele Cardigan crochet along with a pre-crochet along giveaway! If you're just hearing about this crochet along for the first time, you can find all of the details here: Mariele Cardigan Crochet Along details.
The yarn I used for the purple cardigan is Craftsy's Cloudborn Merino Alpaca Sport in Amethyst Heather. This yarn is 80% merino & 20% baby alpaca, has a beautiful stitch definition, and lends a wonderful drape to garments. It is also available in 28 colors!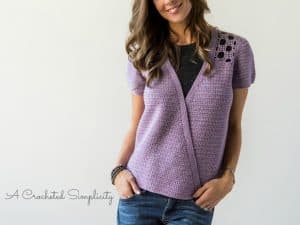 Photos copyright Craftsy
Yarn Sale Alert: Save Now on Cloudbourn Merino Alpaca Sport!
**I'm unsure when the sale ends so be sure to place your order soon. (affiliate link)
Click the photo below to view all 28 great colors!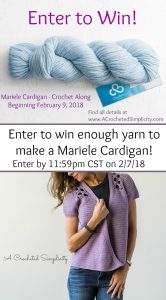 Yarn for this giveaway is provided by A Crocheted Simplicity.
Congratulations to our Winner!

If you are our lucky winner, make sure to check your e-mail! I'll be sending an e-mail very soon asking for information so I can get your yarn ordered and on its way to you! 🙂
Thank you all for your participation!!
This Yarn Giveaway is open to readers Worldwide, except void where prohibited by law. To win, enter by 11:59pm CST on February 7, 2018, using the Rafflecopter widget above. One lucky winner will be randomly drawn from the entries received. The winner will receive enough Cloudborn Merino Alpaca Sport (color of choice), prize courtesy of Jennifer Pionk aka A Crocheted Simplicity.
---
Are you intimidated by crocheted cables? Would you love to learn? Take an Annies Video Class with me and let me ease your fears of crocheted cables! Click on the photo below to watch a free preview. You can also see the other 2 classes I have available! (affiliate link)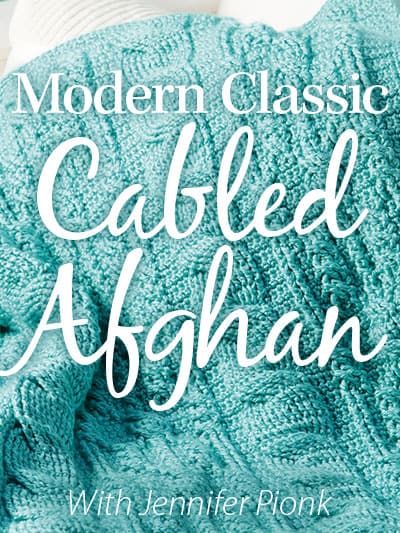 ---
Please share your finished projects with us in the A Crocheted Simplicity Crochet Community Group on Facebook!
Happy Crocheting!