Have you ever had a design idea that you kept putting off, waiting for just the right time or just the right yarn? For me, that design idea was my Girls Vintage Houndstooth Jacket that I designed for Round 6 of Design Wars. I'd had this on a long list of "must design" items for 14 months. So when Red Heart Yarns With Love was voted in to be the designated yarn for DW 6, I knew this had to be my submission! A decision that I don't regret as it received the most votes in the following categories: "Best Design to Wear" & "Best Use of Yarn". It also received the "Most Votes Overall". You can read all about it right here: DW 6 Newsletter 19.
Red Heart Yarns With Love was perfect for this jacket. Worked with double strands, it is stable enough to be a true jacket. It's a perfect jacket for spring, fall and cool summer nights.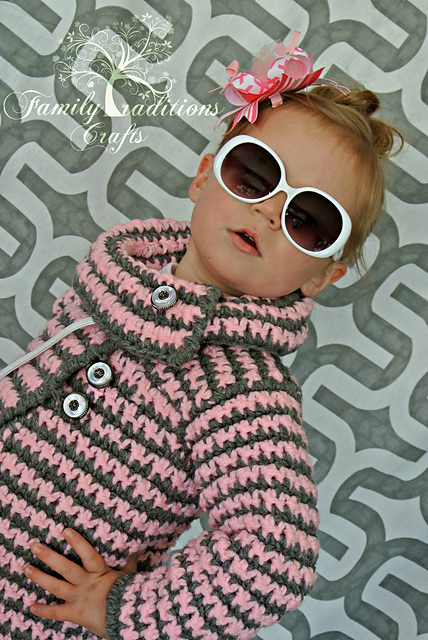 The color combinations truly are endless. I love the color combinations that my pattern testers came up with. The pink & grey above was made by Shannon from Family Traditions Crafts.
All photos of my Lilac & Eggshell jacket, courtesy of Kaile Meyers Photography.
Pattern is available via the following: Ravelry, Craftsy & Etsy
You can find the Women's Houndstooth Jacket here—> Link Coming Soon!