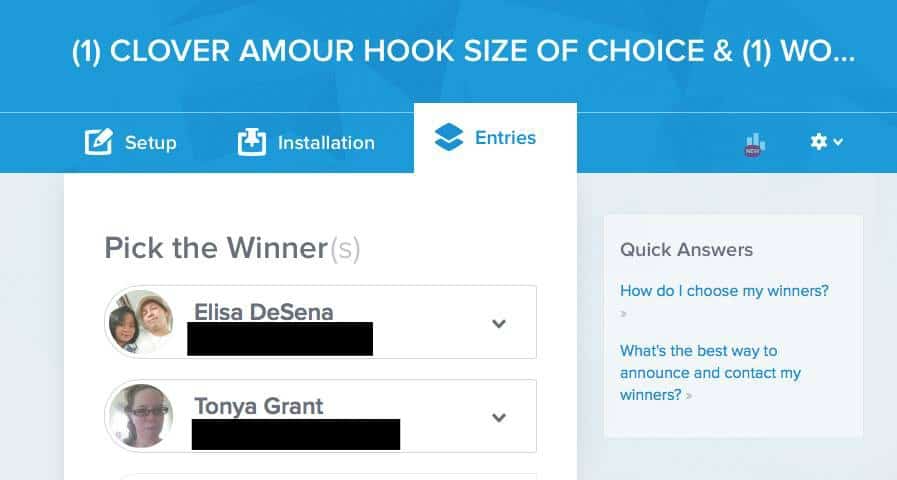 Congratulations to the winners!! If you are one of the winners, please send me a message on Facebook to arrange shipping.
[Friday, October 9, 2015] Today's Daily Giveaway is sponsored by A Crocheted Simplicity.
(2) Winners will each receive their choice of (1) Clover Amour Crochet Hook AND a wooden sheep WPI tool (read more about the WPI tool below). To Enter to Win, simply click on the graphic below or click here–> Enter Here

(2) Winner's will be drawn Saturday, October 10th around 8am CST and announced here on the website. 🙂
Clover Amour Crochet Hooks are my absolute favorite hooks and the only hooks I use. I've had zero hand pain since I began using them. The winners of this giveaway will be able to choose their favorite size of hook. 🙂
WPI Tool: These wooden sheep WPI Tools were handmade by GirlontheRocks on Etsy and can be found here: WPI Gauge Tool
***What is a WPI Tool? This tool is used to determine the WPI (wraps per inch) of a particular yarn. Wrap the yarn around the narrow part of the sheep (with markings indicating one inch) and count how many times the yarn was wrapped. Compare this number to the legend on the center of the sheep to determine the weight of the yarn.
Happy Friday & Good Luck!